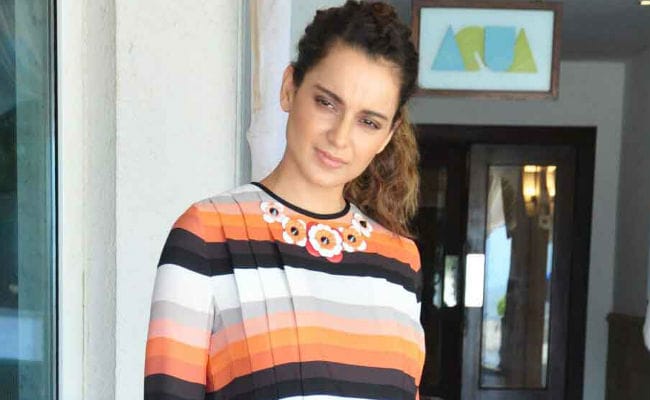 Highlights
Kangana was initially apprehensive about investing so much in the home
But a temple nearby reinstated her faith in the project
Kangana recently planted several trees in the garden of her bungalow
New Delhi:
Kangana Ranaut is enjoying the comforts of her spectacular bungalow in Manali, which as per the
Queen
actress' original plan was meant to be a "one bedroom house." Kangana's new place is situated against the backdrop of a picturesque mountain range (photos below). She told
Times Of India
: "Around four years ago... I told my parents that I want to make a very small house in Manali... like have a one bedroom and kitchen and see how I feel there. And I was so busy with my work. And they got this grand project, they saw the land, and I am like, 'What? You guys spent so much and got this, but I was just testing!' And then one thing rolled into another and my architect came over and she made this grand house."
Look what #KanganaRanaut gifted herself on the New Year's! pic.twitter.com/vRE5Dvti2w

— Team Kangana Ranaut (@KanganaFanClub) January 5, 2018
Ms Ranaut and Shabnam Gupta are shooting for a cover story in the month of Feb with Architectural Digest for their May issue. Stay tuned for more inside pictures! pic.twitter.com/zk3QVE3YjN

— Team Kangana Ranaut (@KanganaFanClub) January 5, 2018
Kangana said that she was not sure if she should invest all her savings "into something that I don't know if I will be able to relate with." But she said her visit to the Kartikeya temple (situated close to Kangana's place) was a "big indicator" for her. She also named her house after the temple because it was "more for a spiritual purpose." She told
Times Of India
: "The locals came and they said I should go and visit it. The vibration here is so strong, and when they told me there is this temple, I asked which one is this? And I had read a lot about Kartikeya's
mahasamadhi
in the Himalayas, and I asked if this is the same place where it took place, and they said yes. And I am like, 'This is it.' So that was this indication for me.
On her birthday (March 23),
Kangana planted several trees in the garden of her bungalow
. Rangoli shared pictures of Kangana gardening on her birthday.
On her b'day our little Queen gifts herself a greener planet ...May you live long and live a beautiful life .. #HappyBirthdayKanganaRanautpic.twitter.com/kHipLaaiD9

— Rangoli Chandel (@Rangoli_A) March 23, 2018
Kanagan is currently spending most of the time with her family, especially her toddler nephew Prithvi Raj.
Rangoli tweeted photos of 'maasi and kiddie':
#massikiddiepic.twitter.com/enCewZGVTi

— Rangoli Chandel (@Rangoli_A) April 3, 2018
....... on a sunshine day!!! #massikiddiepic.twitter.com/9WuiNR8clH

— Rangoli Chandel (@Rangoli_A) April 3, 2018
Kangana Ranaut is currently completing
Manikarnika-The Queen of Jhansi
and she has also signed up for Ekta Kapoor's
Mental Hai Kya
.