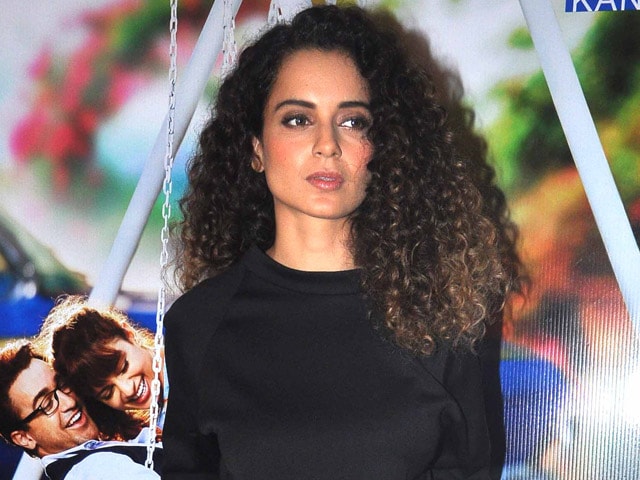 Mumbai:
"Some people are destined to struggle, struggle all their lives." Kangana Ranaut had told me with a sigh at a particularly vulnerable moment some time ago. As disbelieving as it may sound, this girl is at a place where she is being showered with fame and opportunities, all gained by the dint of sheer hard work and struggle. But dig a bit deeper and you will come face-to-face with the not-so-pretty truth that she's referring to.
Ten years ago, Kangana's troubles seemed more real and tangible, as she struggled to get acknowledgement for herself and her talent. Today, ironically, she says her struggle is to brush away the unwanted attention and veiled negativity that fame has brought along with it. Ask her about the scores of negative things being said about her which includes stories of her throwing tantrums on the set of Vishal Bhardwaj's
Rangoon
and getting too big for her stylish boots, and she says with a wry smile, "I was just talking to Vishal about it. He told me just this one thing, 'Ignore those people who are talking negative things about you. Shoot them down with your performance.' That gave me a lot of confidence. These negative things said about me are working like a blessing in disguise.
Rangoon
started like any other film, but there are so many negative things being said about it that it is only bringing all of us together. I won't deny that I get really affected by these things. It was just another project for me, but when I saw the support that the team is showing, it has become special for me." (Also Read:
Hrithik Roshan, Kangana Ranaut Insist They Aren't Dating
)
She goes on to elaborate: "I know what's going on. There are some people who don't like what I am getting to do. I seem to have become the easiest target. So, all kinds of stories about me are being floated. If I go on to clarify, I fall into a trap. The idea is to make me lose focus and I must admit that it has been very demoralising. I am horrified to see how bitter and negative people here can get.
"I am not some super human being. I know that my position is being targeted. I have slogged for a decade to reach where I have and I know that if one film goes haywire, I will be attacked. But I choose to take that as a challenge. These things are only making me stronger. My sister gets worried and asks why am I taking so much stress; let people say what they want to, or do what they want to. I end up with a neck pain every night. But this stress is also helping me, because it keeps me on my toes. These people, who are waiting to pull me down, are actually pushing me to go beyond my limits. My contemporaries who want me to fail are actually helping me excel. It's just that every morning I wake up, I think I didn't work hard for this." (Also Read:
Why Kangana Ranaut Thinks the Queen Tag is Funny
)
And then she says it, again with a sigh, "No matter what the struggle, it seems like my struggles are never-ending."
Yet, she hopes that two-three successful films later, she might be in a better position and spared being made a soft target. While she has started training for
Rangoon
and doing the look test for the 1940's super star that she's playing, it is
Katti Batti
, her next release, that's taking up a lot of her time these days. "My focus right now is on
Katti Batti
. I play this tragedy-stricken character and you have to watch it to believe what I am saying. I was crying even when I read the script and my mother, who was visiting me at that time, got worried and asked me if I should be doing such intense roles at all," she recalls.
While her sensitive nature seems to work for her in her chosen field of profession, it often seems to work against her too. Kangana agrees and says: "I get taken in by what character I play. Not only roles, but even in real life, I am sensitive to a fault. When my sister suffered the acid attack, I couldn't sleep for days. So, my mother and sister get worried for me and wondered if I can handle such roles and all the stress that comes with this profession. Most of us end up being so empty by the end of everything. Most actors get messed up because we live so many separate lives."
Kangana says she feels grateful about one thing - the unwavering support that she's got from the people she's worked with. "Vishal and Sajid (Nadiadwala, producer of the film) are showing such faith in me that I sometimes feel overwhelmed. Everyone I have worked with has taken me under their wings and protected me. At times, I wonder what I have done to get such support," she signs off.