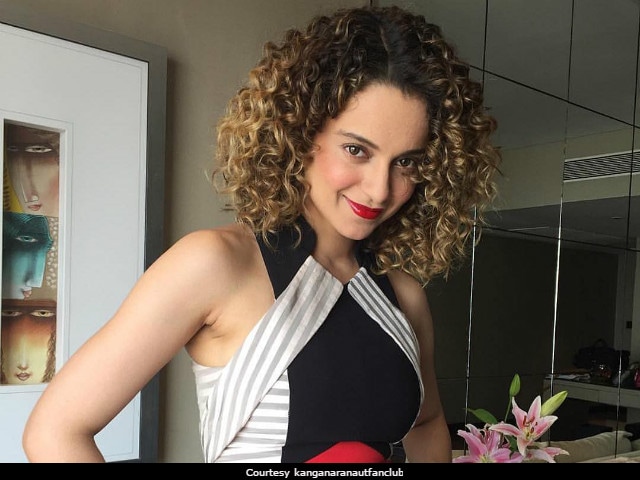 Highlights
"We are going to make outsiders feel and appear cool," said Kangana
"I don't consider myself an outsider," added Kangana
"It is my prerogative to leave my footsteps behind," she said
New Delhi:
Kangana Ranaut,
known for being outspoken
, is now better known for starting the debate on nepotism in Bollywood. The 30-year-old actress said that her comments on nepotism, which made her the subject of several headlines, were "observations." Kangana was speaking at the new collection launch of a clothing line in Mumbai, when she was asked if she is condemns the easy inclusion of celebrity children in the industry, reported news agency PTI. "If you're talking about nepotism, it's not an objection, it's an observation. As an individual, it is my prerogative to leave my footsteps behind for the ones who will follow me. It is important they know where I fell, where I walked, stayed and ran," PTI quoted Kangana as saying.
In an episode of
Koffee With Karan
,
Kangana told show host Karan Johar
(son of producer Yash Johar): "In my biopic, if ever it's made, you'll play that stereotypical Bollywood biggie, who is like you know, very snooty and completely intolerant towards outsiders, flag-bearer of nepotism, the movie mafia." Sometime later, Karan was heard saying he is ""done with Kangana playing the woman and victim card." Now, the
Rangoon
actress appeals to not turn the debate on nepotism into a blame game. "We should all work on it and not point fingers and make it sound like a fight to make the society more democratic for everyone," PTI reported her as saying.
In a rhetorical question,
Kangana addressed the term "outsider"
, which is often used to refer to those members of Bollywood, who are not part of any filmy dynasty. According to Kangana, those who consider themselves as 'outsiders', should avoid self-pity and make an impression with their work. "What is an outsider? We are all working to make cinema. Anyone working for some other intention is an outsider. I don't consider myself an outsider. Whoever comes from an unconventional background, they should work towards it and not say, 'Oh we have been lucky enough that we didn't face any discrimination or we are the chosen one, the industry has accepted us with open arms'," PTI reported Kangana as saying.
In the
Koffee With Karan
episode, Kangana also reminded Karan that
he once made fun of her English
. Speaking to reporters at the event on Tuesday, Kangana said: "The fact that today in the industry we have a lot more democratic environment is also because of people like us who have been working at it. I see newcomers easily say 'I can't talk in English I will only talk in Hindi.' It's because we have made it appear cool. We are going to make outsiders feel and appear cool," reported PTI.
Kangana Ranaut, star of films like
Tanu Weds Manu Returns
and
Queen
, will next be seen in Hansal Mehta's
Simran
.
(With PTI inputs)