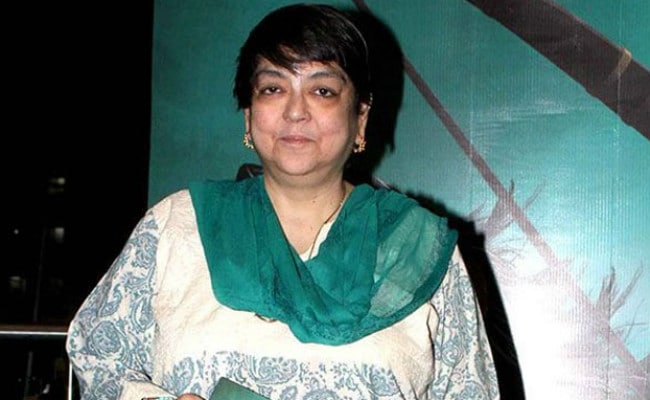 Highlights
"When I woke up, I felt very weak," said Kalpana Lajmi
"I was then taken to the ICU," she added
Kalpana Lajmi has been fighting kidney ailment
New Delhi:
Filmmaker Kalpana Lajmi, who has been fighting kidney ailment for a while, was rushed to a Mumbai hospital and admitted to the ICU on Monday morning because of deteriorating health. Later in the day, the filmmaker spoke to news agency PTI to share that excessive travel and exhaustion may be the reason for her condition. "Yesterday was my partner's (Bhupen Hazarika) death anniversary so I went all the way to Vashi (Navi Mumbai) to attend the program. That must have taken a toll on me. So today when I woke up, I felt very weak. I was then taken to the ICU," she told PTI. Ms Lajmi was Assamese singer Bhupen Hazarika's partner till he died in 2011. Kalpana Lajmi was diagnosed with a malignant tumour on her kidney and required long-term treatment.
"Today morning my heart rate dropped and I felt uneasy. I am a kidney patient and both my kidneys are not functioning properly," she added. Ms Lajmi has been under treatment for over two years now and has required medial dialysis every week, reported PTI. In her statement, she has thanked the film industry for the immense financial support she received for her treatment and particularly mentioned Aamir and Salman Khan, Karan Johar and Alia Bhatt among others.
"They all have helped me, from Aamir Khan, Indian Film & Television Directors' Association, Rohit Shetty, Salman Khan, Karan Johar, Alia Bhatt, Soni Razdan, Neena Gupta. All of them have come forward and helped me during my worst. It is a financially draining and a continous lifelong process," said Ms Lajmi and added: "I am thankful to my film fraternity for standing by me in this phase. Specially my mother, my brother and Shyam Benegal for their constant support." In 2015, the government of Assam announced financial aid for Ms Lajmi and
that's also when Aamir and Rohit Shetty had come forward to help her out with medical bills
.
While we hope for her speedy recovery, Ms Lajmi requires over a year to be her former fit self. "I was completely bed ridden two years ago. But now I am slightly better by the grace of God. I will give myself another year and a half to walk all on my own without any help," she told PTI.
Kalpana Lajmi is known for directing movies like
Rudaali
,
Chingaari
,
Ek Pal
and
Daman
.
(With PTI inputs)