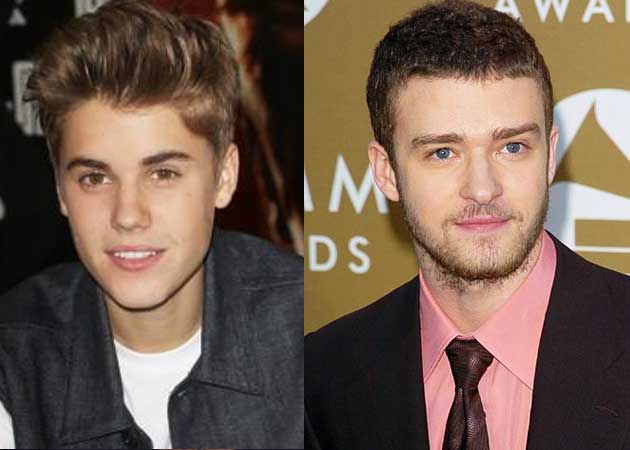 Highlights
Justin Bieber ended a telephone interview with a radio show host after his music was compared to that of Justin Timberlake's.
Bieber seemed to be annoyed that the Mojo in the Morning presenter had mentioned how similar the style of his track Boyfriend is to the music of Timberlake's - who had a hit as part of the group 'N Sync with Girlfriend.
He responded: "Man, that's crazy because our voices sound nothing alike. I mean, I'm not trying to sound like anyone. Saying I sound like someone else is not really a compliment.
"I think if you were to say I heard some Justin Timberlake-esque things in your sound I would take that as a compliment."
The 18-year-old pop star then went on to mirror a comment his manager Scooter Braun recently made about the frequent comparison.
He continued: "Justin Timberlake is definitely really talented and is similar because he's white and he's singing pop, R&B. I think we both have the type of edge. I definitely want to have my own lane and not be compared. But I think he is super, super-talented."
The questioning came to an abrupt end when Mojo asked whether he was worried about One Direction's Harry Style's dating his young mother. After the host revealed that his own parent had passed away, Justin disconnected the call.
He retorted: "I don't think you should worry about me - worry about your mum, bro."
Read: Justin Bieber did not show up for his High School graduation ceremony
Los Angeles:
Justin Bieber ended a telephone interview with a radio show host after his music was compared to that of Justin Timberlake's.
Bieber seemed to be annoyed that the
Mojo in the Morning
presenter had mentioned how similar the style of his track
Boyfriend
is to the music of Timberlake's - who had a hit as part of the group 'N Sync with
Girlfriend
.
He responded: "Man, that's crazy because our voices sound nothing alike. I mean, I'm not trying to sound like anyone. Saying I sound like someone else is not really a compliment.
"I think if you were to say I heard some Justin Timberlake-esque things in your sound I would take that as a compliment."
The 18-year-old pop star then went on to mirror a comment his manager Scooter Braun recently made about the frequent comparison.
He continued: "Justin Timberlake is definitely really talented and is similar because he's white and he's singing pop, R&B. I think we both have the type of edge. I definitely want to have my own lane and not be compared. But I think he is super, super-talented."
The questioning came to an abrupt end when Mojo asked whether he was worried about One Direction's Harry Style's dating his young mother. After the host revealed that his own parent had passed away, Justin disconnected the call.
He retorted: "I don't think you should worry about me - worry about your mum, bro."
Read: Justin Bieber did not show up for his High School graduation ceremony