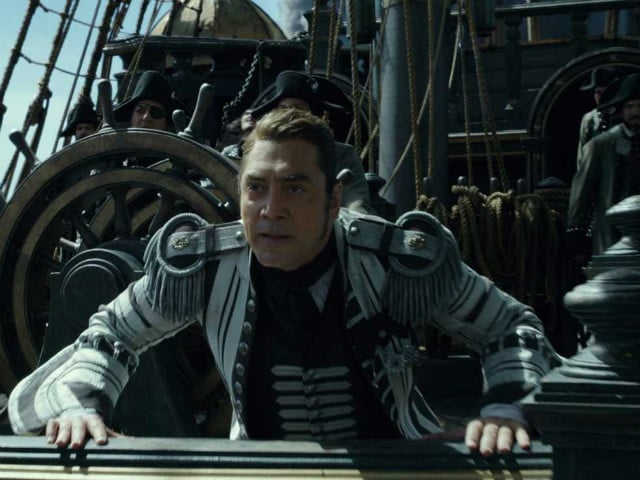 Highlights
"It was fun to play this pirate," said Javier Bardem
"Where do you get a chance like this ever?" he added
Javier Bardem stars as the antagonist in the the new Pirates movie
New Delhi:
Captain Jack Sparrow
is back from shore leave after six years
. As always, he's down but not out - or is he? The fifth - and possibly the final - instalment of the
Pirates Of The Caribbean
franchise is coming up and will premiere in Shanghai tonight. This is the first Hollywood premiere in mainland China and the stakes are high. Johnny Depp returns for the fifth time in the $250 million
Pirates Of The Caribbean: Dead Men Tell No Tales
but this time, Captain Jack Sparrow seems to have a strong contender for the spoils in Armando Salazar, a very angry ghost.
Who dares
challenge the devious Jack Sparrow
? Us cine-goers are in for a treat because it is Javier Bardem, no less, who dares. Talking to NDTV in Shanghai, the actor, who is described as the best bad guy in the world, said, "It was fun to play this pirate. Where do you get a chance like this ever? It was a Disney ride and you got paid for it."
Javier Bardem said he can't help being approached to always play the baddie - he was the memorably creepy Anton Chigurh in
No Country For Old Men
and the James Bond villain Raoul Silva in
Skyfall
- and said, "It's kind of nice to unleash your inner demons."
The 48-year-old Spanish star joins the
Pirates Of The Caribbean franchise
one film after his wife Penelope Cruz, who played female pirate Angelica in the fourth film, 2011's
On Stranger Tides
.
A cast member who skipped
On Stranger Tides
returns in
Dead Men Tell No Tales
- Orlando Bloom reprises his role as Will Turner (who has no taken the place of Davy Jones) and hopes that this film isn't going to be the end of the franchise. "I have a six-year-old son who enjoys watching it, we cannot tire of Sparrow and Depp," Orlando said.
It's not quite the return of the native, however. Will Turner isn't front and centre in this film unlike the first three - but it was a homecoming nevertheless. "Though I am there for just the first and last scene, it was as if I had never left. Life has come full circle," Orlando Bloom told NDTV.
Apart from Javier Bardem, new additions to the cast include Brenton Thwaites who plays Will Turner's son Henry. Brenton, 27, is not only new but also the youngest of the male actors (actress Kaya Scodelario, cast as Carina Smyth, is 25) - he would have been 13 when the first Pirates film,
The Curse Of The Black Pearl
, released 14 years ago. And here's a fun fact Brenton told us - he's never seen Johnny Depp out of costume, ever.
The film, directed by Joachim Ronning and Espen Sandberg, hopes for a smooth sail at the box office. "We love Bollywood. The musical dramas are appealing and we had a few Indian names for this franchise but it didn't work out," the directors told NDTV.
If you are wondering where Jack Sparrow,
the man on whose dreadlocks and swashbuckling charm
the franchise has achieved blockbuster status, was - Johnny Depp isn't doing any press for his new film, at least not in Shanghai. The 53-year-old superstar's box office fortunes have lately navigated turbulent waters, as have his personal affairs.
Geoffrey Rush and Kevin McNally return as Hector Barbossa and Joshamee Gibbs in
Pirates Of The Caribbean: Dead Men Tell No Tales
, with a reported cameo by Sir Paul McCartney (Keith Richards played Jack Sparro's dad in the third film,
At World's End
). The movie releases on May 26.