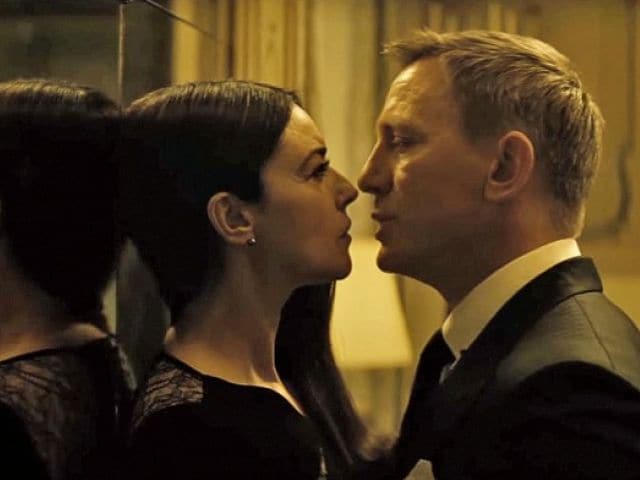 New Delhi:
James Bond will be having a lot less fun in India when
SPECTRE
opens here this week. The Censor Board has rated the film UA but with four cuts – two scenes have been chopped and two dialogues deleted. (Also Read:
Cheers. This James Bond Has Licence Not Just to Kill But to Out-Drink
)
DNA
reports that Daniel Craig's 007, whose kill rate is matched by his success with the ladies, will get to kiss only half as much in India than abroad and. He's also not allowed to say the F word or 'a**hole.'
The report quotes a source as saying, "Both of Daniel Craig's kisses with his co-stars have been reduced by 50 per cent. The censor board had nothing against James Bond kissing. But the length of the kisses were found to be unnecessarily excessive."(Also Read:
Pierce Brosnan's Review of SPECTRE: It's Neither Bond nor Bourne
)
Chief Censor Pahlaj Nihalani told NDTV that he had nothing to do with the edits ordered. "I have nothing to say on the matter. The film has already been passed with the cuts. I have a say in the matter only when there's a problem. The file has not come to me," he said.
Twitter, meanwhile, is having a ball with jokes about #SanskariJamesBond, the top trend of the day.
Three years ago,
The Economist
produced this chart comparing how the various screen Bonds over the years fared in the three departments the suave secret agent is best known for. Until 2012, Daniel Craig's Bond was bottom of the bedroom list, perhaps because he put away the most number of martinis.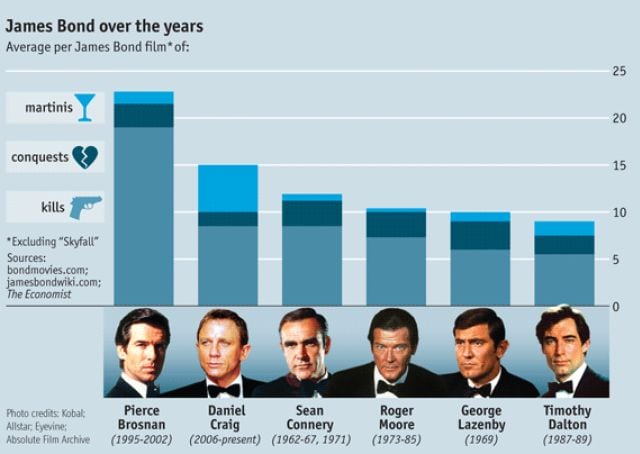 Image courtesy: The Economist
SPECTRE
, James Bond's 24th screen outing, is coming to India almost an entire month after it released in UK. It co-stars Ralph Fiennes, Christoph Waltz, Monica Bellucci, Lea Seydoux, Naomie Harris, Andrew Scott and Dave Bautista.