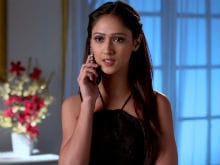 Highlights
Rudra identified Romi and revealed her name to Shivaay
Shivaay saved Romi's life
Shivaay failed to find the video tape
New Delhi:
The
Ishqbaaz
episode on February 27 opened with the Oberois' having fun on Shivaay and Tia's
mehndi
ceremony, and, now a little flashback. Anika seemed to be troubled with Dushyant and Tia's mystery and tried to find out the truth. She overheard Tia's phone conversation and went to see whom she's meeting. However, Anika, who thought the person to be Dushyant was surprised to see Shivaay greeting him. Meanwhile, Svetlana tried to kill Romi, who is helping Shivaay in getting the video tapes. Finding Romi alone, Svetlana entered her room and tried to strangulate her. Later, Shivaay, who is making attempts to find Romi and the chip, spoke to a person about the video footage. Rudra identified Romi and revealed her name to Shivaay.
In a change of scene later, while the Oberois' are enjoying the ceremony, an injured Romi fell from the staircase. The entire family was shocked to see her and Shivaay tried to save her life. He called for a doctor soon for the sake of the video chip. Meanwhile, Svetlana tried to find out the chip and planned to get inside Romi's room, however, she was shocked to see Shivaay in her room, who was also looking for the chip.
In the evening, as the entire family prepped for the wedding, Anika caught Shivaay's attention. Shivaay, who was mesmerised by Anika's beauty went up to her and told her that it's too late for their reconciliation.