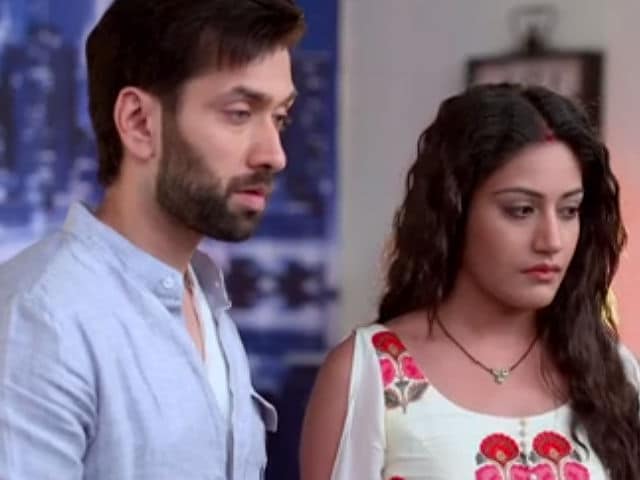 Highlights
Shivaay brings Anika home despite Pinkys resistance
Tej taunts Pinky that Shivaay is no longer in her control
Shivaay almost confesses his love for Anika
New Delhi:
The episode starts with Pinky lecturing Rudra and Omkara that despite her warnings they've been interfering in Shivaay's life. Rudra and Omkara tell Pinky that they do not know where Shivaay is but Pinky says
she know he's with Anika
. She insinuates that Rudra and Omkara want to harm Shivaay. Tej asks Pinky to watch her words but she rubbishes him off. Jhanvi asks Rudra and Omkara to tell Pinky wherever Shivaay is, but they stick to their story. In the meantime Shivaay enters with Anika and Pinky is infuriated beyond words. Pinky is upset with Shivaay for bringing Anika home and asks him to choose between his mother and his wife.
Shivaay makes it clear that Anika will stay in the house and Pinky thinks that he no longer respects hs mother. Shivaay says that Anika has nothing to do with his injury and therefore Pinky should stop blaming her. He leaves the room with Anika.
Tej taunts Pinky that Shivaay himself wants to be with Anika and now she should stop blaming Rudra and Omkara for Shivaay's growing closeness to Anika. He taunts Pinky saying that her life revolved around Shivaay's life but her son only cares for Anika.
Inside a room, Shivaay tries to fix his shirt but is unable to as he's injured. Anika tries to help him but her throws her hand her off. Shivaay tells Anika that it's no easy to choose between the two most important women of his life. Anika hopes that Shivaay will confess his love, but Dadi, Rudra, Omkara and Saumya enter the room and interrupt their moment.
Dadi says that Anika and Shivaay share a deep bond. She says that Shivaay may be injured but Anika too feels his pain. She explains that "ishqbaazi" starts only after marriage.