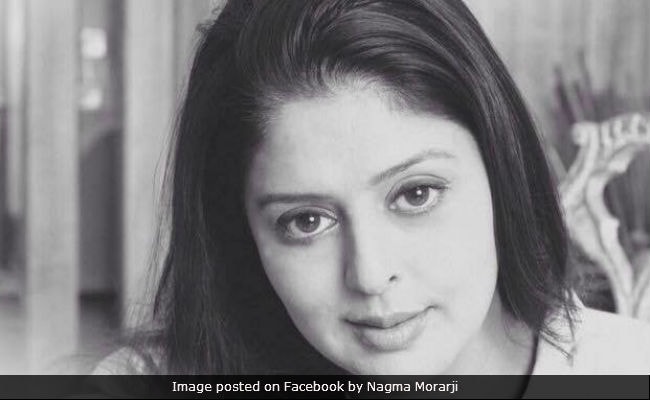 Highlights
There are rumours that Julie 2 is based on actress Nagma's life
"This is news to me," says Nagma
Julie 2 will hit the theatres tomorrow
New Delhi:
Actress-politician Nagma has reacted with surprise to rumours that new film
Julie 2
, described by
its presenter Pahlaj Nihalani as a 'clean adult film
,' is a thinly-veiled version of certain events in her life, including an affair with a married South star. The makers of
Julie 2
have revealed that the film is based on the life of a real-life actress - they have withheld her identity for legal reasons. Hints dropped by the film's team point to a star of the 90s and 2000s who debuted opposite a Khan. Nagma, whose first film was Salman Khan's 1990 release
Baaghi
, fits - she is popularly supposed to have had an illicit romance with married actor Sarathkumar, effectively ending her career down South after which she moved to the Bhojpuri film industry.
Nagma, 42, disclaims knowledge of
Julie 2
, telling
Deccan Chronicle
, "This is news to me. I have no knowledge about it and was not informed about it earlier. I am listening to it for the first time. Maybe the film
Padmavati
is garnering all the hype and the makers of
Julie 2
need some publicity, which is why they might have hinted on such a development."
Julie 2
released today and the actress-politician told
Deccan Chronicle
that she will catch a show to verify this 'interesting development.'
According to Pahlaj Nihalani, the identity of the actress
Julie 2
is based on will be plain to everyone once the film releases. "It's definitely based on the actress.... In fact, one of the main actors who is a part of our cast was also involved with that actress. We are not naming her as we don't want our film to be stopped. But once the film opens next Friday, it will be obvious to all which real-life actress Raai Laxmi is playing," he told news agency IANS - the actor he mentions as being previously involved with the movie's real-life inspiration is presumed to be Ravi Kishan, one of Nagma's co-stars from the Bhojpuri films she starred in.
Julie 2 actress Raai Laxmi told IANS
, "I am not denying the similarities between my character and the actress. These similarities are there. I don't know if they're deliberate or just a coincidence."
"It's possible that the actress may recognize herself and come forward. However, we have made sure she is not mentioned anywhere in any of the press meets," Pahlaj Nihalani said, when asked if he expected legal consequences of the Friday reveal.
(With inputs from IANS)