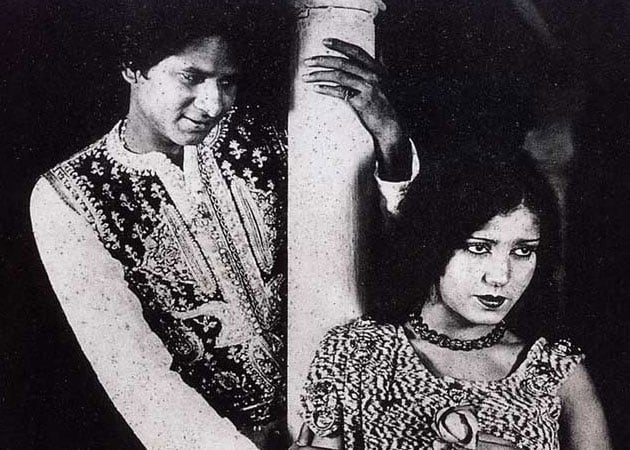 Highlights
The one constant in the ten decades of Indian cinema has been change. Right from the release of the first feature film Raja Harishchandra to today's age of digital cinema, the process of making movies has been one of evolution. As we celebrate 100 glorious years, here is a look at some of the firsts notched up by the factory of dreams:
First women on screen: Durgabai Kamat and her daughter Kamlabai Ghokhle
Women acting in theatre and cinema were considered a taboo in the early 1900s. Dadasaheb Phalke was forced to cast a male actor as the female lead in Raja Harishchandra because he couldn't find a woman who would play it. However, after Raja Harishchandra captured the imagination of India, he had no trouble casting the female character in his next film. Two women, Durgabai Kamat and her daughter Kamlabai Ghokhle, paved the way for actresses in Indian cinema. Durgabai portrayed the role of Parvati and Kamlabai appeared as Mohini in Dadasaheb Phalke's second film called Mohini Bhasmasur.
First double role: Lanka Dahan
Dadasaheb Phalke cast Anna Salunke, the actor who played Rani Taramati in Raja Harishchandra, in a double role in Lanka Dahan. Anna Salunke played both Ram and Sita in the movie. It is said that when the film was screened in Mumbai, people took their shoes off when Lord Rama's character appeared on the screen.
First South full length feature film: Keechaka Vadhan (Tamil)
In 1916, R Nataraja Mudaliar, an automobile spare parts merchant interested in the brave new world of cinema, built a silent film studio in Chennai. After being trained by British cinematographer Stewart Smith, Mr Mudaliar made the first full length Tamil feature film Keechaka Vadhan in 1917, leading to the birth of the vast Southern film industry.
First film to face censorship: Bhakta Vidur
Film censorship is commonplace today, but the first time a movie found itself on the wrong side of politics and the law was in 1921. Released during the imposition of the Rowlatt Act that put restrictions on Indian imports, Bhakta Vidur was banned in Chennai and Karachi for it political undertones.
First film certified: Orphans Of the Storm
The story of two sisters at the backdrop of the French revolution, DW Griffith's film Orphans of the Stormunderwent censor cuts in 1920 under the Indian Censorship Act 1918.
First social satire: England Returned
In 1921, Dhirendranath Ganguly, a Bengali artist made his first film Bilet Pherat which was translated in English as England Returned. The film, which mocked the upper strata of pretentious, Anglicised Indians, was the first to use satire as a social commentary.
First woman producer and director: Fatma Begum
Early Indian cinema was dominated by men, and women were considered only for roles in front of the camera. But in 1926, actress Fatma Begum became the first woman to take an important role behind the camera by establishing her own production company, Fatima films, and directing Bulbul-e-Parastan.
First talkie film: Alam Ara
The film that gave the medium of cinema a voice was a period fantasy about an ageing king and his two rival queens. Alam Ara (1931) opened a whole new chapter for Indian cinema, breaking the silence. The film took months to make because of hazardous recording conditions and the secrecy surrounding the project.
With the introduction of sound came music and songs. Alam Ara contained seven songs composed by the first music directors of the film industry, Pirojshah Mistry and B Irani. Also, De De Khuda Ke Naam Par Pyare became the first ever song recorded for a film.
First Indian film to be shot with artificial lights: Apradhi
One of the most iconic personalities in Indian cinema, P C Barua is also noted for being the first to use artificial lights while filming. He went to Europe in 1931, observed the production techniques in a London studio and bought lighting equipment used in the studio. Mr Barua returned to Kolkata and founded his own production studio, Barua Pictures Ltd. The first film from the studio Apradhi, directed by Debaki Bose, was made using artificial lights.
First animation film: Lafanga Langoor
Animation movies may still have miles to go but the first experiment with the genre was by German photographer Bocho Gutachwager in 1931 who produced the country's first animation film Lafanga Langoor.
First English song: Now The Moon Her Light Has Shed from Karma
Amongst its many breakthrough achievements, the 1933 movie Karma was the first Indian movie to have an English song sung by its actress Devika Rani.
First on-screen kiss: Marthanda Varma
The second Malayalam feature film Marthanda Varma that released in 1933 raised eyebrows for showing a lip-lock between the lead actors. Later that year Devika Rani and Himanshu Rai also shared a kiss in the Hindi movie Karma.
First international award: Seeta
Directed by Debaki Bose, Seeta was the first Indian talkie film to premiere at the Venice Film Festival in 1934. The movie, featuring Durga Khote and Prithviraj Kapoor, won an Honorary Diploma, making Debaki Bose the first Indian director and Seeta the first film to have won an international award.
First movie with flashback: Roop Lekha
Flashbacks have always been an important part in the telling of cinematic stories and the first movie to use the technique was P C Barua's 1934 film Roop Lekha.
First woman composer: Jaddan Bai
Renowned singer and actress Nargis' mother, Jaddan Bai became the first woman composer with Talashe Haq that released in 1935.
First playback in a film: Dhoop Chhaaon
One of the most important developments in Indian cinema was the introduction of playback singing. Rai Chand Boral was the first to use the systematic technique of playback singing in the film Dhoop Chhaoon (1935).
First Golden Jubilee film:Sant Tukaram
Marathi film Sant Tukaram (1936) became the first ever film to run in a single theatre for more than a year. The film also won a citation at the Venice Film Festival.
First colour film:Kisan Kanya
Ardeshir Irani of Imperial Film Company established India's first colour film laboratory in 1937 and Moti B Gidvani'sKisan Kanya emerged as India's first indigenously produced colour film.
First songless talkie film: Naujawan
Right after the first talkie film released in 1931, songs became an indispensable part of Hindi films. However, one film that did not catch up with the trend and was released without a single song. J B H Wadia's Naujawan released in 1937 became India's first songless talkie.
First film with A-certificate: Hanste Aansoo
Hanste Aansoo (1950) featuring Madhubala and Motilal became the first film to receive 'only for adults' certification following the amendment of the original Indian Cinematograph Act (1918) in December 1949 by which time 'A' and 'U' had been introduced.
First dream sequence song: Ghar Aaya Mera Pardesi
Who can forget that long dream sequence in the song Ghar Aaya Mera Pardesi from Raj Kapoor's classic film Awaara (1951)? A sea of twirling cloud symbolised the conflicts in Raj Kapoor's mind.
First technicolour film: Jhansi ki Rani
Director and producer Sohrab Modi flew in technicians from Hollywood to execute the first technicolour film Jhansi Ki Rani (1953) featuring Mehtab. Despite its stirring performance and appealing shots, the movie failed to make a mark on the box office.
First Indian film to be nominated for an Oscar: Mother India
One of the most expensive films of the time, Mother India (1957) finally took Indian cinema to the Oscars. The story of a rural woman who sacrificed all her life to raise her children and finally kills her criminal son was nominated in the Best Foreign Language Film category and became a definitive classic. Mother India lost to the Italian film Le notti di Cabiria.
First Indian cinemascope film: Kaagaz Ke Phool
Guru Dutt's Kaagaz Ke Phool (1959) is a classic in more than one ways. Apart from its realistic take on the vagaries of the Indian film industry and Guru Dutt and Waheeda Rahman's impeccable acting, the movie was also the first cinemascopic film made in India. The movie had some of the most breathtaking images ever seen in Indian cinema.
First jubilee hat trick films: Amol Palekar's Rajnigandha (1974), Chhoti Si Baat (1975), Chitchor (1976)
Three Amol Palekar classics had a back-to-back dream run at the box office at a time when potboilers and action films ruled. Rajnigandha, Chhoti Si Baat and Chitchor were also Amol Palekar's first three Hindi films.
First 70-mm Film: Sholay
On August 15, 1975, bade parde par, a phrase commonly used now, became a reality with the release of Ramesh Sippy's film Sholay. The tagline of the movie, 'First time in 70mm,' probably helped make Sholay the blockbuster it was.
First 3D movie: My Dear Kuttichthan
India was introduced to three dimensional motion pictures with the Malayalam film My Dear Kuttichthan in 1984. The phenomenon rapidly caught the Hindi film industry too with the first 3D Hindi film Shiva Ka Insaaf releasing in 1985.
First Dolby sound film: 1942 - A Love Story
Vidhu Vinod Chopra's 1942- A Love Story (1994) was music maestro R D Burman's swan song. The movie was also a stepping stone to advanced sound engineering with the introduction of Dolby sound.
First and only actor to win Best Actress award: Nirmal Pandey (Daayra)
Nirmal Pandey's powerful portrayal of a transvestite in Amol Palekar's Daayra (1996) fetched him a Best Actress award, which he shared with female lead Sonali Kulkarni, at the Valenciennes Film Festival in France in 1997.
First film insured: Taal
Almost 85 years after the first film released, the film industry addressed the demand for risk cover against any mishap prior to the release of the film. Director and producer Subhash Ghai began the trend when he had his film Taal insured for a sum of Rs 110 million in 1998.
First film to incorporate the 4K resolution technology: Sivaji: The Boss
When it comes to technology, the South film industry has often led the way. Rajinikanth's blockbuster film Sivaji: The Boss (2007) was the first Indian movie to incorporate the latest 4K resolution technology that is used only in big-budget Hollywood films. In India, 2K resolution has been the set standard.
First recipient of the Dadasaheb Phalke award - Devika Rani in 1969.
First winner of National Award for Best Actor - Uttam Kumar for Anthony Firinghee and Chiriyakhana
First winner of National Award for Best Actress - Nargis for Raat Aur Din
First winner of National Award for Best Supporting Actor - Victor Banerjee for Ghare Baire
First winner for National Award for Best Supporting Actress - Rohini Hattangadi for Party
First Filmafe Best Actor - Dilip Kumar for Daag
First Filmfare Best Actress - Meena Kumari for Baiju Bawra
First Filmfare Best Film - Do Bigha Zameen
First Indian Oscar winner - Bhanu Athaiya, Best Costumes for Gandhi (1982)
New Delhi:
The one constant in the ten decades of Indian cinema has been change. Right from the release of the first feature film
Raja Harishchandra
to today's age of digital cinema, the process of making movies has been one of evolution. As we celebrate 100 glorious years, here is a look at some of the firsts notched up by the factory of dreams:
First women on screen: Durgabai Kamat and her daughter Kamlabai Ghokhle
Women acting in theatre and cinema were considered a taboo in the early 1900s. Dadasaheb Phalke was forced to cast a male actor as the female lead in
Raja Harishchandra
because he couldn't find a woman who would play it. However, after
Raja Harishchandra
captured the imagination of India, he had no trouble casting the female character in his next film. Two women, Durgabai Kamat and her daughter Kamlabai Ghokhle, paved the way for actresses in Indian cinema. Durgabai portrayed the role of Parvati and Kamlabai appeared as Mohini in Dadasaheb Phalke's second film called
Mohini Bhasmasur
.
First double role: Lanka Dahan
Dadasaheb Phalke cast Anna Salunke, the actor who played Rani Taramati in
Raja Harishchandra
, in a double role in
Lanka Dahan
. Anna Salunke played both Ram and Sita in the movie. It is said that when the film was screened in Mumbai, people took their shoes off when Lord Rama's character appeared on the screen.
First South full length feature film: Keechaka Vadhan (Tamil)
In 1916, R Nataraja Mudaliar, an automobile spare parts merchant interested in the brave new world of cinema, built a silent film studio in Chennai. After being trained by British cinematographer Stewart Smith, Mr Mudaliar made the first full length Tamil feature film
Keechaka Vadhan
in 1917, leading to the birth of the vast Southern film industry.
First film to face censorship: Bhakta Vidur
Film censorship is commonplace today, but the first time a movie found itself on the wrong side of politics and the law was in 1921. Released during the imposition of the Rowlatt Act that put restrictions on Indian imports,
Bhakta Vidur
was banned in Chennai and Karachi for it political undertones.
First film certified: Orphans Of the Storm
The story of two sisters at the backdrop of the French revolution, DW Griffith's film
Orphans of the Storm
underwent censor cuts in 1920 under the Indian Censorship Act 1918.
First social satire: England Returned
In 1921, Dhirendranath Ganguly, a Bengali artist made his first film
Bilet Pherat
which was translated in English as
England Returned
. The film, which mocked the upper strata of pretentious, Anglicised Indians, was the first to use satire as a social commentary.
First woman producer and director: Fatma Begum
Early Indian cinema was dominated by men, and women were considered only for roles in front of the camera. But in 1926, actress Fatma Begum became the first woman to take an important role behind the camera by establishing her own production company, Fatima films, and directing
Bulbul-e-Parastan
.
First talkie film: Alam Ara
The film that gave the medium of cinema a voice was a period fantasy about an ageing king and his two rival queens.
Alam Ara
(1931) opened a whole new chapter for Indian cinema, breaking the silence. The film took months to make because of hazardous recording conditions and the secrecy surrounding the project.
With the introduction of sound came music and songs.
Alam Ara
contained seven songs composed by the first music directors of the film industry, Pirojshah Mistry and B Irani. Also,
De De Khuda Ke Naam Par Pyare
became the first ever song recorded for a film.
First Indian film to be shot with artificial lights: Apradhi
One of the most iconic personalities in Indian cinema, P C Barua is also noted for being the first to use artificial lights while filming. He went to Europe in 1931, observed the production techniques in a London studio and bought lighting equipment used in the studio. Mr Barua returned to Kolkata and founded his own production studio, Barua Pictures Ltd. The first film from the studio
Apradhi
, directed by Debaki Bose, was made using artificial lights.
First animation film: Lafanga Langoor
Animation movies may still have miles to go but the first experiment with the genre was by German photographer Bocho Gutachwager in 1931 who produced the country's first animation film
Lafanga Langoor
.
First English song: Now The Moon Her Light Has Shed from Karma
Amongst its many breakthrough achievements, the 1933 movie
Karma
was the first Indian movie to have an English song sung by its actress Devika Rani.
First on-screen kiss: Marthanda Varma
The second Malayalam feature film
Marthanda Varma
that released in 1933 raised eyebrows for showing a lip-lock between the lead actors. Later that year Devika Rani and Himanshu Rai also shared a kiss in the Hindi movie
Karma
.
First international award: Seeta
Directed by Debaki Bose,
Seeta
was the first Indian talkie film to premiere at the Venice Film Festival in 1934. The movie, featuring Durga Khote and Prithviraj Kapoor, won an Honorary Diploma, making Debaki Bose the first Indian director and
Seeta
the first film to have won an international award.
First movie with flashback: Roop Lekha
Flashbacks have always been an important part in the telling of cinematic stories and the first movie to use the technique was P C Barua's 1934 film
Roop Lekha
.
First woman composer: Jaddan Bai
Renowned singer and actress Nargis' mother, Jaddan Bai became the first woman composer with
Talashe Haq
that released in 1935.
First playback in a film: Dhoop Chhaaon
One of the most important developments in Indian cinema was the introduction of playback singing. Rai Chand Boral was the first to use the systematic technique of playback singing in the film
Dhoop Chhaoon
(1935).
First Golden Jubilee film:Sant Tukaram
Marathi film
Sant Tukaram
(1936) became the first ever film to run in a single theatre for more than a year. The film also won a citation at the Venice Film Festival.
First colour film:Kisan Kanya
Ardeshir Irani of Imperial Film Company established India's first colour film laboratory in 1937 and Moti B Gidvani's
Kisan Kanya
emerged as India's first indigenously produced colour film.
First songless talkie film: Naujawan
Right after the first talkie film released in 1931, songs became an indispensable part of Hindi films. However, one film that did not catch up with the trend and was released without a single song. J B H Wadia's
Naujawan
released in 1937 became India's first songless talkie.
First film with A-certificate: Hanste Aansoo
Hanste Aansoo
(1950) featuring Madhubala and Motilal became the first film to receive 'only for adults' certification following the amendment of the original Indian Cinematograph Act (1918) in December 1949 by which time 'A' and 'U' had been introduced.
First dream sequence song: Ghar Aaya Mera Pardesi
Who can forget that long dream sequence in the song
Ghar Aaya Mera Pardesi
from Raj Kapoor's classic film
Awaara
(1951)? A sea of twirling cloud symbolised the conflicts in Raj Kapoor's mind.
First technicolour film: Jhansi ki Rani
Director and producer Sohrab Modi flew in technicians from Hollywood to execute the first technicolour film
Jhansi Ki Rani
(1953) featuring Mehtab. Despite its stirring performance and appealing shots, the movie failed to make a mark on the box office.
First Indian film to be nominated for an Oscar: Mother India
One of the most expensive films of the time,
Mother India
(1957) finally took Indian cinema to the Oscars. The story of a rural woman who sacrificed all her life to raise her children and finally kills her criminal son was nominated in the Best Foreign Language Film category and became a definitive classic.
Mother India
lost to the Italian film
Le notti di Cabiria
.
First Indian cinemascope film: Kaagaz Ke Phool
Guru Dutt's
Kaagaz Ke Phool
(1959) is a classic in more than one ways. Apart from its realistic take on the vagaries of the Indian film industry and Guru Dutt and Waheeda Rahman's impeccable acting, the movie was also the first cinemascopic film made in India. The movie had some of the most breathtaking images ever seen in Indian cinema.
First jubilee hat trick films: Amol Palekar's Rajnigandha (1974), Chhoti Si Baat (1975), Chitchor (1976)
Three Amol Palekar classics had a back-to-back dream run at the box office at a time when potboilers and action films ruled.
Rajnigandha
,
Chhoti Si Baat
and
Chitchor
were also Amol Palekar's first three Hindi films.
First 70-mm Film: Sholay
On August 15, 1975,
bade parde par
, a phrase commonly used now, became a reality with the release of Ramesh Sippy's film
Sholay
. The tagline of the movie, 'First time in 70mm,' probably helped make Sholay the blockbuster it was.
First 3D movie: My Dear Kuttichthan
India was introduced to three dimensional motion pictures with the Malayalam film
My Dear Kuttichthan
in 1984. The phenomenon rapidly caught the Hindi film industry too with the first 3D Hindi film
Shiva Ka Insaaf
releasing in 1985.
First Dolby sound film: 1942 - A Love Story
Vidhu Vinod Chopra's
1942- A Love Story
(1994) was music maestro R D Burman's swan song. The movie was also a stepping stone to advanced sound engineering with the introduction of Dolby sound.
First and only actor to win Best Actress award: Nirmal Pandey (Daayra)
Nirmal Pandey's powerful portrayal of a transvestite in Amol Palekar's
Daayra
(1996) fetched him a Best Actress award, which he shared with female lead Sonali Kulkarni, at the Valenciennes Film Festival in France in 1997.
First film insured: Taal
Almost 85 years after the first film released, the film industry addressed the demand for risk cover against any mishap prior to the release of the film. Director and producer Subhash Ghai began the trend when he had his film
Taal
insured for a sum of Rs 110 million in 1998.
First film to incorporate the 4K resolution technology: Sivaji: The Boss
When it comes to technology, the South film industry has often led the way. Rajinikanth's blockbuster film
Sivaji: The Boss
(2007) was the first Indian movie to incorporate the latest 4K resolution technology that is used only in big-budget Hollywood films. In India, 2K resolution has been the set standard.
First recipient of the Dadasaheb Phalke award
- Devika Rani in 1969.
First winner of National Award for Best Actor
- Uttam Kumar for
Anthony Firinghee
and
Chiriyakhana
First winner of National Award for Best Actress
- Nargis for
Raat Aur Din
First winner of National Award for Best Supporting Actor
- Victor Banerjee for
Ghare Baire
First winner for National Award for Best Supporting Actress
- Rohini Hattangadi for
Party
First Filmafe Best Actor
- Dilip Kumar for
Daag
First Filmfare Best Actress
- Meena Kumari for
Baiju Bawra
First Filmfare Best Film
-
Do Bigha Zameen
First Indian Oscar winner
- Bhanu Athaiya, Best Costumes for
Gandhi
(1982)