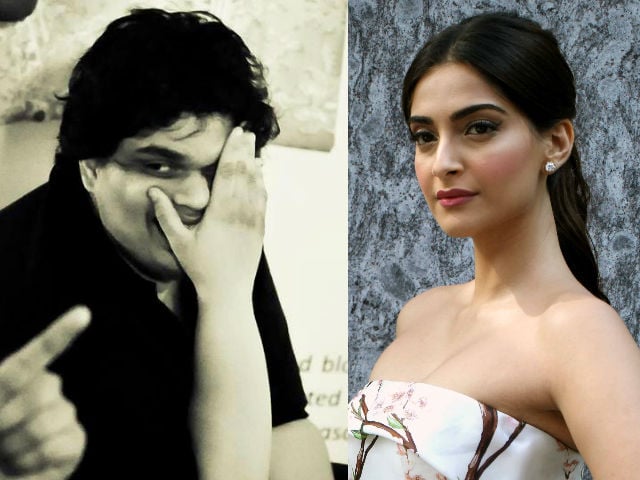 Highlights
Sonam Kapoor has stuck her neck out for Mr Bhat on Twitter
Some of Sonam's colleagues have slammed Tanmay Bhat
Anushka Manchanda, Hansal Mehta have denounced threats against him
New Delhi:
Comedian Tanmay Bhat still has social media's attention over the now-deleted video mocking Sachin Tendulkar and Lata Mangeshkar, and the wholesale condemnation is now tempered with stray voices of support. Mr Bhat went too far with his expletive-filled video, say the chorus of protests against him. Filing a police complaint and having the video blacked out is also an overreaction, say those defending him.
There have been calls for Mr Bhat's arrest from political parties and the Mumbai Police have asked YouTube and Facebook to block the video.
Actress
Sonam Kapoor has stuck her neck out for Mr Bhat
on Twitter:
Don't you guys think there are issues that are more important than @thetanmay snapchat jokes??? I'm in shock with this over reaction!

— Sonam Kapoor (@sonamakapoor) May 31, 2016
Being living legends I know @sachin_rt and @mangeshkarlata don't even know and care about what's going on!stop spewing hate on their behalf!

— Sonam Kapoor (@sonamakapoor) May 31, 2016
Singer Anushka Manchanda, director Hansal Mehta and AAP's Ashutosh have also denounced the threats against Mr Bhat. Call him unfunny and be done, they said:
It is disrespectful. Agreed. But why is everyone is giving it so much importance? https://t.co/4GW5Xj3mAb

— Anushka Manchanda (@IAmAnushka) May 30, 2016
AIB is usually funny, sharp and clever. The #TanmayBhat video is none of those. Question is does a bad joke deserve punishment and/or abuse?

— Hansal Mehta (@mehtahansal) May 30, 2016
Seen AIB video,tasteless, humourless,crude,unwatchable. But to threaten Tanmay with violence is not right.Sachin/Lataji are too big hearted.

— ashutosh (@ashutosh83B) May 31, 2016
Director Ram Gopal Varma posted a series of tweets, as he does, defending Mr Bhat's right to offend. We've picked two:
Blaming AIB for spoof on Lataji is like blaming a monkey about a monkey for being a monkey.True sense of humour is ability 2 laugh at anyone

— Ram Gopal Varma (@RGVzoomin) May 30, 2016
Any society which can't take a joke on it's own various elements is a sure sign of its internally plagued diseases of a fascist mind set

— Ram Gopal Varma (@RGVzoomin) May 30, 2016
However, Sonam is in danger of being shouted down by
colleagues who have slammed Tanmay Bhat
:
I am 9 times winner of #BestComicActor. Have a great sense of humor. But This's NOT humor. #Disgusting&Disrespectful https://t.co/sTuTfbAOrU

— Anupam Kher (@AnupamPkher) May 29, 2016
Am absolutely shocked. Disrespect is not cool and neither is it funny. https://t.co/ymYPi9hxuv

— Riteish Deshmukh (@Riteishd) May 28, 2016
Absolutely.. Shocked n appalled!! Not amused @mangeshkarlata ji needs to be apologised to .. NOW !! @rasheshshahhttps://t.co/viTcXyBSI0

— Celina Jaitly (@CelinaJaitly) May 28, 2016
People of india is terribly hurt by new comedy/jokes on elders icons the inspirations to generations. Learn to respect elders. Stop it here

— Subhash Ghai (@SubhashGhai1) May 31, 2016
I'm no prude but a pointlessly demeaning attack on old age isn't my definition of humor! Shameful! @mangeshkarlatahttps://t.co/tpKdoO9126

— T.A.N.U.J. G.A.R.G. (@tanuj_garg) May 28, 2016
Totally,it is awwwful n disgusting! Never expected Ds 4m #TanmayBhat . #LataMangeshkar ji #sachintendulkar#Respecthttps://t.co/RMJPA3hOtt

— Neetu Chandra (@Neetu_Chandra) May 30, 2016
There's also filmmaker Shirish Kunder, who usually has something to say. What he means by this is unclear:
Arresting is not enough, #TanmayBhat should be hanged till death. Cracking unfunny jokes is serious crime! https://t.co/tWwPTEZDGe

— Shirish Kunder (@ShirishKunder) May 30, 2016
Tanmay Bhat, a member of the comedy collective AIB, used Snapchat to make a video imagining a conversation between Sachin and Lata Mangeshkar debating the merits of Virat Kohli on the pitch. He posted it on May 26 and social media exploded.
Last year, AIB were similarly savaged on Twitter for the 'Roast' of actors Ranveer Singh and Arjun Kapoor, the three-part video of which was eventually taken offline.