New Delhi:
Highlights
Deepika did not wish Anushka on social media like their other colleagues
Deepika reportedly sent a warm message to each Anushka and Virat
Anushka and Virat married in Tuscany on December 11
Newlywed Anushka Sharma returned to Twitter yesterday after marrying boyfriend Virat Kohli on Monday and the first thing she did was to thank her friends and colleagues who posted congratulatory messages for her. Actress Deepika Padukone was not among those who wished her - at least, not on social media.
Pinkvilla
exclusively reports that Deepika texted Anushka and Virat after the wedding and that she sent them each a 'warm message.' Deepika, 31, is reportedly dating actor Ranveer Singh, rumoured to be Anushka's ex, and the media has for years insisted that relations between the two actresses were frosty at best.
While it's true that when Deepika's name cropped up while Anushka and Katrina (who dated Ranbir Kapoor who dated Deepika)
were on Koffee With Karan this year
the actresses responded with loaded silence. However, just recently Anushka signed a letter to Prime Minister Narendra Modi protesting the threats of violence made against the other actress over her film
Padmavati
- she also attempted to get Kangana Ranaut to sign, by Kangana's own account. So it does seem like the Deepika-Anushka equation has thawed, if it were ever icy at all.
If Deepika Padukone appeared to have ignored Anushka Sharma's relationship status,
Pinkvilla
says it was not actually so. A source said, "Maybe not on social media, but Deepika has wished the happy couple personally and it was a warm message. She texted them both her best wishes individually post the wedding. Deepika likes to add her own personal touch to whatever she does - be it her own team or friends and social media can be a cold and impersonal way of conveying one's feelings. Also she has always been very supportive of Anushka in everything she has done as Anushka has been of her. They may have had issues in the past but now both have found admiration and respect for each other."
Deepika, at least publicly, has never appeared to have been cold to Anushka. Earlier this year, Karan Johar asked Anushka and Katrina on his chat show if they had ever considered Deepika 'a good friend.' The two actresses reacted with pin-drop silence. Deepika, however, posted this complimentary tweet after the episode:
these girls were on fire!what a fun episode... https://t.co/BmWqWE4fXT

— Deepika Padukone (@deepikapadukone) December 27, 2016
A couple of years ago, Deepika and Anushka were pictured hugging and posing for photos on what seemed to be the best of terms at a meeting between a Bollywood delegation and the Minister of State for Information and Broadcasting.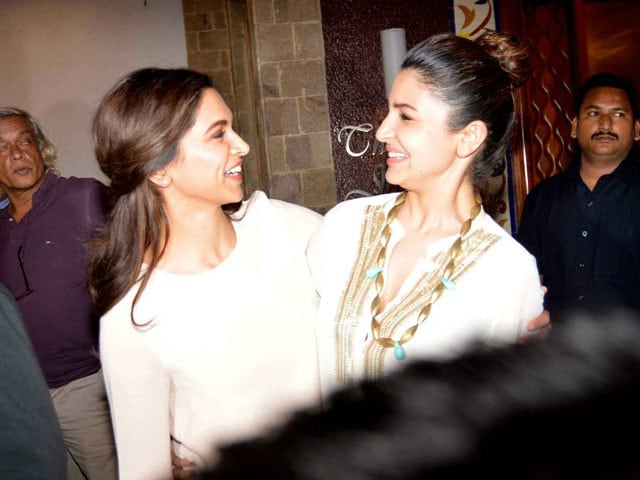 So, all good on that front. Perhaps this will be the last of the Deepika-Anushka headline series.