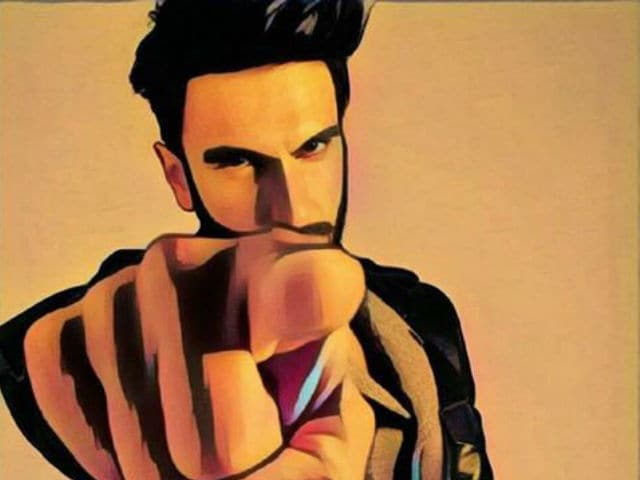 Highlights
There are things which only Ranveer would/can do. Admit it
Ranveer danced to Akshay's song to promote Rustom
Dethroning the Sultan is not for us mortals, but for Ranveer...
New Delhi:
Ranveer Singh, Ranveer Singh, there's no one like Ranveer Singh (sorry Macavity and T S Eliot) - at least not in the ultra-glossy world of Bollywood. There is absolutely no denying the fact that there are things which only he would/can do. You no can do.
Like Bacon, Ranveer Makes It Better
Akshay Kumar's
Rustom
is filled with thrills and chills but everything is better with a bit of Ranveer. Ranveer Singh makes anything funny - it's a gift. For proof,
watch this "chumeshwari performance"
(as choreographer Terence Lewis would say), in which Ranveer integrates one of Akshay Kumar's best dance moves and what's touted to be the actor's best role.
Ranveer posted this video on social media sites (all those he uses) of himself dressed like Akshay's character Rustom Pavri, dancing to the song
Chumma
from Akshay's 1995 film
Sabse Bada Khiladi
. The first part will remind you of old video games, the latter will have you ROFL.
Chumma to You @akshaykumar !!! #9DaysToRustomhttps://t.co/CylJHobWRA

— Ranveer Singh (@RanveerOfficial) August 3, 2016
Aforementioned falls in 'things only Ranveer Singh could do' category, which category also contains below activities.
Dethroning the Sultan
Ranveer watched Salman Khan's
Sultan
in Paris and, in uncelebrity-style but totally Ranveer-like manner, he danced in the theatre to the songs
Baby Ko Bass Pasand Hai
and
440 Volt
. The Ranveer jigged around unabashedly amid hooting and cheers from the crowd, who appeared as or more thrilled by Ranveer's routine than Salman's hilarious dance moves.
Dethroning the Sultan is not for lesser mortals:
Fans were literally dancing with him on stage No one was watching the song #RanveerSingh#Sultan#Parispic.twitter.com/OJ0YH5Jp0N

— Salée (@Scarabette) July 11, 2016
Mindblowing movie experience with THE #RanveerSingh in da house #Sultan#Cinema#Parispic.twitter.com/2sRPVy74fl

— Salée (@Scarabette) July 10, 2016
A
Jabra Fan
, you say?
A Pyjama Party
It's hard competing with the women on the red carpet - the gents usually just throw on a suit and show up. Not Ranveer Singh. Ranveer Singh is a true-blue 'fashionister' and his style chutzpah is unparalleled.
Take his appearance at the
GQ Best Dressed Men 2015 Awards
. A-list celebs turned up in suave suits and designer tuxedoes - Ranveer was dressed in Muppet pyjamas and fluffy Sylvester slippers.
For fashion critics, a quote was right up his tee.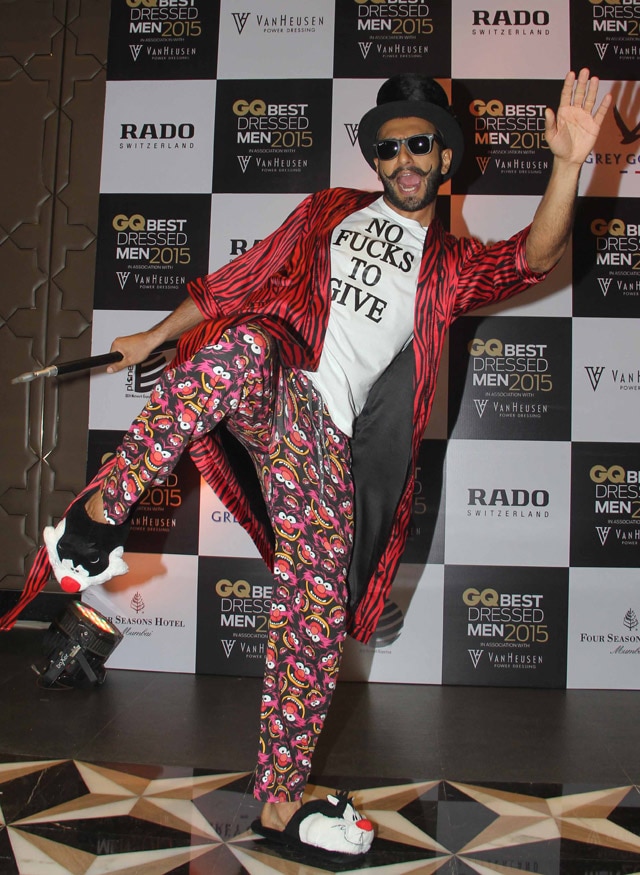 In general,
Ranveer's flashy style
has left the fashion police confused - to like or not to like, that is the eternal question. One, that we fear, might go forever unanswered.

Main Aisa Kyun Hoon?
Hume bhi nahi pata
...
Remember when Hrithik Roshan was handing out
Bang Bang!
dares to his industry colleagues? Well, one such dare was given to Ranveer and what happened next? He only went and completely upstaged everyone else Hrithik included.
My #bangbangdare ! Just for you @iHrithik :)) http://t.co/mmXwKP7l05

— Ranveer Singh (@RanveerOfficial) September 25, 2014
Just FYI, Hrithik had only asked Ranveer to POSE for his fans on a busy Mumbai street:
To @RanveerOfficial my #bangbangdare get out of ur car n pose on d middle of any Main Street of mumbai fr your fans! Hahaha,bolo..accept??

— Hrithik Roshan (@iHrithik) September 22, 2014
What Happens in the OT, Doesn't Stay in the OT
With syringes giving you a clinical but deadly stare, the operation theatre (OT) is surely not where inspiration or the Twitter muse strikes. But hey,
we're talking about Ranveer Singh here
. Therefore, no exceptions.
The actor had injured his shoulder while filming
Bajirao Mastani
. And then this happened:
Live tweet from the operation theatre !! pic.twitter.com/jVud7qKFOL

— Ranveer Singh (@RanveerOfficial) April 4, 2015
About to get knocked out!

— Ranveer Singh (@RanveerOfficial) April 4, 2015
He injected my neck ! Whoa! !

— Ranveer Singh (@RanveerOfficial) April 4, 2015
We agree with Sonakshi Sinha's keen observation:
@RanveerOfficial omg!!!! Baba you just reached a whole new level of crazy!!! Get well super duper soon

— AKIRA/Sonakshi Sinha (@sonakshisinha) April 4, 2015
Ranveer Singh, you beauty.
Ranveer will next be seen in Aditya Chopra's
Befikre
.