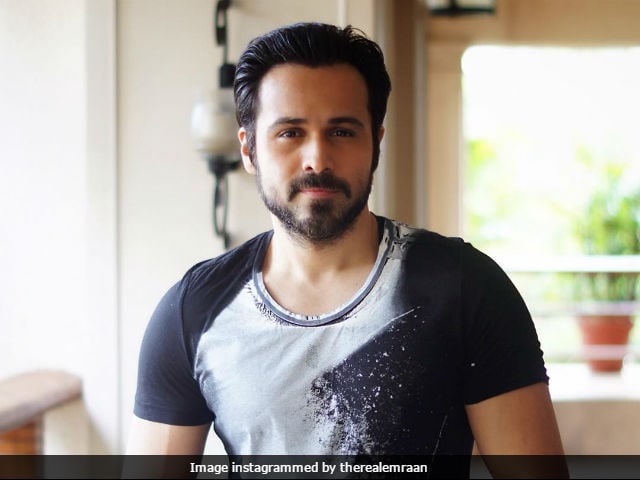 Highlights
"My tastes have changed," said Emraan Hashmi
Emraan said he is now willing to do "something new"
"When you work hard in a film, acceptability is important," said Emraan
Mumbai:
Box-office success of
Raaz
,
Jannat
and
Murder
film franchises catapulted Emraan Hashmi into fame, but he says he is not keen to be associated with them anymore as he wants to 'reinvent' himself as an actor. Though he made his debut with
Footpath
, it was the erotic-thriller
Murder
in 2004 which brought him into the limelight. He came back to the franchise with
Murder 2
. With
Jannat
in 2008 - he was a part of its sequel as well - Hashmi gained further recognition, and later went on to step in the second, third and fourth instalment of
Raaz
series. The actor says with time his taste has evolved and he is now willing to do "something new".
In an interview to PTI, Hashmi says, "I will not go back to doing those films. They played an important part in my career and life. Those kind of characters and films have contributed immensely, but I am not the same person or the actor I was back then."
"My tastes have changed. The audience's tastes have changed and it's changing very rapidly. So it's very important to give them something new and reinvent constantly. So that is my aim with the upcoming films," he added.
Though he may now not be open to feature in those films, all produced by his uncle Mahesh and Mukesh Bhatt, the actor says if anything interesting comes from their side, he might do it. "Whenever there is an interesting script, yes, I won't rule that out," he says.
Currently, the actor is elated with the success of his latest
Baadshaho
, which saw him re-teaming with
Once Upon a Time in Mumbaai
director Milan Luthria and co-star Ajay Devgn.
"When you work hard in a film, acceptability is important. The trade part is important too, that the investors should get their money and everyone is happy. Creatively, we were satisfied and now the trade is gung-ho too, so everyone is extremely happy," said Emraan Hashmi.
Produced by T-Series and Milan,
Baadshaho
since its release on September 1 has minted a business of Rs 56.24 crore in India.
The 38-year-old actor is now gearing up to start his first production,
Captain Nawab
, directed by Tony D'Souza, which goes on floor next month.
The actor insists that the film is inspired by real events and the makers will not adhere to adding unnecessary "masala" elements to the story to make it more commercial.
"It is inspired from a real event but eventually it is a fictional piece of work. This has been sourced out from true happenings in our country, there is some element of fiction added. But it doesn't go into the masala zone. It is very gritty, very real. It in an entertaining war drama thriller," he says.
"It has a sense of realism and at the same time it is entertaining. Bringing together these two things is a challenge but I am sure we will be up for it," he added.
Captain Nawab
will be the first time when Emraan will be seen as an army man but the actor says he is always nervous before playing any role.
"I am nervous before playing any character. For me that is what drives me. The day I become cocky about a character or a film, I think I will fail miserably. It is very important for me to have that positive nervous feeling, that I need to rise up and do my best," said
Emraan Hashmi.
Emraan says he needs to get into a proper shape to play an army man and concentrate on working on a certain dialect which is important for the character.
There were reports that he would be producing and starring in a film about the education system, to be directed by Soumik Sen, and the actor says there is still some time for that.
"It's too early to speak about that. Actually there are three more scripts that will be made post
Captain
...' but all these are in the nurturing process. Nothing is confirmed yet," said Emraan Hashmi.
(Except for the headline, this story has not been edited by NDTV staff and is published from a syndicated feed.)