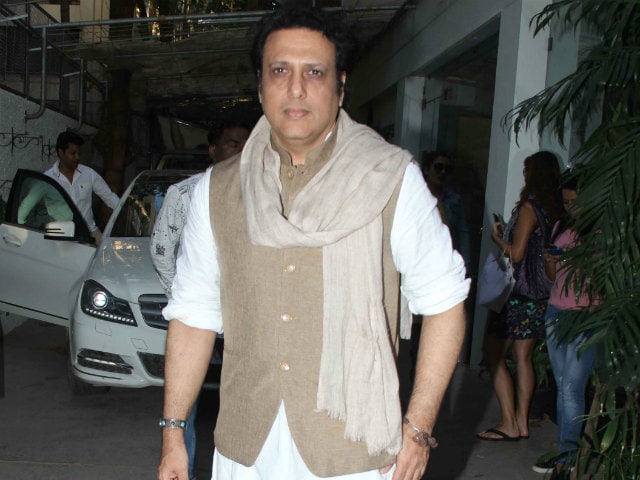 Highlights
'It affects your career,' said Govinda
'There are massive camps in Bollywood,' he added
'I never belonged to any camps,' he said
New Delhi:
Actor Govinda,
whose star has waned since the Nineties
when he was the top actor in Bollywood, has said he regrets not aligning himself to any of the several influential 'camps' that exist in the Hindi film industry. "It affects your career," the 53-year-old actor told news agency PTI. Govinda, some would say, did belong to a 'camp' of sorts - he made 17 mostly
hit films with director David Dhawan
in the Nineties, a relationship that appears to have declined in recent years. "There are massive camps in Bollywood. I never belonged to any camps but I think it was a wrong move. I should have had. It affects your career. It's one big family. In that one family, if you create harmony and build good relations, it works. If you are a part of it, if you are blessed, you will do very well," Govinda told PTI.
In 2004, Govinda embarked on a political career, which didn't end well. Four years later, he resigned his Lok Sabha seat after being criticized for ignoring his constituency and repeated absence from Parliament sessions.
His film career never really recovered either
, except for a brief moment of glory in Salman Khan's 2007 hit
Partner
.
Govinda revealed
to PTI that the lean period was made tougher by people he associated with. "I have struggled a lot, let me tell you, it is not so easy. When I was struggling, people didn't make my way easy. I heard and saw what had happened to Bachchan sir, but didn't know it will happen with me. He could do it, come out of it, that was inspiring," he told PTI, referring to Amitabh Bachchan who also navigated a period of financial difficulty.
"It (financial struggle) is tiring. It is daunting, people misbehave, they don't write (movies) for you properly, some even ask for money again and again, saying they get paid better writing for TV," Govinda told PTI about his own experience.
Govinda recently accused David Dhawan, with whom he delivered hits such as Coolie No 1 and Haseena Maan Jayegi, of not standing by him when he was down and out. He also claimed he had approached Mr Dhawan with a film idea for their 18th project but that the director cast Rishi Kapoor instead. "Friends in the industry cannot do much. They have to do hard work for their own business, look after their own work. Friends only can be friends, not God. So, you have to do things on your own," Govinda told PTI.
Last seen in films like Kill Dil and Happy Ending, Govinda is about to make a comeback with a starring role in Aa Gaya Hero, the date of which has been rescheduled to later this month.
(With inputs from PTI)