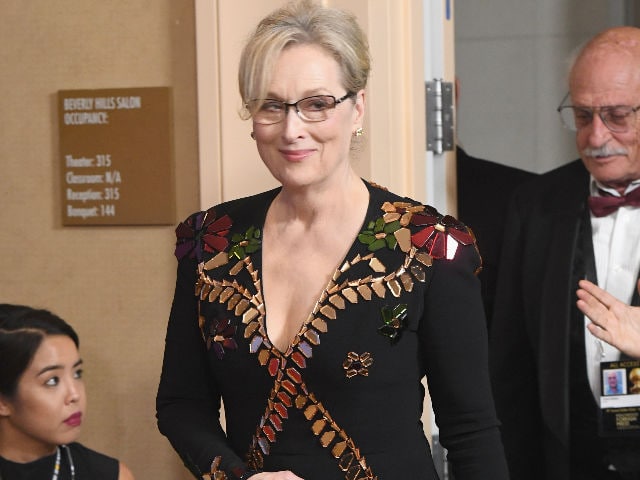 Highlights
Meryl Streep spoke about diversity in her attack on Donald Trump
Meryl Streep's speech has since gone viral
"'Active empathy' is a choice that few make," tweeted Dia Mirza
New Delhi:
Actress Meryl Streep's impassioned and emotional speech at the Golden Globes has won the Internet's collective and somewhat spiky heart. In a
cleverly-crafted takedown of Donald Trump's political agenda
, Ms Streep launched a scathing attack on the President-Elect of USA without once naming him. Her powerful words slammed Mr Trump's xenophobic campaign platform and called for protection of journalistic principles and free speech. Ms Streep, who was accepting the Cecil B DeMille award at the Golden Globes, invoked the diverse background of many of the actors present in the room and reminded the world that there would be only "football and mixed martial arts to watch" were Hollywood's 'outsiders' to be 'thrown out.' "When the powerful use their position to bully others, we all lose," said Ms Streep on Sunday night. Her speech, which has since gone viral, has been given a blockbuster welcome on Twitter by Indian and international celebrities.
Here are some reactions from Bollywood and Hollywood:
Quoting my favourite #MerylStreep, as I call an end to this night...when u have a broken heart..make art. You are astounding.#fangirlpic.twitter.com/i82HSswAgG

— PRIYANKA (@priyankachopra) January 9, 2017
"We have to remind each other of the privilege & the responsibility of the act of empathy"....#MerylStreep#WordsToLiveByhttps://t.co/qurjT1QcaU

— Sonam Kapoor (@sonamakapoor) January 9, 2017
More reason to love #MerylStreep. 'Active empathy' is a choice that few make. #Respecthttps://t.co/NavfZYcUzv

— Dia Mirza (@deespeak) January 9, 2017
Let's copy their grace,their guts, not their films. #Merylstreep the real true hero, the star. #GoldenGlobeshttps://t.co/akiyIDjeYP

— Gauri Shinde (@gauris) January 9, 2017
All hail the queen ..when #MerylStreep talks.. #Hollywood the #foreigners the #press and the world shuts up and listens!!! #GoldenGlobes

— Neha Dhupia (@NehaDhupia) January 9, 2017
always admired Meryl Streep as an actor but now my respect for her as a person knows no end . What a fearless speech at the golden globe !!

— Javed Akhtar (@Javedakhtarjadu) January 9, 2017
Take your broken heart make it into Art ! Wow #MerylStreephttps://t.co/3oRn3ARlPv

— Hansika (@ihansika) January 9, 2017
We in our film industry don't even need to give a speech like Meryl Streep if we just start standing up with those who actually speak up.

— Anurag Kashyap (@anuragkashyap72) January 9, 2017
#MerylStreep tonight thank you for defending us and "take your broken heart, make it into art"

— Elizabeth Banks (@ElizabethBanks) January 9, 2017
There has never been anyone like Meryl Streep. I love her. #GoldenGlobes

— Ellen DeGeneres (@TheEllenShow) January 9, 2017
How DARE Meryl exercise her right to free speech like that's a thing we are allowed to do here in Ameri- wait...hmm. #MerylStreep

— shonda rhimes (@shondarhimes) January 9, 2017
"When the powerful use their position to bully others, we all lose" thank you #MerylStreep#GoldenGlobes

— Julianne Moore (@_juliannemoore) January 9, 2017
I started my career working with #MerylStreep. That experience set a standard to which I always aspired. A national treasure and fine woman.

— James Woods (@RealJamesWoods) January 9, 2017
#MerylStreep your work, your words.. & your heart is why you are the history lesson our young generation should aspire to be. #GoldenGlobes

— Wilmer Valderrama (@WValderrama) January 9, 2017
Next level brilliant ballsy human fearless!#MerylStreep lifetime achievement bravo! Encore! #GoldenGlobes thank you! pic.twitter.com/0SaRePW1a6

— Sandra Bernhard (@SandraBernhard) January 9, 2017
'You're perfect, and I love you.' Everyone ever, right now. #MerylStreep#GoldenGlobes

— Matt Doyle (@MattfDoyle) January 9, 2017
Clearly, East or West, Meryl Streep is the best.
Here are excerpts from Meryl Streep's Golden Globe Awards Speech:
"Hollywood is crawling with outsiders and foreigners. And if we kick them all out, you'll have nothing to watch but football and mixed martial arts, which are not the arts."
"It was that moment when the person asking to sit in the most respected seat in our country imitated a disabled reporter. Someone he outranked in privilege, power, and the capacity to fight back. It kind of broke my heart when I saw it. I still can't get it out of my head because it wasn't in a movie. It was real life."
"And this instinct to humiliate, when it's modeled by someone in the public platform, by someone powerful, it filters down into everybody's life, 'cause it kind of gives permission for other people to do the same thing. Disrespect invites disrespect. Violence incites violence. And when the powerful use their position to bully others, we all lose."
Watch Meryl Streep's Golden Globe Awards Speech
At tonight's #GoldenGlobes we honor Hollywood legend Meryl Streep with the prestigious Cecil B. Demille Award. pic.twitter.com/dxpeCDNXY6

— Golden Globe Awards (@goldenglobes) January 9, 2017
Meryl Streep, a multiple Golden Globe winner, was nominated this year in the Best Actress - Comedy/Musical category for her performance in
Florence Foster Jenkins
. She lost to Emma Stone for
La La Land
.