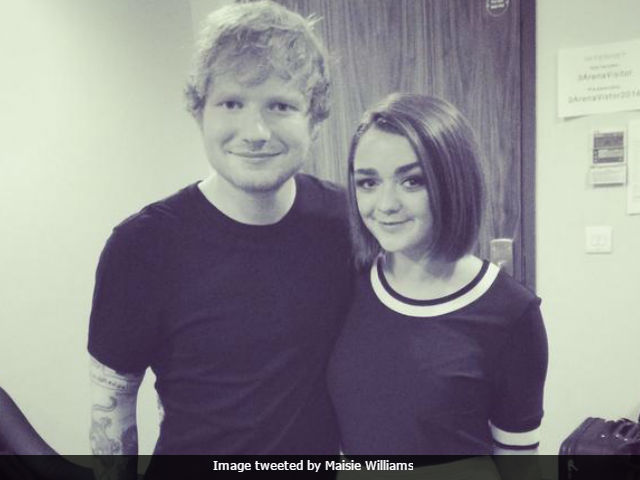 Highlights
Ed Sheeran has a five-minute role with Maisie Williams
Ed Sheeran's character doesn't die
Game Of Throne 7 will premiere on July 7
New Delhi:
Curious to know what is singer Ed Sheeran's cameo in
Game Of Thrones
all about? The 26-year-old singer earlier confirmed that he has a five-minute part in an episode of the upcoming season and he won't die like the favouite (and sometimes despicable) characters do. The
Shape Of You
singer told
The Hits Radio
that he shares the screen with Maisie Williams, who plays the role of Arya Stark. Ed Sheeran said: "I just do a scene with Maisie. I sing a song and then she goes, oh, that's a nice song." The new season of
Game Of Thrones
will start in July.
Showrunner David Benioff earlier told
TIME
magazine that
Ed Sheeran's cameo is like a 'gift' to Masie Williams
. "For years we were trying to get Ed Sheeran on the show to surprise Maisie, and this year we finally did it," he said.
Towards the end of
Game Of Thrones 6
Maisie's character Arya Stark was shown heading towards King's Landing after killing Lord Walder Frey and his sons. In season 6, Arya is trained in the House of Black and White in Braavos but she eventually abandons the Faceless assassins and leaves Braavos. The last glimpse of Arya we get in Season 6 is on a ship headed to King's Landing. Arya hopes to kill
Cersei Lannister, who has been crowned the 'Lord of the Seven Kingdoms'
and 'Protector of the Realm.'
Arya doesn't know that her sister Sansa and brother Jon Snow are also en route to King's Landing. Jon Snow was named King of The North by the smaller kingdoms of the region after he defeated Ramsay Bolton and reclaimed Winterfell.
Meanwhile, Daenerys Targaryen has started her journey towards King's Landing with a mammoth army, three dragons and Tyrion Lannister as Queen's Hand.
Game Of Thrones 7 will have an epic battle for the Iron Throne
with three contenders - Cersei Lannister, Daenerys Targaryen and Jon Snow.
Game Of Thrones
season 7 will premiere on July 7.