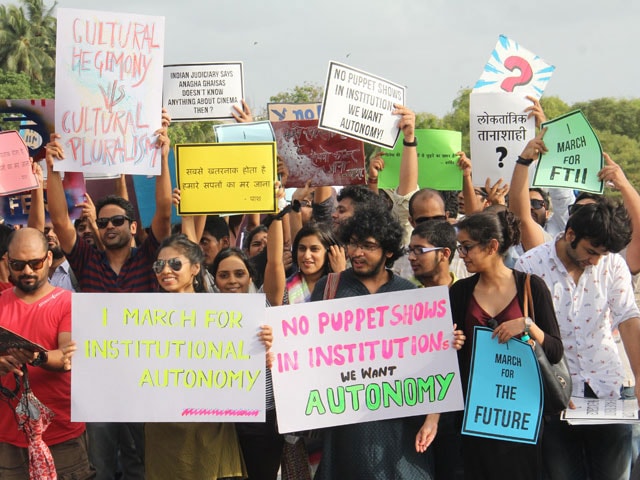 Pune:
FTII students who went on strike on June 12 against the appointment of Gajendra Chauhan as its chairman returned to their classes on October 28 but said that protests against the BJP member will go on.
The students of Film and Television Institute of India said that they will continue to protest in a "peaceful and democratic manner" against Mr Chauhan, who they say, is not fit to head the country's premier film institute.
Ranjit Nair, spokesperson of the Students Association, told IANS that the strike was over.
"We have come to realize, after our long-stretched negotiations with the government, that the government is a bully," a miffed Mr Nair said. (Also Read:
Shabana Azmi: Qualification Should Be a Criteria For FTII Chairmanship
)
He said that the students will now invite people from all over the country who face similar problems.
"The strike will escalate now. It's time to register our protest all over again and take it to different heights," Mr Nair said.
He said that filmmakers and academics should come forward and take the protests forward in Mumbai.
The students held multiple meetings with officials of the information and broadcasting ministry but no conclusion was arrived at.
The government refused to buckle over Mr Chauhan, forcing the student community to blink.
Mr Chauhan congratulated the students for ending the strike, and told IANS over telephone that it was time for them to return to their classes.
The decision to end the strike followed the government's "incongruous approach" towards the students' cause, said another student leader Reema Kaur.
"The 139 days of strike have not only made us stronger but more aware of the state that we today live in," said Ms Kaur, a final year student of editing and a part of the core committee of the Students Association that spearheaded the strike. (Also Read:
Vidya Balan Supports FTII Students, Signs Letter to President
)
"We voiced ourselves loud and clear but it is the government's adamant stand and incongruous approach towards our valid demands that has made us completely lose faith," Ms Kaur told IANS.
"Looking at the ministry's unrelenting approach and the amount of our valuable time spent, we have decided to end the strike and resume classes. However, our voices will not shut, but grow louder. The protests shall continue democratically and in the peaceful manner as they have," she added.