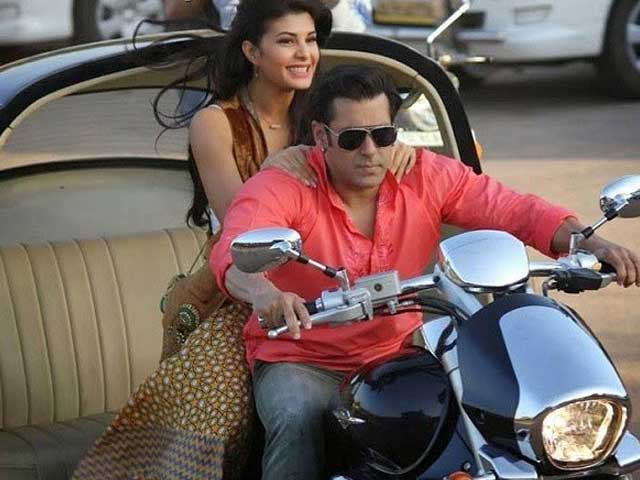 KSIAZ CASTLE, Poland:
From Hollywood to Bollywood, A-listers are shooting blockbusters in "exotic" Poland, a rising star in foreign film production thanks to world-class locations and crews available at a fraction of the price elsewhere in Europe.

Hollywood mogul Steven Spielberg recently wrapped up a top-secret week of shooting in the southern city of Wroclaw for what is billed as a 1960s Cold War-era spy thriller featuring fellow Oscar winner Tom Hanks.

Set and shot in the capital Warsaw this spring, Bollywood's hit action-romance comedy Kick starring A-list bad boy Salman Khan is on track to be India's all-time top-grossing film, spurring talk of a sequel.

Two other Bollywood productions, Bangistan and Shaandaar, also chose Poland this year, as did Japan's upcoming historical drama Persona Non Grata, while French director Anne Fontaine has scheduled a 40-day shoot in early 2015 for Les Innocentes.

Native son Roman Polanski, who won an Oscar in 2003 for the Holocaust drama "The Pianist" filmed on location in Warsaw, is also considering a new project here.

"Poland is beautiful, it's exotic, it's unique and it's got a certain sense of style which we've not seen before ," said hit Indian film-maker and Shaandaar director Vikas Bahl.

Along with the novelty, there's the money factor.

Most European countries offer tax rebates for international film producers starting at around 20 percent of production cost, with Ireland touting a 32 percent tax credit as of next year.

While Poland as yet offers none, 100 local producers provide services at up to half the cost in western European states. Add to this nearly 1,000 locations from modern cities to rugged mountains, beaches, forests, castles and pastoral countryside brimming with old-world charm. Foreign film-makers are increasingly seduced.

- Location, location, location - Bollywood starlet Alia Bhatt pretends she is toasty warm as she skips down a staircase outside Poland's majestic Ksiaz castle in a spaghetti-strapped summer dress as white flowers cascade down around her. But it is late autumn and temperatures have plunged to near zero C (32 degrees F) on the set of Shaandaar, billed as a destination wedding comedy also starring heart-throb Shahid Kapoor. "Shahid and Alia have been fabulous, they've been wearing summer clothes in this temperature, they've even been jumping into waterfalls," a shivering Vikas Bahl told AFP during a break in filming. Originally pegged for still-summery September, the shoot was delayed.

Alia and Shahid bundle up in fur-trimmed khaki green arctic parkas and munch on Indian Aloo Bhujia snacks between outdoor scenes at the 14th-century castle, once owned by Czech and Hungarian kings and, during World War II, visited by Nazi Germany's dictator Adolf Hitler.


Perched on a hilltop blanketed by forests, the castle is a "visually delightful" backdrop for the comedy focused on an Indian family's journey abroad for a lavish castle wedding, said director Vikas Bahl. As for Poland, "I love it so I hope many other Indians will too," he told AFP. Producer Vivek Agrawal is tight-lipped about costs for the film, also shot partly in Britain, but an anonymous source close to the project estimated its total budget at around six million dollars.
"It is more feasible to come to Poland than to go to western Europe or to the UK... east Europe is definitely cheaper," the head producer at India's Phantom Films studio told AFP.
According to Maciej Zemojcin, president of the Krakow-based Film Polska studio - local producers for
Shaandaar
and the stunt-studded
Kick
-- "a day of shooting in Poland ranges from $35,000 to $150,000 (28,000-81,000 euros). Costs are 30 to 50 percent higher in western Europe, mainly over crewing." - Legends meet digital savvy -
While business is good, Zemojcin worries that "foreign film production won't really take off in Poland without tax breaks."
"With tax breaks, in 2012 we would have quadrupled our business. We lost the last stage of a tender to Hungarian producers because they could offer tax breaks. It cost us 20 million zloty ($6 million, 4.8 million euros) in lost business," he told AFP.
Poland's knack for film-making has not come overnight, according to Tomasz Dabrowski, head of Film Commission Poland, a state body billed as a "one-stop resource for filming in Poland".
"Our tradition stretches back to the 60s and 70s when directors like Wajda, Zanussi, Kieslowski and Polanski emerged from the Lodz Film School, recently ranked by Hollywood Reporter as the world's number two film school," Dabrowski told AFP, noting it also launched Hollywood A-list cinematographer Pawel Edelman.
Now, this venerable legacy is getting a hi-tech edge with the rise of world-class digital post-production and animation studios. "Five studios, including one employing Oscar-nominated animator Tomasz Baginski, have created a cluster able to service a wide range of projects," says Dabrowski.
He said that confidential talks are underway for at least one other major Bollywood shoot in the new year, but clinching deals would be easier if Polish producers could sweeten the pot. "We need tax breaks for foreign film-makers now, or we'll lose our competitive edge and we might never catch up."