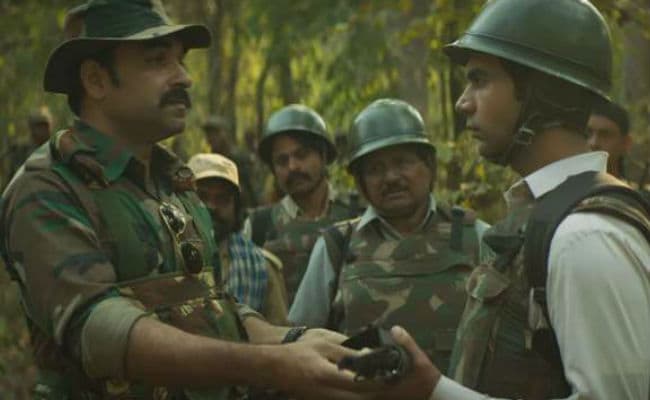 Highlights
Newton is India's official entry to the Oscars
The protagonist in Secret Ballot is a female polling officer
"That was very different I felt," says Newton director
New Delhi:
Just a day after Rajkummar Rao's
Newton was announced as India's official entry to the Oscars
, NDTV.com has discovered uncanny resemblances between director Amit Masurkar's film and a popular Iranian film called
Secret Ballot
. The idea and the concept of both these films are similar. Both narrate the story of a voting day in a remote place. The protagonist is an honest polling officer, who is given the task to ensure voting happens in the area against all the odds and both the movies also have another identical character, a soldier who is in charge of election security and who demotivates the polling officer at every step.
In Amit Masurkar's
Newton
,
Rajkummar Rao is the polling agent
who is given the tough task of conducting voting in a Naxal-affected area of Chhattisgarh. He is taken to the location on a chopper where he is introduced to Aatma Singh (Pankaj Tripathi), the soldier who tells Newton that he knows the area better and he should be the one deciding if voting should happen or not. Newton reminds him that he is in charge and he will make sure voting happens anyhow.
Watch the trailer of
Newton
:
In Babak Payami's
Secret Ballot
, the female protagonist, played by Nassim Abdi, is sent to a remote island on voting day by air. The soldier who is in charge of security is not interested and nor is he willing to help, She tells him, "I'm in charge here, mister. I have orders. You must obey, or I'll see to it you remain a soldier forever." This conversation is very similar to the one Newton has with Aatma Singh in Amit Masurkar's film. Even the setting up of the voting booth is similar; the young woman opens a chart and starts planning, similar to what Rajkummar Rao's character does after reaching the dilapidated school. In both the films, the security officer is reluctant but accept orders grudgingly. The young woman in
Secret Ballot
is seen carrying the ballot box in many scenes, and Rajkummar Rao's character too holds the voting machine close to his heart. Both films are satires.
Watch the trailer of
Secret Ballot
:
The crux of the story is the same, but a few things are different. In
Newton
, the polling officer is male and is accompanied by two other officers to help him, and the security officer has an army with him. In
Secret Ballot
, the polling officer is a young woman who goes door to door to ensure locals cast their vote - she is all by herself and so is the soldier.
NDTV.com spoke to Amit Masurkar, writer and director of
Newton
, and asked him about the congruence of both these subjects; he confirmed that the film is not inspired by or is a remake of
Secret Ballot
and denied there are similarities. He said, "I remember after I wrote the script just before I was going to shoot, a friend told me about
Secret Ballot
. Since the film was on YouTube I watched bits and pieces but that was very different I felt. A lady polling officer goes door to door. Also, there is some kind of romantic track which is not in Newton." When asked about the similarities between the lead characters, Masurkar said, "I knew someday people will draw similarities but what can one do? When you write a story there is a possibility that someone else must have written a similar story somewhere in the world."
In 2001,
Secret Ballot
toured film festivals across the world. The film won the FIPRESCI Prize - a Special Mention at the London Film Festival, Special Jury Award at Sao Paulo International Film Festival and many other awards.
What's surprising is that
Newton
had its world premiere at the 67th Berlin Film Festival and it won the International Federation of Art Cinemas (CICAE) award in its Forum segment, and no one spotted the similarities with another popular film at the festivals. It's likely to cause some embarrassment to not just the team of this movie but also those who honoured it on various prestigious platforms.
This is not the first time an acclaimed Hindi film is facing plagiarism allegations. Much after
Udta Punjab
became a hit, it was alleged that the story was lifted from Ben Elton's novel
High Society
.