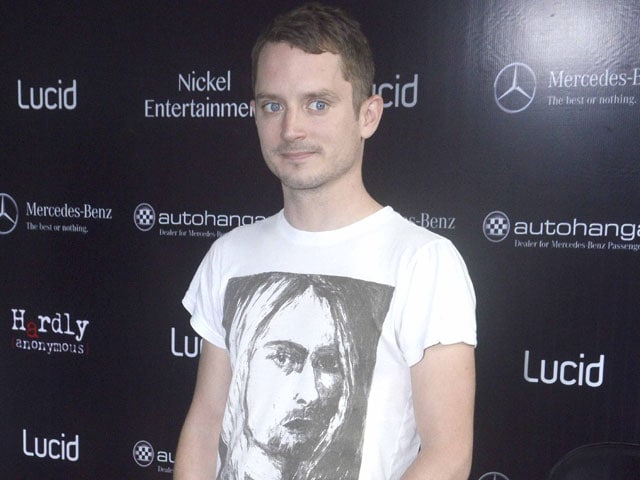 Mumbai:
The Lord of the Rings
star Elijah Wood says he finds India 'incredibly vibrant' and that he eagerly wanted to visit the country all his life. (Also Read:
Elijah Wood's India-Naama: Auto Ride, Done. Next, Bengali Food
)
"First impressions of India are incredible. We've been here barely for 24 hours but it's incredibly vibrant. There's a real life force here which is palpable. And it's exciting and new. It's a country that I wanted to visit all of my life. So everything that we're taking in is a new sensation. And we just look forward to exploring more," he said in an interaction with the media in Mumbai on Thursday.
Elijah, accompanied by Zach Cowie, the other half of his DJ duo Wooden Wisdom, and DJ Fitz. They are scheduled to perform in Mumbai, Delhi and Hyderabad.
"The culture (in India) has always fascinated me, always loved the food. It's a place that has a sort of magic and mysticism to it from afar. It's been on my list to travel to for a very long time," he said.
Elijah has played important roles in films such as the
The Lord of the Rings
trilogy and
The Hobbit: An Unexpected Journey
.
He is equally involved in playing music with Wooden Wisdom all over the world.
On reports that Indian actor Ali Fazal was going to host the trio, Elijah said, "No, it's not true. There have been a few things about our trip that have been fabricated and not true."
The trio clarified that they were just DJs and didn't create music. They said they possessed records of some Bollywood hits, but admitted they couldn't pronounce their names.
They said they loved
chai
(tea) and some Bappi Lahiri songs like
I am a disco dancer
.
They also expressed their fascination for the auto-rickshaws of Mumbai and joked that they were planning to steal one.