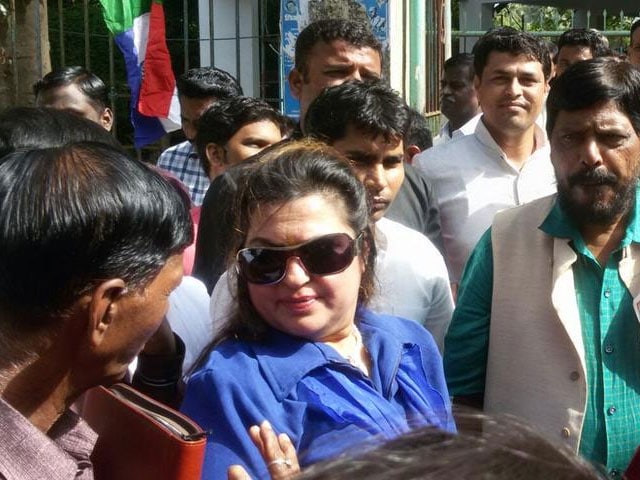 Mumbai:
The Mumbai police registered a fresh FIR against self-styled godwoman Radhe Maa and more than a dozen of her family members, as well as associates, based on a complaint filed by TV actress Dolly Bindra, a senior police official said.
The FIR was registered by the suburban Borivali police after Dolly Bindra accused Radhe Maa of intimidation, sexual harassment and voyeurism.
"An offence under Section 294, Section 354, Section 506(2), Section 109, Section 120 B has been registered against Radhe Maa, Sanjiv Gupta, Talli Baba, Bhupendra and others based on TV actress Dolly Bindra's complaint at the Borivali police station," Additional Commissioner of Police (North Region) Fateh Singh Patil said.(Also Read -
Kaali Maa Wears Fewer Clothes: Sonu Nigam on Radhe Maa Controversy
)
The senior police official said that the suburban Borivali police may summon Radhe Maa soon in connection with the fresh FIR registered against her.
In her complaint, Ms Bindra has alleged that she used to be a follower of the godwoman who attended her prayer meetings, but found them to be "obscene", adding that the godwoman would "force" Dolly to "get close" to her male devotees.
Earlier, the suburban Kandivali police had registered an FIR against Radhe Maa for alleged dowry harassment in August. However, Radhe Maa has been granted interim relief by the Bombay High Court in that case.
Meanwhile, the Republican Party of India (A) has planned an agitation in Borivali on Friday to protest against the alleged "misdeeds" of Radhe Maa.(Also Read -
From Jai Santoshi Maa to Radhe Maa: Bollywood's Leap of Faith
)
Incidentally, two other complaints have been filed earlier against the godwoman at the Borivali police station by advocates Falguni Brahmbhat and Ashok Rajput, alleging "obscenity" and "superstitious acts" respectively.