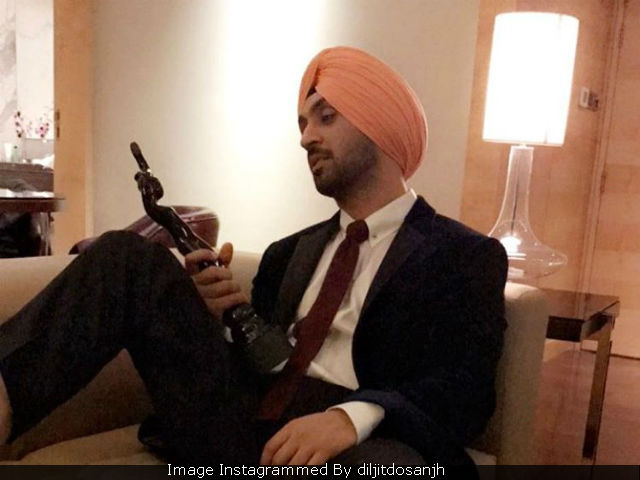 Highlights
Harsh tweeted he would have been happy to lose to Neerja actor Jim Sarbh
"I love Harshvardhan and like his father Anil Kapoor," said Diljit
Harshvardhan lost the Filmfare Best Male Debut award to Diljit
New Delhi:
Actor-singer
Diljit Dosanjh has responded to Harshvardhan Kapoor's criticism of his Filmfare Best Male Debut win
, telling news agency PTI that he was not "hurt" or "sad" and that he admires both Harshvardhan and his father, actor Anil Kapoor. Last week, 26-year-old Harshvardhan was accused of acting entitled when he suggested that Diljit Dosanjh, a huge star in Punjab, didn't qualify as a debutant. Speaking to PTI, Diljit said, "I am not hurt. I am not sad. I am thankful to Filmfare Awards for the honour that they gave me. I don't think I was deserving enough. It's a big award (and) I think they would have seen something in me and so they gave me the award."
Diljit Doshanjh, who was awarded for his performance in
Udta Punjab
, also told PTI, "For me the love of my fans matter the most and that's the biggest award for me. I love Harshvardhan Kapoor. I also like his father Anil Kapoor, he is a superstar."
Of the implication that his work in Punjabi films should have disqualified him from the award category, Diljit said, "I think actors like Fawad Khan and Dhanush have acted in other languages," referring to the Pakistani star's filmography in his home country and Dhanush's extensive body of work in the South. Fawad Khan won the Filmfare Award for Best Male Debut for his 2015 film
Khoobsurat
, Dhanush won it the year before for
Raanjhanaa
.
Last week,
Harshvardhan Kapoor, nominated for the film Mirzya
, told
Indian Express
, "I think debutant awards should be for people who are relatively new to films. I have done less work. Otherwise, it is like saying I have done 100 English films and now I am doing a Hindi film so I am a debutant. So if Leonardo Di Caprio wins an Oscar and then comes to do a Bollywood movie, he is a debutant which is not something I agree with." Dilit Dosanjh, 33, is the star of Punjabi films like
Jatt And Juliet
.
Later, Harshvardhan posted a series of tweets in response to one from an editor of
Filmfare
that read, "The sense of entitlement some of these newcomer actors have is beyond imagination. If only they were half as talented." In his tweets, Harshvardhan said he would have been happy to lose to
Neerja
actor Jim Sarbh and that Diljit Dosanjh had already worked in a Hindi film - he didn't name the film and we're not sure which one he meant.
In his interview to PTI, Diljit also spoke about reports that his marriage is on the rocks, saying: "I read about it. I think in Bollywood one gets publicity even without asking for it."
Diljit Dosanjh's next gig is on new talent show
Rising Star
, where he will join singers Shankar Mahadevan and Manali Thakur on the panel of experts.
(With inputs from PTI)