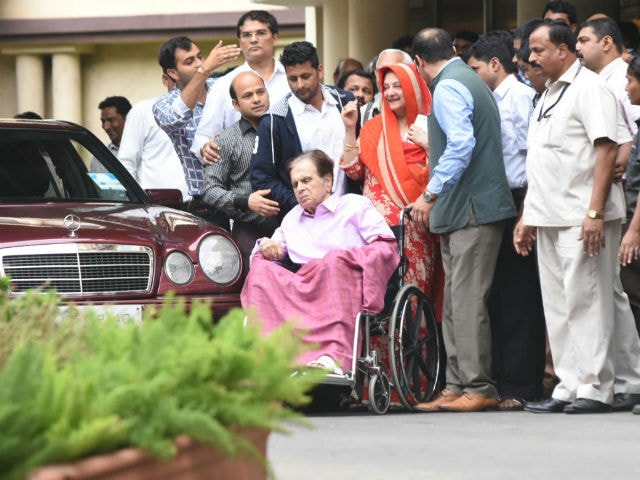 Highlights
Dilip Kumar was taken to hospital last week
He was treated for dehydration and kidney malfunction
Saira Banu used Dilip Kumar's Twitter to thank doctors and fans
New Delhi:
Actor
Dilip Kumar has been discharged from Mumbai's Lilavati Hospital
where he was being treated for dehydration and kidney malfunction. The 94-year-old actor was pictured outside the hospital in a wheelchair, accompanied by wife Saira Banu in a red sari. Dilip Kumar was taken to hospital last week. This afternoon, entrepreneur Faisal Farooqui used the actor's Twitter account to announce that he was on his way to the hospital to bring Dilip Kumar home. Mr Farooqui, who is a friend of the family, and hospital authorities have been providing regular medical bulletins on Dilip Kumar's health.
Doctors recently said he was improving greatly
but needed to remain in the Intensive Care Unit or ICU.
Saira Banu also used Dilip Kumar's Twitter to thank their team of doctors and fans who sent in their best wishes.
Message from Saira Banu:
By the grace of Allah, Dilip Sahab is under the care of Dr. Nitin Gokhale, Dr. Arun Shah of Lilavati Hospital...1/

— Dilip Kumar (@TheDilipKumar) August 9, 2017
2/:and Sahab's personal family physicians Dr. R.C. Sharma and Dr. S. Gokhale, along with the able input of Dr. S. D. Bapat...this excellent

— Dilip Kumar (@TheDilipKumar) August 9, 2017
3/ team has given the green signal to take Sahab home today.

— Dilip Kumar (@TheDilipKumar) August 9, 2017
4/ My gratitude to fans, friends for prayers, doctors for expert treatment, hospital staff n Sahab's personal attendants for all the care.

— Dilip Kumar (@TheDilipKumar) August 9, 2017
5/ It is the Almighty God's will and benevolence that I wish to acknowledge in all humility and gratitude.

— Dilip Kumar (@TheDilipKumar) August 9, 2017
Dilip Kumar has made several visits to hospital in the last three years
with a variety of ailments. In December, he celebrated his birthday in hospital, where he was being treated for fever and a swollen leg.
Dilip Kumar was born Mohammad Yusuf Khan and his six-decade career is studded with acclaimed classics such as
Madhumati
,
Devdas
,
Mughal-e-Azam
,
Ganga Jamuna
,
Ram Aur Shyam
and
Naya Daur
. He is well-known for playing tragic heroes in films like
Andaz
,
Baabul
,
Mela
,
Deedar
and
Jogan
. He was last seen in 1998 film
Qila
.
Dilip Kumar's many awards include the Padma Vibhushan, India's second-highest civilian award, which he received in 2015. He was honoured with the Padma Bhushan in 1991 and the Dadasaheb Phalke Award in 1994. He also shares the record for most Filmfare Best Actor wins - eight - with Shah Rukh Khan.