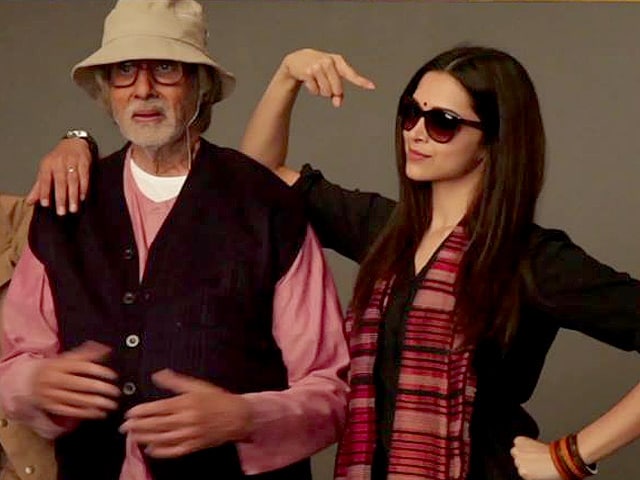 New Delhi:
As Amitabh Bachchan's accent in
Piku
thrills the Bengali-speaking world, here's a ready reckoner of what we know about the film, co-starring Deepika Padukone and Irrfan Khan, so far.
Deepika's '
daak naam
' is Piku, her last name is Banerjee, and her '
bhalo naam
' has thus far not been revealed to the public. This is quite normal among Bengalis, many of who can go their entire lives being called only by their '
daak naam
' even at work. For instance, Bengali superstar Prosenjit is
Bumba
-da even to those who've never met him and aren't likely to. (Also Read:
What Amitabh Bachchan Did in Between Takes on the Sets of Piku
)
Piku lives at C-124, Chittaranjan Park with her hypochondriac father.
Irrfan Khan, as Rana Chaudhary, runs the Himachal Taxi Service. Piku doesn't 'need' his taxis but reluctantly orders one when her father has to be carted around to places and occasions like '
Chhobi mashi
's party.' (Also Read:
Why the First Day Filming Piku Was a 'De Niro-Pacino Moment'
)
Amitabh Bachchan, or rather Bhashkor Banerjee, has the full set of common or garden illnesses that plague the Bengali hypochondriac. Or, at least, he's convinced he has them and is mighty displeased when the doctors don't agree.
Piku is quite equal to dining table conversations about the internal affairs of her cantankerous father, but she draws the line at messages about 'semi-liquid motion' being sent to her office.
Anybody wanting to hitch himself to Piku Banerjee for life, must also assume responsibility for her father. This proves an enormous deterrent to prospective suitors. (Also Read:
Deepika Padukone's New Piku Song Tells of Love, Loss and Longing
)
Bhashkor Banerjee's arsenal of insults include '
Shuuuor ka baachchaa
'
Residents present and past of Kolkata will recognize not only several streets and landmarks the film has been shot in, but also two stately homes in the city - Burdwan Palace and Laha Baari.
Piku
, directed by Shoojit Sircar, also co-stars Moushumi Chatterjee and releases on May 8.