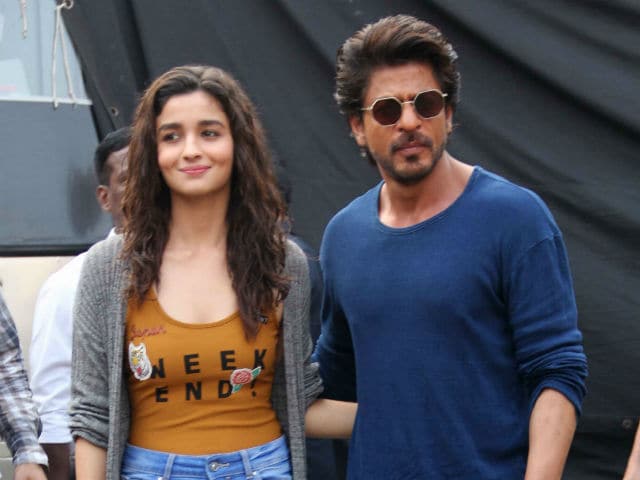 Highlights
SRK's character is definitely the kind of guy women want, says Alia
Women, at the end of the day, want to be heard, says SRK
SRK and Alia's Dear Zindagi will hit the screens on November 25
New Delhi:
Alia Bhatt is a lucky girl, many would say. After all, she's been the privileged recipient of romantic advice from the King of Romance himself.
In new film Dear Zindagi,
opening this Friday, Shah Rukh Khan plays 'unconventional thinker' Jehangir or Jug, who dispenses advice
and life lessons to Alia's
character Kaira, a would-be filmmaker who has enough romantic drama in her life to keep Jug busy handing out metaphorical tissues. His brand of wisdom ranges from advising Kaira to 'recycle' her jokes when beyond 'repair' and not stopping to help when she falls off her cycle. So when NDTV met Shah Rukh Khan, 51, and Alia Bhatt, 23, in New Delhi on Tuesday, we asked if SRK, 28 years her senior, is now Alia's new 4am friend.
"Actually, even 3am," laughed Alia, "because he is up at that time." This statement was corroborated by SRK, who said, "I can be anyone's 4am friend since am up and about then." That's a dangerous invitation to throw out there, Shah Rukh Khan - you never know who's going to take you at your word.
SRK added that Alia had been
very patient with him since he only rehearsed at night and she kept herself awake.
Is Jehangir Khan the kind of man a woman wants, we asked Alia. "Yes, he is definitely the kind of guy women want," she said. SRK responded with his guru gyaan: "Women, at the end of the day, want to be heard. If you can hear them out, listen to what they have to say, it's perfect." That's SRK (married for 25 years) and not Jug speaking, and it really does sound like he's cracked the answer to what women want.
The secret to the longevity of his marriage was exactly what Alia wanted to know when we said she could ask SRK for relationship advice IRL. SRK's gyaan: "Give space and it's all good." He did admit, though, that he's not an easy man too live with. "I have too many emotional quirks," was his self-diagnosis.
Gauri Shinde, who directs
the two actors in
Dear Zindagi
, said that Shah Rukh Khan's stardom has not overshadowed the film and that the inspiration for
Dear Zindagi
came from her own life experiences.
Alia Bhatt, who has clocked a rocking 2016 with the films
Kapoor And Sons
,
Udta Punjab
and now
Dear Zindagi
, admitted that her biggest fear is of failure and being abandoned.
Dear Alia, failure and subsequent abandonment is probably the least likely thing to happen to you any time soon.
Dear Zindagi
is Gauri Shinde's second film after
English Vinglish
with Sridevi. It also stars Kunal Kapoor, Aditya Roy Kapur, Angad Bedi, Ira Dubey and Ali Zafar.