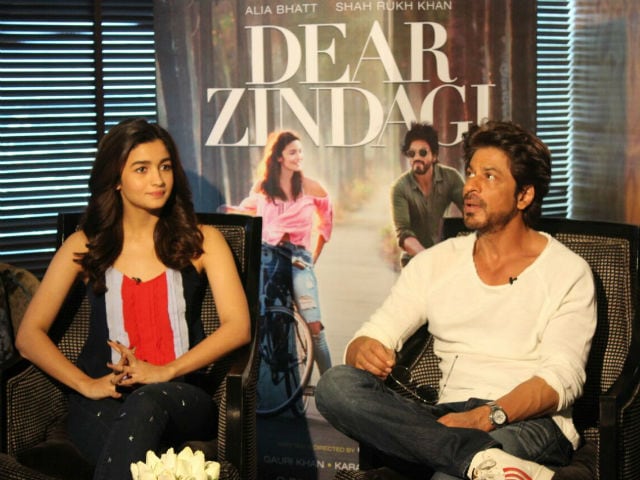 Highlights
Dumpee is a term I'm hearing for the first time, said Alia
Mostly I've been the dumper but I've also been the dumpee, she added
Alia and SRK's Dear Zindagi will hit the screens on November 25
New Delhi:
In this Friday's
new film Dear Zindagi,
Alia Bhatt, all of 23, plays the confused and broken-hearted Kaira, who is helped through the complexities of her love life by
Shah Rukh Khan's life coach
Jehangir or Jug. Next to SRK's 51 years, Alia's 23 shrinks significantly. Nevertheless, when NDTV asked her some questions about her romantic experiences IRL, Alia had to stop to consider. We asked her three questions, which she did answer even though SRK, sitting next to her, hijacked each (because, you know, SRK.)
Question #1 was this: Dear Alia, have you usually been the dumpee or the dumper?
"Dumpee is a term I'm hearing for the first time," she said, and after thinking a bit added, "I've been both. Mostly I've been the dumper but I've also been the dumpee." Shah Rukh Khan's one-liner: "I pick up all the dumped."
Our second question: Dear Alia, what's you most cruel break-up line? "I'm not very cruel when it comes to break-ups, I'm an emotional person," Alia said. SRK's interjection: "It's not you, it's me. It's very cruel." Alia didn't agree, she branded it 'stupid.'
Our third question: Dear Alia, if you were to write a letter to your younger self, what advice would you give you? "I think I would tell my younger eight-year-old self to continue doing ballet," said Alia, adding that if she had continued she would have been a 'very different person today.' SRK's one liner: "Exactly the same thing I would say to me, ballet. At least, wear a tutu."
But then. But then. Then he said this: "This is what I would tell myself - I'm happy you married. It turned out well for me." That Shah Rukh Khan, ever the romantic.
Sentiment stopped right there because when we asked the actors about their biggest fear, Shah Rukh Khan said, "That somebody will cut my arms off when I outstretch them (in his signature pose), I have a genuine physical fear." He's also afraid of slides and says he has a problem laughing (always the laughee, never the laugher?), which might surprise some. Alia, asked the same question, confessed to a fear of abandonment, of being left alone.
Watch:
Dear Zindagi is director Gauri Shinde's
second film after
English Vinglish
. The supporting cast features Kunal Kapoor, Aditya Roy Kapur, Ira Dubey, Angad Bedi and Ali Zafar. The film has been co-produced by SRK's Red Chilles Entertainment and Karan Johar's Dharma Productions.
Dear Zindagi
opens this Friday.