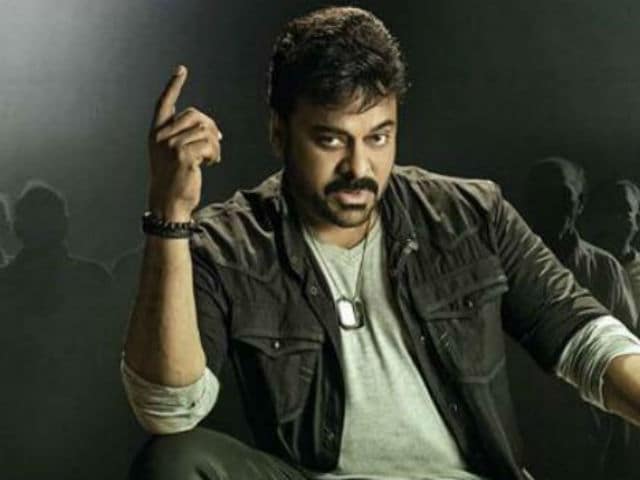 Highlights
RGV tweeted, "This is upper limit of the height of narcissism"
Chiranjeevi said, "I gently ignore and turn deaf to it"
Khaidi No 150 releases on January 11
New Delhi:
Ram Gopal Varma's rather rude tweets about the poster of Telugu film
Khaidi No 150
have been dismissed by the film's star Chiranjeevi, who countered RGV's criticism with polite disdain. In one of his several Twitter rants, RGV accused Chiranjeevi of 'narcissm' and sarcastically said that 'Madame Tussauds would throw half her museum out for this' - 'this' being a poster featuring Chiranjeevi in a seated position. Cudgels were taken up on Chiranjeevi's behalf by his brother Nagendra Babu or Nagababu, upon whom RGV's wrath was turned in an incredible number of tweets. Chiranjeevi, 61, addressed the press at his Hyderabad residence on Monday, reported the
Indian Express
and said, "People react differently in different situations. He (Nagababu) was hurt and he reacted. I too was hurt, but I didn't react. I try to keep a positive outlook towards things. The more we focus on criticism, the more will be its value, so I gently ignore and turn deaf to it. I believe my fans would also think so."
A week or so ago, Ram Gopal Varma denounced the poster of
Khaidi No 150
in these tweets:
Wowwww Madame Tussaud will throw half her museum out for this ..Want to touch feet of designer and director and who convinced mega star pic.twitter.com/P9uud4mW6j

— Ram Gopal Varma (@RGVzoomin) January 1, 2017
This is upper limit of the height of narcissm and the lower limit of the depth of its opposite ..Wilhelm Hegel would have kissed Mega Star pic.twitter.com/l2zo0cqFlT

— Ram Gopal Varma (@RGVzoomin) January 1, 2017
There's more in the same vein. Enraged, Nagababu lashed out at the director and asked him to make good films before taking on an actor of
Chiranjeevi
's stature, reported
India Today
. RGV, many will remember, did make acclaimed films like
Satya
before being undone by turkeys such
Ram Gopal Varma Ki Aag
, his ill-fated remake of
Sholay
.
Nagababu's criticism prompted an astonishing series of tweets against him from RGV, who appeared to have out-ranted himself for once. There are far too many to reproduce here so we'll pick just a couple of tweets:
Naga Babu saar many families ran becos of my career nd ur career runs only becos of ur brother's family.. if u want I can tweet more on this

— Ram Gopal Varma (@RGVzoomin) January 7, 2017
God gave so many positives to chiranjeevigaari's family like Pawan,Charan,Sai Dharam ,Varun, Bunny nd to balance he gave Naga Babu gaaru

— Ram Gopal Varma (@RGVzoomin) January 7, 2017
Khaidi No 150
is Chiranjeevi's 150th film and releases on January 11. It is being considered the actor-politician's comeback, with Chiranjeevi returning to the big screen after a decade.
Khaidi No 150
is directed by V V Vinayak and produced by
Chiranjeevi's son, actor Ram Charan Teja
.