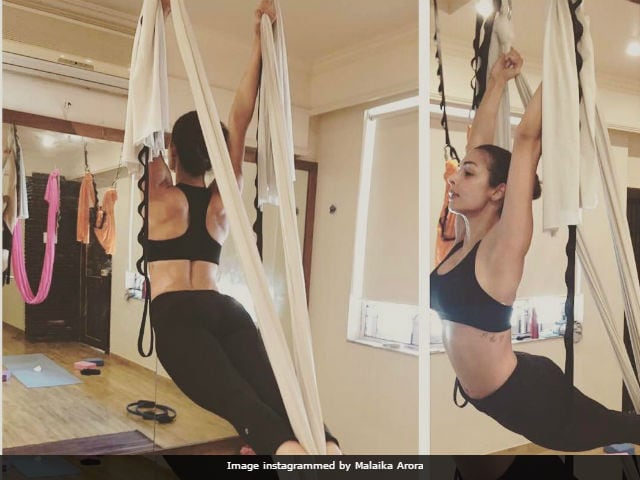 Highlights
Malaika Arora has been practising aerial yoga
Shilpa Shetty did a head stand after 15 years
Alia Bhatt and Bipasha Basu train with Yasmin Karachiwala
New Delhi:
It is Friday and while most of us are thinking of ditching our gym plans, here's some motivation from Bollywood actresses, who are sweating it out even in this heat. With their recent posts, actresses Alia Bhatt, Malaika Arora, Bipasha Basu and Shilpa Shetty have proved what it takes to maintain their fit selves. As Alia got her form right in jack rabbit exercises, Malaika Arora nailed it with aerial yoga. Bipasha Basu, who trains with celebrity trainer Yasmin Karachiwala, along with Alia, demonstrated how breathing right is always important while exercising. Meanwhile, kudos to Shilpa Shetty for fighting a cervical disc injury to do her first headstand after 15 years.
The jack rabbit was Alia's 'Tuesday Motivation'. She also stressed how it is important for 'stability, core and shoulder strength'. The actress, who will next be seen in
Dragon
along with actor Ranbir Kapoor, wrote, "Jack rabbit done two ways on the reformer along with my favourite Bosu! Great for stability, core, shoulder strength! Love my #TuesdayMotivation @yasminkarachiwala #yasminsbodyimage. (sic.)"
Take a look.
For actress Bipasha Basu, fitness has always been primary. She shared the video with the caption, "Get stronger day by day. #loveyourself.".
Malaika Arora Khan, 43, defies the rules of gravity as she 'flies' in this picture.
The actress-model has been training under Anshuka Parwani in Mumbai.
We love actress Shilpa Shetty's Sunday binge videos, where she indulges in desserts which she refrains from, the entire week. However, her hair raising head stand that she did after 15 years, is worth every praise. The actress wrote, "Will Power is like a muscle. The more you use it, the stronger it gets. Suffered a severe cervical disc injury 15 years ago. Made up my mind to do a head stand today. I did it."
The actress also had a piece of advice. "Please don't try this exercise all of a sudden. It has taken me a lot of core/postural strengthening to reach here. #SwasthRahoMastRaho #willpower (sic.)."