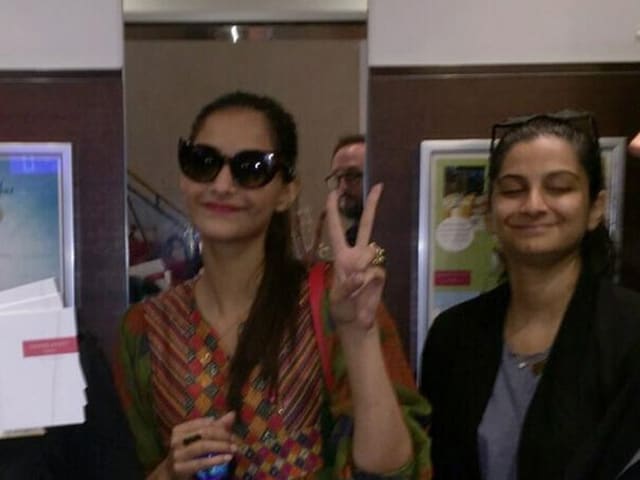 The French Riviera welcomed actress Sonam Kapoor on Friday. Sonam is making her fifth appearance at the Cannes Film Festival.
The 28-year-old actress, who will replace Katrina Kaif as the Indian face of L'Oreal, smiled at the cameras at the Nice airport with her sister Rhea Kapoor, who helps style her.
She is HERE! @sonamakapoor is ready to walk the red carpet for her 5th year @Festival_Cannes. #Cannestasticpic.twitter.com/CNO83oDxkP

— L'Oréal Paris India (@LOrealParisIn) May 15, 2015
The Kapoor sisters had a lot of luggage.
Bags are here! Wonder whose they are? Any guesses? #Cannestastic#Cannes2015#YouCannespic.twitter.com/SNqGprBTYs

— L'Oréal Paris India (@LOrealParisIn) May 15, 2015
Sonam will walk the red carpet on May 16 and 18 while Cannes veteran Aishwarya Rai Bachchan, who has also left for Nice, is expected on May 17 and 20.
L'Oreal Paris shared a video of Sonam's diet and workout routine ahead of her Cannes appearance on Facebook:
Actress Katrina Kaif walked the red carpet on the first two days of the film festival. She made her Cannes debut in Oscar de la Renta at the opening ceremony and wore Elie Saab to the screening of
Mad Max: Fury Road
on the second day.