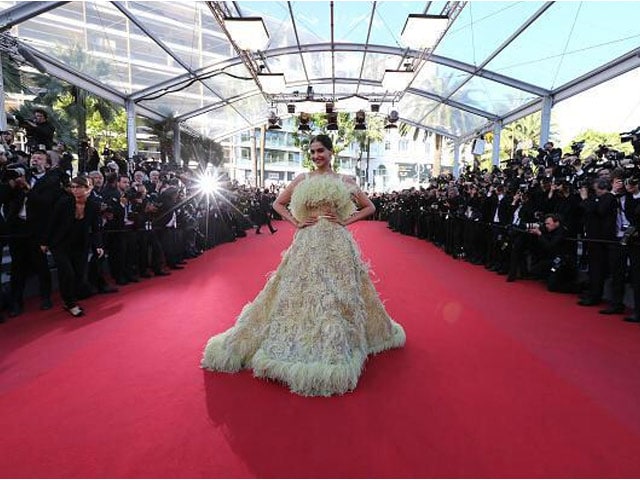 New Delhi:
Actress Sonam Kapoor glided down the Cannes red carpet on May 18 in a sorbet-coloured feathered Elie Saab dress as tweet-worthy as the elaborate yellow dress Rihanna wore to the Met Gala.
In all fairness, Sonam looked as good in the giant confection as it is possible for anyone to look. The Internet, however, reduced it to memes almost instantly.
#TheDress reminded Twitter of Sesame Street's Big Bird
Close enough, Sonam Kapoor pic.twitter.com/4HvYacVHG7

— Ripper (@Ace_Of_Pace) May 19, 2015
Cousin Itt from
The Addams Family
Love your new dress @sonamakapoor! You're looking so pretty here! pic.twitter.com/W8UhfmHRqK

— Sahil Shah (@SahilBulla) May 18, 2015
Cabbage
sonam's dress looks like a cabbage omg

— Anoli (@anuu_shah) May 18, 2015
Grass
They said I could be anything, so I decided to be grass. pic.twitter.com/5UYJJa9Lj5

— LiberalJihadi (@lovejihadi) May 19, 2015
Hay
Ya. Its all whatsapp. pic.twitter.com/GDQGCCWe8o

— Adarsh Human (@BhaveshBahuguna) May 18, 2015
A loofah
Sonam Kapoor looks like a nice loofah

— Patakha (@madpr) May 18, 2015
Twitter also made fun of how big #TheDress was
Fun Fact: If you look closely at Sonam Kapoor's dress you can see Masakali and her family chilling.

— Sahil Shah (@SahilBulla) May 18, 2015
Suggested other uses for it
This Sonam Kapoor's specially designed dress can support life of 500 minor species & nest for 100 birds at least . pic.twitter.com/WRXP0TAczm

— HHBBC (@BabaBakChod) May 18, 2015
And considered the possibility that the dress was an accident
*when you get stampeded on during a mega hen and rooster marathon* pic.twitter.com/EtMFcdOk5v

— || Bajirao || (@bizzarebhide) May 19, 2015
The deepest cut?
Sonam Kapoor tried to dress as her dad's chest and succeeded

— Priyanka Lahiri (@lahirip) May 18, 2015
@scratchysingh when anil kapoor cut his colored hair n gives to sonam to make her a new dress....

— Kalpesh (@amesar_kp) May 19, 2015
That was Sonam's last appearance at Cannes this year so Twitter, if you are hoping for a spot of redemption, don't.