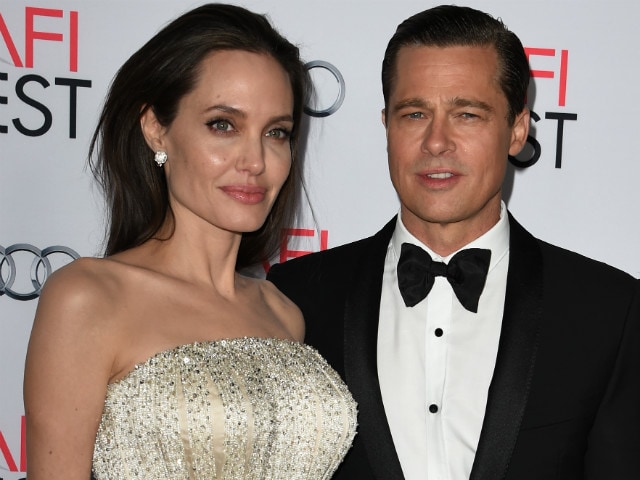 Highlights
Angelina was previously married to Jonny Lee Miller, Billy Bob Thornton
Brad was married to Jennifer Aniston in 2004 when he met Angelina
Brad Pitt and Angelina Jolie married in 2014
Los Angeles:
Actress
Angelina Jolie has filed for a divorce from actor Brad Pitt
, her husband of two years and romantic partner since 2005, her attorney said in a statement on Tuesday, signalling the end of one of Hollywood's most glamorous and powerful couples.
"This decision was made for the health of the family. She will not be commenting, and asks that the family be given its privacy at this time," attorney Robert Offer said in the statement.
Jolie filed in Los Angeles Superior Court on Monday, citing irreconcilable differences as grounds for the split, court documents showed. She sought full physical custody of their six children with visitation rights for Pitt but did not seek spousal support. Jolie cited their separation date as September 15.
Celebrity website
TMZ
, citing unnamed sources, reported Jolie was upset by Brad's parenting methods.
"I am very saddened by this but what matters most now is the well-being of our kids," Brad said in a statement to
People magazine
. "I kindly ask the press to give them the space they deserve during this challenging time," he added.
Angelina and Brad, known collectively as Brangelina, were one of the entertainment world's most visible couples, due to their popularity, successful films and activism. They married in 2014 after 12 years together.
Their relationship was steady fodder for supermarket tabloids from the beginning with reports focusing on what role Jolie played the breakup of Brad's marriage to actress Jennifer Aniston, when he would marry Jolie, her weight and, more recently, possible trouble in the marriage.
News of the couple's split set social media buzzing, and
#brangelina quickly emerged as the top trending topic on Twitter
around the globe. More than 20 posts mentioning the hashtag appeared on Twitter every second, according to social media analytics firm Zoomph.
Angelina, 41, who won a best-supporting actress Oscar for
Girl, Interrupted
in 2000, was previously married to actors Jonny Lee Miller and Billy Bob Thornton.
Brad, 52, one of Hollywood's leading men, was married to Jennifer Aniston in 2004 when he and Angelina began filming
Mr. & Mrs. Smith
the story of two professional killers who have unknowingly been assigned to kill each other. There were reports of an affair during that time, but Jolie told Vogue magazine they were only "very, very good friends" until Brad and Jennifer split in 2005.
Before their August 2014 wedding at their French estate, Angelina and Brad had said they would not wed until same-sex couples were allowed to marry.
Angelina has been estranged from her father, actor Jon Voight, who left the family before she turned 1, but he told
Inside Edition
he was concerned about the divorce filing.
"It's very sad," he said. "Something very serious must have happened for Angelina to make a decision like this," he added.
Media commentators reacted to the news with surprise and sadness. "Today shall go down as the day love died," fashion magazine Vogue said in an online report on the couple's split.
Activism, Charity Work
Angelina had an offbeat reputation early in her career but more recently has taken on humanitarian causes and was named a special envoy for the U N High Commissioner for Refugees.
She frequently went to countries such as Afghanistan, Sudan, Tanzania, Iraq and Jordan to call attention to the plight of refugees and the underprivileged.
Brad joined Jolie on some of her trips and started a foundation to finance reconstruction of homes in New Orleans after the city was flooded by Hurricane Katrina. Together they started the Jolie-Pitt Foundation in 2006 to help charities worldwide.
Their children include sons adopted from Cambodia and Vietnam and a daughter adopted from Ethiopia, as well as three biological children.
To encourage other women to explore their options, Angelina spoke out publicly about her elective surgeries in 2013 and 2015 to have her breasts, ovaries and fallopian tubes removed as a preventive measure due to a family history of cancer.
In addition to her Oscar win, Angelina was nominated for an Academy Award for
Changeling
in 2008. She also starred in two
Lara Croft
action films,
The Good Shepherd
,
A Mighty Heart
and
The Tourist
.
Brad's breakout role came in a supporting part in
Thelma & Louise
in 1991. His other films include
Kalifornia
,
Legends of the Fall
,
Se7en
,
The Curious Case of Benjamin Button
,
Inglourious Basterds
,
Moneyball
,
The Big Short
and the
Ocean's 11
films.
Angelina and Brad also starred together the marital drama
By the Sea
, a 2015 movie that she wrote and directed.
(Except for the headline, this story has not been edited by NDTV staff and is published from a syndicated feed.)