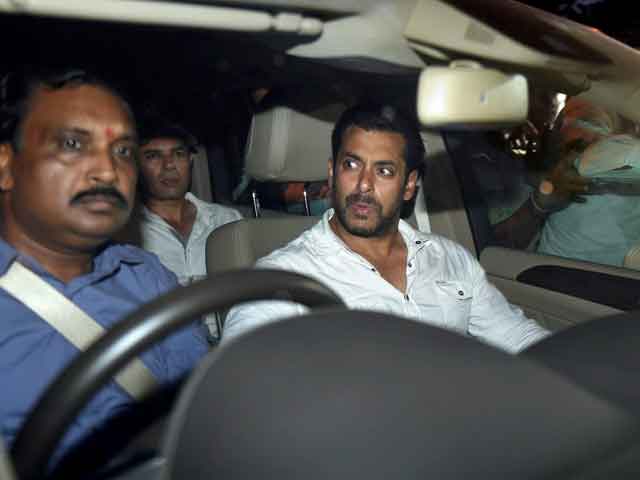 As a judge sent actor Salman Khan to jail for five years on Wednesday, the sorrow spewed forth on Twitter ranged from pathetic (fans praying fervently for a 'miracle') to ridiculous (jewellery designer Farah Khan Ali's train analogy) to the plain ugly (singer Abhijeet's comparison of pavement dwellers to dogs).
It appears that for his fans, the 49-year-old actor can do no wrong on or off screen. Salman's super-sized screen persona is mostly responsible for this. In his last few blockbusters, he's played a version of the role he has mastered on celluloid - the larger-than-life doer of good and vanquisher of evil. His public throngs to cinemas to watch Chulbul 'Robinhood' Pandey or secret agent Tiger - not forgetting
Kick
's 'Devil' who steals from the rich to help suffering children - and it makes no distinction between the Salman Khan of
Dabangg
and
Ready
and the Salman Khan of Galaxy Apartments, Bandra. His legion of fans cannot separate the art from the artiste. (Also read:
After Salman Verdict, Sonakshi, Rani and Preity Rush to Khan Residence
)
If Salman's
aam
audience seems unable to distinguish the make-believe from reality, Bollywood (which hopefully knows that the movies it makes are not real) have been offering up their colleague's philanthropic work with his charity Being Human as a penance of sorts. Several cited examples of Salman's fabled heart of gold as extenuating circumstances or, at the very least, grounds for a reduced sentence. Actress Dia Mirza wrote on Twitter that he has once saved her mother. She was only one among a small army of industry insiders who rushed to remind everyone that Salman Khan is Bollywood's favourite 'Bhai'. Nobody mentioned the fact that he has been accused of assaulting and harassing past girlfriends or that he is being tried for poaching endangered deer in a separate case in Rajasthan.
They also glossed over the fact that Salman was apparently willing for his driver Ashok Singh to take the fall for him and shoulder a jail term on his behalf, just as Pran did for 'Robert Seth' in Amar Akbar Anthony (perhaps Hindi films may not be removed from reality after all). Ashok Singh's claim that it was he who was driving the SUV when the hit-and-run took place was not only dismissed by the court as 'improbable,' he might be tried for perjury as well.
If the guilty verdict doesn't serve as a reality check for those inhabiting the lofty heights of Bollywood's ivory towers, then this should - the large-heartedness that his friends are serving up on Twitter did not prevent 'Bhai' from apparently offering up an employee as sacrifice to the altar of his own freedom, his own continued state of not-being-in-jailness. The compass of Being Human may not always point you in the right direction.
(Gitanjali Roy is Editor, Lifestyle Convergence for NDTV.com)
Disclaimer: The opinions expressed within this article are the personal opinions of the author. The facts and opinions appearing in the article do not reflect the views of NDTV and NDTV does not assume any responsibility or liability for the same.