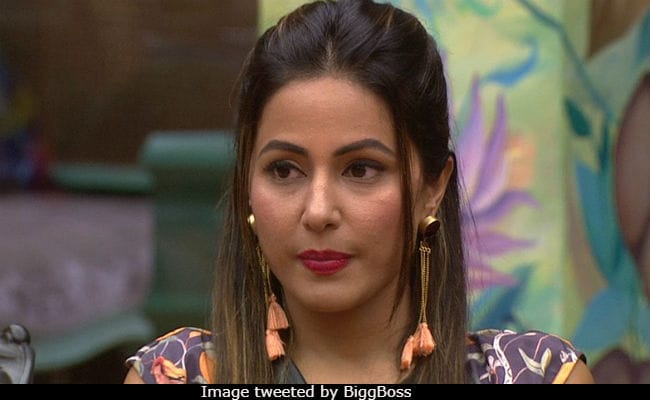 Highlights
Puneesh Sharma and Hina Khan were initially nominated for captaincy
The padosis were made to discard Hina from the list
Vikas was nominated in place of Hina
New Delhi:
The new episode of
Bigg Boss 11
, aired on October 12, started off with a fight as early as breakfast time. Hina Khan and Shilpa Shinde had a furious exchange of words while discussing grocery supplies - Shilpa clearly lost her cool and yelled at Hina, who was simply trying to have a conversation. Hiten, who was sitting nearby, was also yelled at for sharing his views. Soon, Bigg Boss had a simple task for Hina - she was asked to put down two names who are to have a face off for the final task for captaincy. There appeared to be a slight misconception when Hina told the housemates to select two best performers of the last task instead of two contenders for the first captaincy.
In another announcement, Bigg Boss reiterated what he'd actually instructed Hina to do. This irked the housemates as it appeared that Hina had misled the them with Sshivani Durga and Vikas Gupta in particular. For a good while, Hina and Vikas exchanged accusations while the housemates sat through the awkward heated fight. Vikas termed Hina as "hypocrite" while the actress declared that she would rather drop her name from the nominations. Talking about Vikas' temper, Hina told Sshivani that he's "frustrated and irritated," which led to another fight between Vikas and Sshivani.
.@eyehinakhan argues with @lostboy54 on the captaincy issue! Do you agree with her? #BB11pic.twitter.com/4zkN3fcezu

— COLORS (@ColorsTV) October 12, 2017
A lot of confusion later, Puneesh Sharma and Hina Khan were nominated for captaincy. But there's always a twist to the tale in
Bigg Boss
. The
padosi
s are asked to remove Hina Khan from the list of contending potential captains and select someone else in turn. And guess who the
padosi
s go for? Vikas Gupta!
*burn*
Bigg Boss gives Padosis a special advantage to change one contender in the race to captaincy! Stay tuned to find out who it is! #BB11pic.twitter.com/EEK6QHN4qz

— COLORS (@ColorsTV) October 12, 2017
At another time of the day, Vikas was spotted talking about Shilpa Shinde - another contestant he doesn't see eye to eye with - and surprisingly, he had all good things to say about her as an actor. Compared to Hina, Shilpa has featured in a wide range of roles and hence is better as an actor, said Vikas.
Then, it was time for the captaincy task. Vikas and Puneesh were left suspended in mid-air and the first one to have touched the ground during the task was the one to win. With amazing contribution from Team Vikas Gupta, the housemates had their first captain selected.
The housemates @lostboy54 & #PuneeshSharma are excited! Who do you think will win? #BB11pic.twitter.com/JPzHv2rTZB

— COLORS (@ColorsTV) October 12, 2017
Vikas Gupta won the task to become the first captain of the house.