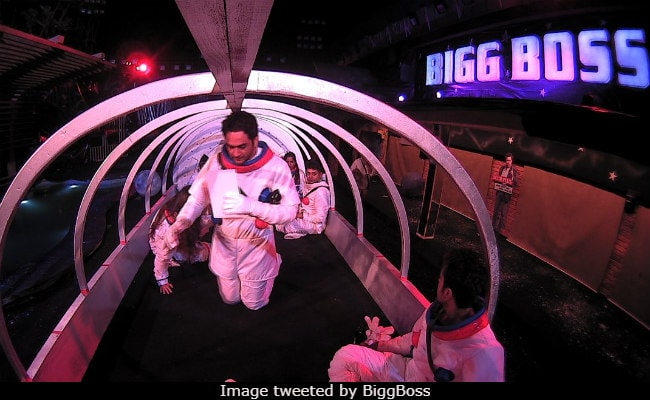 Highlights
Bigg Boss introduces the rocket task on tonight's episode
The first contestant to get off the rocket will be eligible for captaincy
But will lose out on some money from the winning amount
New Delhi:
The highlight of tonight's episode is 'Mission Bigg Boss 11', which is a combined task for luxury budget, captaincy and also to keep the winning money intact. Tonight's episode will see Bigg Boss introducing the luxury budget task, in which the contestants will have to be seated in an artificial space craft built in the garden area till instructed not to. A siren will go off at regular intervals and contestants can choose to leave the rocket if they want. But, as always, there's a twist. Before the task begins, envelops each with contestants' names will be kept on a table in the garden area.
Each envelope will have an amount assigned to the concerned contestant. The contestants who disembark the rocket will have to open their envelopes to find out how much is actually being deducted from the total prize money of Rs 50,000 lakhs. Puneesh Sharma, the captain of the house, remains in charge of 'Mission Bigg Boss 11.'
Now, here's how Bigg Boss will confuse the contestants - the ones leaving the rocket first will only get to participate in the captaincy task while the captain will get immunity for nine long weeks! After the rules are explained, Arshi Khan declares she might just be the first one to leave when Hina taunts her saying: "Yeh toh pata hi tha!"
The housemates get another chance at immunity. Witness all the drama on #BB11 at 10.30pm!https://t.co/sWfllia2QXpic.twitter.com/WiLmdWttnm

— Bigg Boss (@BiggBoss) November 8, 2017
Halfway through the game, Priyank Sharma, Sapna Choudhary, Hiten Tejwani and others leave the rocket to go on about their ways. It was easy to deceive Puneesh, who was snoring on the sofa outside. But Bigg Boss is always watching. The following day, Bigg Boss told the contestants that all the housemates are guilty of cheating. So, what will be their punishment next?
#BreakingNow: Housemates ne Mission #BB11 task mein ki thi cheating! Jaanne ke liye dekhiye #BB11 aaj 10.30pm. #BBSneakPeekpic.twitter.com/YzETALtTX0

— COLORS (@ColorsTV) November 8, 2017
Watch this space for more updated on
Bigg Boss 11
.