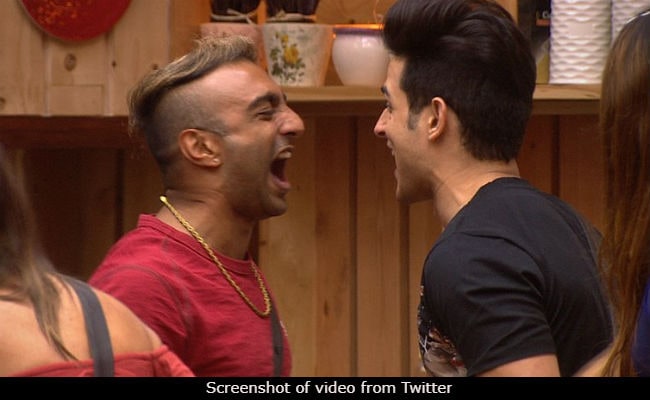 Highlights
Aakash has an ugly fight with Benafshah on Tuesday's episode
Hina Khan also joined Team Benafshah
She advised Aakash to go see a psychiatrist
New Delhi:
Phew, Tuesday's episode of
Bigg Boss 11
was something! The episode stars on a quieter note with Hina Khan, Sabyasachi Sathpathy and Hiten Tejwani talking about Bandgi Kalra and Puneesh Sharma's intimacy. But what took up most of the episode was the ugly fight between Camp Benafshah and Team Aakash. While Benafshah said she's losing her temper over Aakash's many allegations and constant nagging, Hina Khan also casually added something indecent Aakash had said about Puneesh weeks ago. Some of the housemates also discuss how Aakash passes unsuitable comments for the female contestants. All of this irked Aakash who entered the bedroom to yell at his arch enemy - Hina Khan.
Priyank Sharma, who is good friends with Benafshah asked Aakash to apologise but to no heed. Soon, Benafshah, who was keeping quiet for this long, threatened Aakash saying she'll divulge rumours she's heard about Aakash and mentioned Puneesh Sharma's name as the source of those accounts. Puneesh claimed she has never discussed matters concerning Aakash with Benafshah and lost his cool when Priyank came to his friend's defence. Puneesh was close to hitting Priyank when he was dragged away by Bandgi and Shilpa Shinde. Bandgi also ensured that Puneesh remained in the washroom area as long as the fight continued outside.
The #BB11 housemates cause havoc in the house! It's group @ipriyanksharmaa vs group Puneesh Sharma! Watch tonight at 10:30pm! #BBSneakPeekpic.twitter.com/sUktyqGTBl

— COLORS (@ColorsTV) November 7, 2017
It's Team Akash Dadlani v/s Team Benafsha. Keep watching #BB11 to witness all the hungama! pic.twitter.com/L18Xwv2Zkl

— COLORS (@ColorsTV) November 7, 2017
Benafshah was in no mood to give up and told Aakash "
Meri buri side bahut buri hai.. tu aur bol..
" while he continued to say "
badbudaar aurat
" - this was happening separately while Puneesh and Priyank were up in arms against each other. Losing her calm, Benafshah pulled at Aakash Dadlani's hair and later claimed that it happened accidentally because he was trying to duck around. Mehjabeen Siddiqui also witnessed the incident and asked Benafshah to not get physically violent.
Chidh chuka hai Bigg Boss ke ghar mein maha yudh! Stay tuned to #BB11 to catch all the entertainment. pic.twitter.com/8ugMgkA7pu

— COLORS (@ColorsTV) November 7, 2017
Mehjabeen and Shilpa, who were in the kitchen, identified Hina as the source of this fight. Aakash and Vikas Gupta accused Hina of nurturing an old issue to mess things up in the house. Hina had separate replies for Shilpa and Aakash. She asked Shilpa to not mother Aakash while she instructed Aakash to not come near her. Arshi, who is part of Team Aakash, declared: "
Is season ka vamp Hina Khan hai, Arshi Khan nahi
," while Hina asked both Shilpa and Aakash to consult a psychiatrist.
.@ipriyanksharmaa and @eyehinakhan lend their support to Benafsha. Watch all the drama unfold on #BB11 right now. pic.twitter.com/f60TPAdc7n

— COLORS (@ColorsTV) November 7, 2017
The entire
Bigg Boss 11
house appeared divided as they approach the very important luxury budget task. What do you think will happen on Wednesday's episode? Tell us in the comments below.