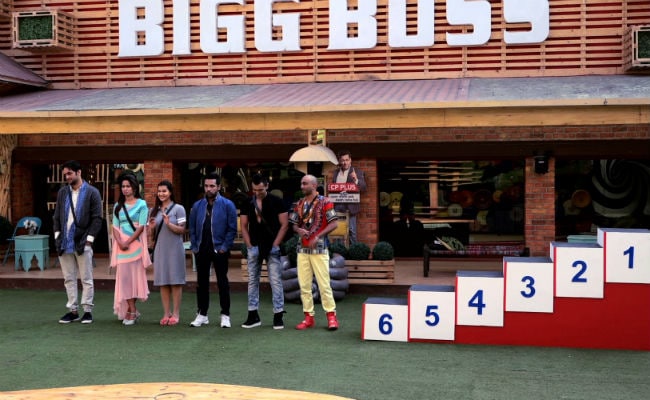 Highlights
Bigg Boss will ask the contestants to rate themselves
Hina Khan argues to be in the top spot
Vikas wants Shilpa to take the No.1 ranking
New Delhi:
Bigg Boss 11
currently has six contestants and less than a month left for the finale. With just a handful of remaining housemates, how interesting do you think the show will be? VERY. Because, Bigg Boss will always have a trick up his sleeve. On Monday's episode of
Bigg Boss 11
, the contestants - Hina Khan, Shilpa Shinde, Vikas Gupta, Puneesh Sharma, Luv Tyagi and Aakash Dadlani - will be asked to rank themselves on a scale of 1 to 6 based on their performances. And, they have to decide unanimously - something which the housemates have never really managed to be successful at.
Soon after the announcement, Aakash declares that he should be ranked as the top performer of
Bigg Boss 11
because he has always managed to entertain the housemates with his songs and his antics. But Hina and Vikas disagree. Hina thinks she should take the top spot because she's been good at all tasks and chores in the house. Vikas also roots for Shilpa, saying she should be at No.1 while Aakash can take the 3rd or 4th spot. Shilpa is happy with Vikas' suggestion but says she's okay with the first three positions. Puneesh also declares that he doesn't want to be in the last three.
Which contestant will reach the finale week and who will get nominated? Find out only on #BB11, tonight at 10:30 PM. pic.twitter.com/FOiGTeRwgl

— Bigg Boss (@BiggBoss) January 1, 2018
Soon, Puneesh argues that the remaining celebrity contestants - Hina, Shilpa and Vikas - entered the house with an unfair advantage of a previous fan-following while the non-celeb contestants had to work from scratch. Puneesh argues that the three non-celeb contestants should be ranked as top 3.
Towards the end of the task, Bigg Boss adds a twist to the task and announces that it was actually a nomination task of sorts and only the first two contestants will be safe from eviction this week.