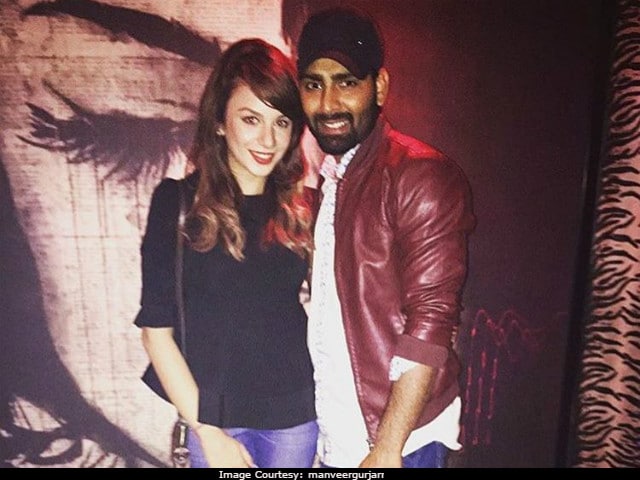 Highlights
Manveer Gurjar recently confirmed that he's married
Manveer Gurjar had also caught up with Lopamudra
Manveer and Nitibha shared pics from their party
New Delhi:
Bigg Boss 10 winner Manveer Gurjar
continues to make headlines even a week after he took home the prize money of Rs 40 lakhs. During the show, Manveer's growing proximity with fellow Indiawale - Nitibha Kaul - sparked rumours about a probable romance between the two. Manveer, who always maintained his rapport with Nitibha is nothing beyond friendship, caught up with her recently. Manveer and Nitibha partied together, let their hair down, and shared pictures and videos on Instagram. Manveer also recently calmed the Internet down as he confirmed his marriage -
a lot had already happened over his marital status
since
Bigg Boss 10
came to an end.
Here are glimpses from inside Manveer's party night with Nitibha:
While the show was ongoing, Manveer Gurjar's sister-in-law told
India Today
that they disapprove of Nitibha as Manveer's partner because she was not "homely" or "simple". "She should be homely, simple, and somebody whose thoughts match with Manveer, and who respects the elders in the house. We definitely don't want someone like Nitibha. There is nothing homely about her. We are fine with the friendship between the two. But from family perspective, I don't think she's the right choice," Manveer's sister-in-law told
India Today
.
After
Bigg Boss 10
, Manveer
also hung out with Lopamudra Raut
, who was the second runner-up at the
Bigg Boss 10
finale:
A day after the
Bigg Boss 10
winner's
father Maharaj Singh
revealed details about Manveer's troubled wedding, Manveer shared a video message confirming that he's married and explaining why he decided to keep it under wraps:
Manveer Gurjar is based out of Noida and joined
Bigg Boss 10
as part of Team Indiawale, comprising the non-celeb contestants. Manveer left behind celebrity contestants Lopamudra Raut and Bani J in the grand finale to become the winner of the tenth season of the controversial reality show. When asked about his future plans, Manveer expressed his desire for a Bollywood debut with Shraddha Kapoor, reported IANS: "I am overwhelmed with the love and support that I have got from the people of our country. Therefore, I am yet to make my plan. Having said that, I want to act in Hindi films and would like to act opposite Shraddha Kapoor for my debut film."
Manveer, who received Rs 40 lakh as prize money, pledged to donate fifty per cent of the amount to host Salman Khan's Being Human charity foundation, reported PTI.
Bigg Boss 10
, which was hosted by Salman, aired its last episode on January 29.
Bigg Boss 10
kicked off last year with the first episode being aired on October 16.