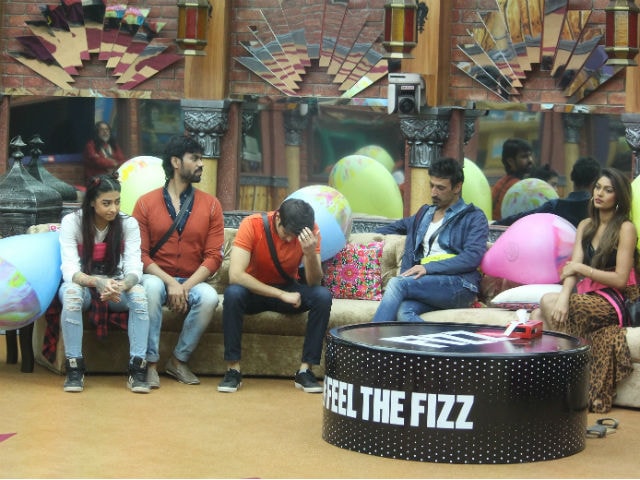 Highlights
Swami Om becomes immune for two weeks
Manu Punjabi shares secret room with Priyanka Jagga
Lopa, Rahul, Bani and Manveer get nominated
New Delhi:
Bigg Boss 10
's last episode which aired on December 13 was full of surprises. Swami Om was called in the confession room where Bigg Boss gave him a chance to win immunity. He was required to pay Rs 10 lakh which would get deducted from the prize money. Swami Om agreed was he was saved for two weeks of eviction much to the irritation of the rest of the constants-Manveer Gurjar, Bani J, Rohan Mehra, Monalisa, Nitibha Kaul, Gaurav Chopra and Rahul Dev. Manu Punjabi re-entered the Bigg Boss house but was asked to stay in secret room with Priyanka Jagga. It was also the day of nomination which resulted in Lopamudra, Rahul, Bani, Nitibha and Manveer in line for this week's eviction.
The day started with Monalisa teasing Manveer and Nitibha over their friendship. Gaurav and Bani discussed about Manveer and Nitibha's closeness too. Lopa, Rohan and Manveer discussed Priyanka's eviction where Lopa calls Priyanka playing dirty. Meanwhile, Swami Om talked to the camera and said that Swami Om was the biggest entertainer. Swami Om also apologized to Bani for being rude and told Rahul that he didn't care about being eliminated as his
beti
Priyanka had left. Priyanka was irritated with Swami Om while watching all his shenanigans sitting in the secret room.
Bigg Boss told housemates that Jason Shah would not be a part of Bigg Boss anymore as he had illness needed detailed medical attention. Next came the part where Swami Om was declared immune for next week. Manveer was the first to get agitated followed by Bani. Swami Om tried to give reason to Manveer and Bani but no one listened.
In the nominations segment, the contestants were asked wear balloons and prick those who they wanted to nominate. Rahul wanted to burst Manveer's which agitated the latter. Manveer claimed Rahul was being biased towards the celebrities and didn't have any good reason to nominate him. Bani nominated Nitibha while Lopa nominated Bani. Manveer nominated Rahul.
The show ended with the entry of Manu in the secret room. Manu and Priyanka discuss about Swami Om's 'filthy' game and Monalisa's fight with Manveer in previous episode. Both agreed that the dynamics of the house have changed where Nitibha has become Manveer's voice while Gaurav is sticking to Bani while she chooses to ignore him.