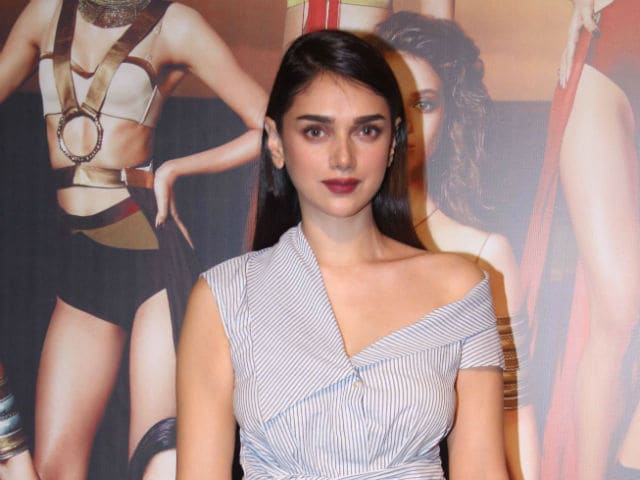 Highlights
Aditi Rao Hydari will play Sanjay Dutt's daughter in Bhoomi
Sanjay Dutt made life so much easier, says Aditi Rao Hydari
Bhoomi will hit the screens tomorrow
New Delhi:
Actress Aditi Rao Hydari, who is all set to play Sanjay Dutt's daughter in
Bhoomi
, said that Sanjay Dutt made her feel very comfortable while shooting the film, reports news agency IANS. The 30-year-old actress told IANS: "The shooting in Agra was very, very tough in terms of the crowds and other on-location problems. Just having Sanjay sir around made me feel so comforted. I wouldn't say he was just protective about me. That he was for sure. But there was a lot more in the way he lightened up the atmosphere on location during the shooting of the tense drama with talks on food, friends and family. He just made life so much easier."
Directed by Omung Kumar,
Bhoomi
revolves
around a father-daughter relationship.
The
Wazir
actress feels that
Bhoomi
will play a significant part in reversing gender stereotypes, reports IANS. This year, Sridevi featured in
MOM
and Raveena Tandon starred in
Maatr
, in which mothers take revenge for their respective daughters.
"Normally we see only the mother being so protective about her daughter. This is a rare instance of a father doing all the things that mothers are traditionally shown doing. Why should the responsibilities of parents be gender-based - father does certain things, mother does the rest - Why can't both parents share all the responsibilities. Sanjay Sir plays both my mother and father," IANS quoted Aditi Rao as saying.
The actress added, "He (Sanjay Dutt) is such a terrific father on screen. His eyes convey infinite wisdom. Off camera too I felt as if I was communicating with my father," reports IANS.
The actress is dying to break another stereotype which is concerned with her image of the fragile vulnerable girl, reports IANS. She said, "Sorry I am not weak. Just because I look a certain way doesn't mean I am fragile and helpless. In fact right from the beginning I've never played weak characters. In our films women are considered strong only when they run around with a gun in their hands indulging in physical combat.
I feel strength of character is more important
than just a strong physicality."
In
Bhoomi
, Aditi's character goes through a traumatic experience but never loses her inner strength.
Of her character in the film Aditi told IANS: "A lot of women in our country are subjected to violation of one kind or another. My character remains strong and dignified in the face of excruciating adversities. I think the film conveys a very strong message to women."
Aditi Rao Hydari has featured in films like
Wazir
,
Murder 3
,
Boss
and
Fitoor
. After
Bhoomi
, she will feature in a pivotal role in Sanjay Leela Bhansali's
Padmavati
, starring Deepika Padukone, Ranveer Singh and Shahid Kapoor while Sanjay Dutt will start prepping for
Munna Bhai 3
, post
Bhoomi
.
Bhoomi
will hit the screens tomorrow.
(With inputs from IANS)