Cast: Sanjay Dutt, Aditi Rao Hydari, Sidhant Gupta
Director: Omung Kumar
Rating: 1 star out of 5

It probably makes sense for Sanjay Dutt to play a slurring drunkard in Bhoomi. It makes it okay for the returning hero to look like he has forgotten his lines. More grizzled than ever, Dutt lurches through Bhoomi speaking all his dialogues - from the prayers in an aarti to a declaration of bloody vengeance - in the same dopey monotone. At one point his daughter comes and stands next to him at a store, and he sees her, looks away, turns back and, like an afterthought, mutters "Arre, Bhoomi tu?"

Bhoomi, this daughter, is played by Aditi Rao Hydari with a dispirited despondence befitting an actress in an Omung Kumar film who remembers that her last film was with Mani Ratnam. Her character has a stutter, which, in a film this far from subtle, means she has to work pauses into every single sentence, making her look like a pretty Atal Behari Vajpayee. She stutters even as she sobs, and this she does a lot, since she is barbarically raped by a trio of dastardly villains, led by a moustached ruffian who cannot stop punning.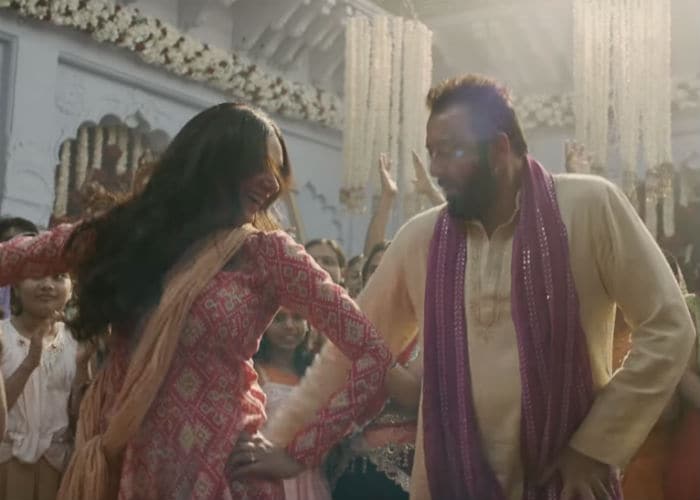 It is hard to describe how ghastly this film is, a relentless story of rape and revenge that treats its characters as cruelly as it does the audience. There are, mercifully, two words that should efficiently express its mediocrity, and those words are Shekhar Suman. The nineties - when Dutt was lanky and charming, while Suman was the perky Dekh Bhai Dekh uncle we dug - were a terribly long time ago. Here Suman plays Dutt's drinking buddy, and he slurs his lines like Keshto Mukherjee trying to ape Keshto Mukherjee. This, however, is not as hideous as later in the film, when he doesn't have drunken gags to hide behind. Sober Suman is the worst.


Bhoomi
is not just a bad film, it is a bad film trying to be many good films. As the background score gets shriller, the film takes turns trying to be
NH10
and
Ghayal
and
Pink
. And while it is laudable for a action movie to have a message - this film is apparently talking about rape, character and consent - it must first be a watchable film. This is not.
A girl is raped and she, along with her father, takes revenge. That is the film in a line, but Kumar takes forever getting to it. The film opens with a shot of the girl's prized
juttis
falling from a moving vehicle during a scuffle, before it cuts to a generic
shaadi
song. We are given a few scenes of poorly written merriment before the brutal assault takes place, after which the filmmaker makes way for unbearable melodrama. Because
Dutt
is a shoemaker, a crafter of
juttis
in Agra, we see too many Cinderella shots as he slips shoes onto his in-laws to be. Then, as the wedding is called off, we see as many shots of shoes being discarded till finally we have a crying bride and a father left all alone in a sea of upturned shoes. Oh, the disgrace. (And the wasted leather.)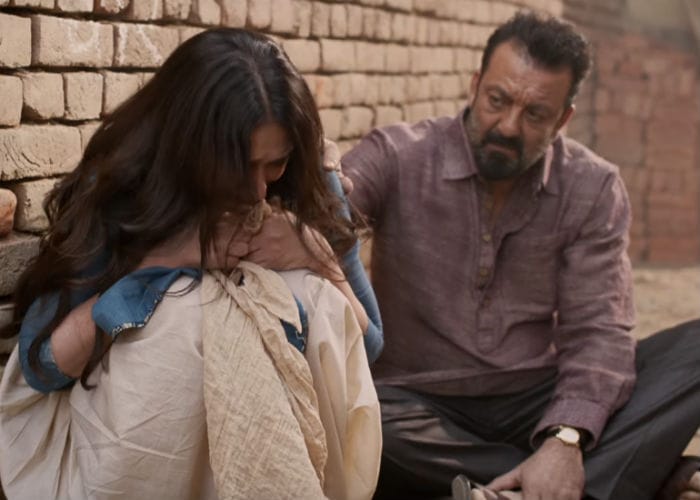 There is much randomness afoot, from policemen talking in cricket metaphors to lawyers baiting each other with glasses of water. At one point a girl jilted by her lover asks, with an impressively straight face, "Aur yeh pyaar? Yeh tattoo?" ("And what of my love? And this tattoo?") I wish I'd made that up. Even the otherwise alluring Sunny Leone looks like Yana Gupta on steroids. Leone abruptly pops up - soaked in mud, for an item song about hickeys - right before we see Bhoomi lying in mud, crawling for her life.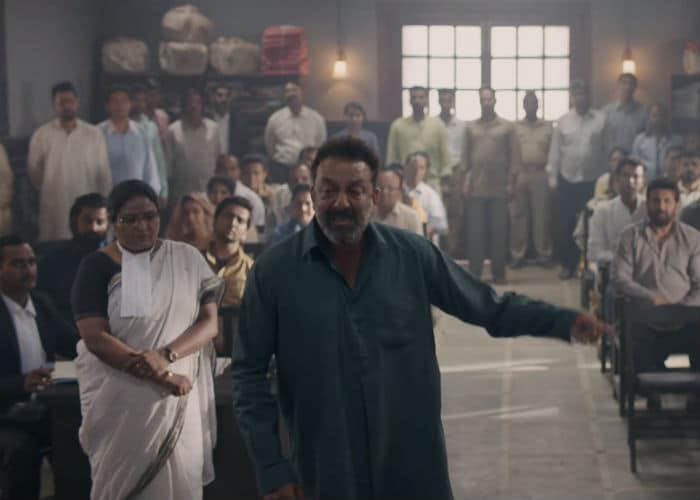 Dutt is not the problem. There is one moment - as he looks at a policeman checking a well to see if Bhoomi's killed herself - where his eyes express absolute fear, but the rest of the time he looks like he couldn't be bothered to actually try and act in this self-mocking film. I cannot blame him, for it is a film that makes him eat the lice he picks out of his daughter's head. We should all have known better. The trailer for Bhoomi contained the words "From the maker of Mary Kom and Sarbjit." What could be a scarier warning?