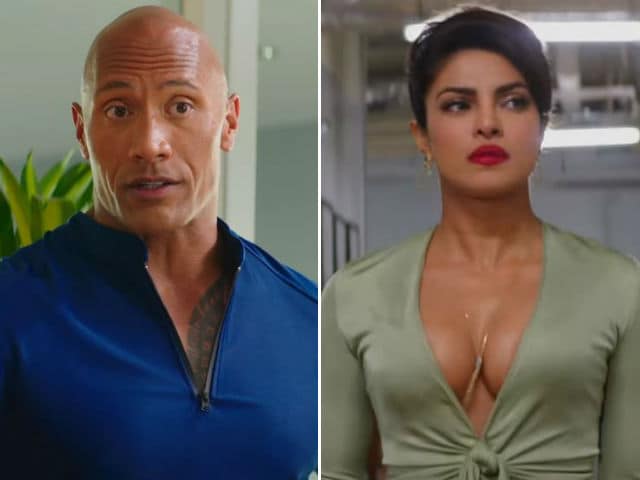 Highlights
Priyanka and has a blink-an-miss appearance in the trailer
Dwayne Johnson and Zac Efron are funny together
The trailer has more action than beach
New Delhi:
Priyanka Chopra is in
no hurry to announce her next Bollywood film
. But today, we have no complaints because she just shared a teaser of her first Hollywood film,
Baywatch
. It looks smashing. Priyanka, 34, shared the teaser with a message of equal swag: "You see them as the 'Lifeguard Squad'... I see them as my prey! Enjoy the sun while you can because this beach is mine. So step aside and #Wait4VictoriaLeeds." Yes, we do get a glimpse of Victoria Leeds (the villain played by Priyanka Chopra) and she takes all the attention from Dwayne Johnson and Zac Efron in just a nano second.
What Priyanka shared was a teaser, but the makers have also released the first trailer of
Baywatch
- Priyanka still has just a one second appearance. She walks confidently, sipping champagne and looking rather upset. The trailer's got more action sequences than beach views although Zac and Dwayne are a laugh riot together.
(Viewer discretion advised. Some content in this video may be unsuitable for children.) Watch the trailer of Priyanka Chopra's Baywatch:
Seth Gordon, director of
Horrible Bosses
, has helmed the film
which releases on May 26 next year
.
Baywatch
will release alongside Johnny Depp's
Pirates of the Caribbean: Dead Man Tell No Tales
and
Life
, starring Rebecca Ferguson and Jake Gyllenhaal.
Baywatch
is based on the hugely popular 1990s television series of the same name which featured David Hasselhoff and Pamela Anderson. Both actors have cameos in the movie.