Highlights
Amid the exodus of celebrities to IIFA weekend in the US, a sizeable number of stars were spotted at the ballot boxes in Mumbai and Chennai in phase six of the Lok Sabha elections.
The Bachchans, who do everything together, cast their votes en famille - Amitabh, Jaya, Abhishek and Aishwarya, actors all. The Bachchans and filmmaker Rakesh Roshan were among the later voters of the day.
Big B, Abhishek and Jaya arrive at the polling booth to cast their vote
Also voting at the close was Shah Rukh Khan who cleared his calendar for voting day well in advance. SRK said earlier in the day: " Most times I don't even get to choose the channel I want to watch on tv. Today I have an opportunity to choose my country's future. Awesome!."
SRK at the polling booth
Earlier, Tamil superstar Rajinikanth was the first voter at the Stella Maris College polling booth in the constituency of Central Chennai. Rajini Sir, whose next starring role is in the animated Kochadaiiyaan, met BJP's man for the top job Narendra Modi recently and described it as a 'friendly meeting.'
Rajinikanth votes in Chennai
Rajinikanth's colleague Kamal Haasan also voted in Chennai and told reporters, "We need to aim for a stable government. Price rise and corruption are the main issues."
Kamal Haasan after casting his vote
Hema Malini, BJP's candidate from Mathura, who also voted earlier in the day, emphasised on the importance of voting said it was a very good thing.
Hema Malini emphasised on the importance of voting
In Mumbai, celebrities voting included Aamir Khan who has been actively encouraging voter turnout. On the second season of his TV show Satyamev Jayate, Aamir devoted an episode to the electoral process, asking voters to make informed choices and to keep corrupt candidates out. At the polling station, Aamir said, "Elections are an important process of democracy. I hope many people come out and vote."Aamir's wife Kiran Rao also voted.
Aamir casting his vote
Actor Ranbir Kapoor was also seen casting his vote. He said, "I have exercised my right and I want you to do the same. I hope everyone comes out of their houses and vote for their favourite candidate. I felt lot of youth is going to come out and vote this time."
Ranbir Kapoor after casting his vote
On the topic of his colleagues who are at IIFA, he played safe and said, "People have their commitments and I am no one to judge."
The Dirty Picture star Vidya Balan voted in Chembur, Mumbai. Vidya, who spent the last few month promoting the International Indian Film Academy or IIFA awards, has now cancelled her appearance at the just-started award show in the US to be able to vote. After voting, Vidya said, "It is my responsibility and I hope things change for this country. Tomorrow if I point a finger at someone, there should be this voting mark on my finger."
Vidya Balan votes in Mumbai
Actress Sonam Kapoor similarly chose the ballot over IIFA, though her father Anil Kapoor flew to Tampa Bay, Florida to inaugurate the opening IIFA Expo.
Sonam Kapoor after casting her vote
On Twitter, actresses Shilpa Shetty, Preity Zinta and Dia Mirza posted selfies and urged people to go out and vote.
Shilpa tweeted: Hey Tweeto's Every vote counts. Make yours count too be a responsible Indian.
Preity tweeted: It's time to stop complaining about the system & take action. Boys n girls either Vote now or forever keep Quiet !
This image is a combination of images posted on Twitter by @realpreityzinta and @TheShilpaShetty
Dia tweeted: Thank you Khar Police and thank you EC for making it such a simple n convenient experience
This image was posted on Twitter by @deespeak
Rajya Sabha member and Bollywood writer Javed Akhtar is one of the celebs facing the flak for skipping the elections and attending IIFA. His children Farhan and Zoya however made it a point to cast their votes.
Farhan and Zoya after casting their votes. Image courtesy: Varinder Chawla
Farhan Akhtar later tweeted: Go Mumbai Let's see more inked fingers this time. More than ever before.
Zoya's Dil Dhadkne Do cast member Ranveer Singh was also seen at a Bandra polling booth.
Ranveer Singh after casting his vote. Image courtesy: Varinder Chawla
South star Khushboo also voted in Chennai while Mumbai has seen Dharmendra and sons Sunny and Bobby Deol, Tanuja and daughter Tanishaa, Sonali Bendre and husband Goldie Behl, Neha Dhupia and Rahul Bose at polling stations.
Khushboo at the polling booth
This image was posted on Instagram by nehadhupia
This image was posted on Twitter by @RahulBose1
Actress Sonali Bendre and husband Goldie Behl after casting their votes
The Deols casting their votes
Tanuja and Tanishaa at the polling booth
New Delhi:
Amid the exodus of celebrities to IIFA weekend in the US, a sizeable number of stars were spotted at the ballot boxes in Mumbai and Chennai in phase six of the Lok Sabha elections.
The Bachchans, who do everything together, cast their votes en famille - Amitabh, Jaya, Abhishek and Aishwarya, actors all. The Bachchans and filmmaker Rakesh Roshan were among the later voters of the day.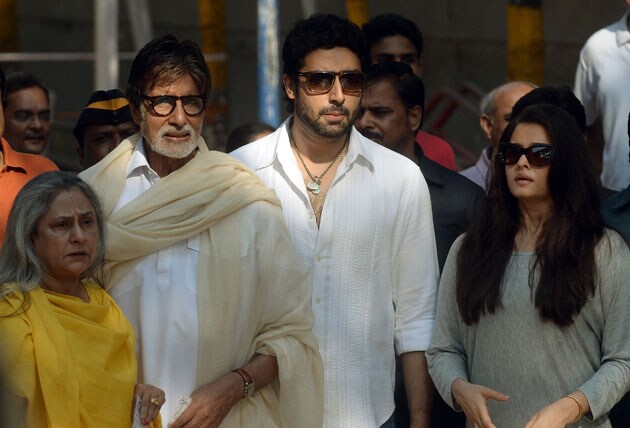 Also voting at the close was Shah Rukh Khan who cleared his calendar for voting day well in advance. SRK said earlier in the day: " Most times I don't even get to choose the channel I want to watch on tv. Today I have an opportunity to choose my country's future. Awesome!."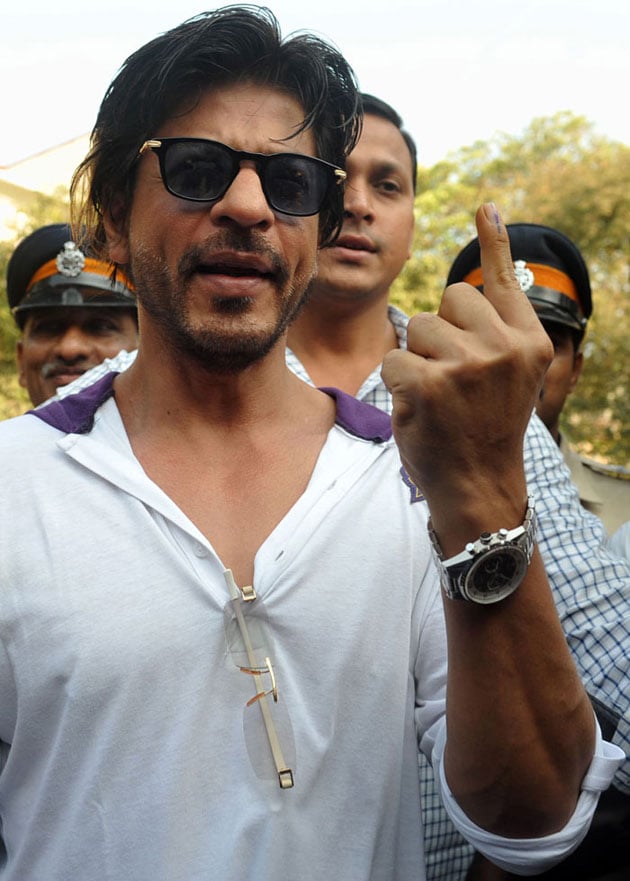 Earlier, Tamil superstar Rajinikanth was the first voter at the Stella Maris College polling booth in the constituency of Central Chennai. Rajini Sir, whose next starring role is in the animated
Kochadaiiyaan
, met BJP's man for the top job Narendra Modi recently and described it as a 'friendly meeting.'
Rajinikanth's colleague Kamal Haasan also voted in Chennai and told reporters, "We need to aim for a stable government. Price rise and corruption are the main issues."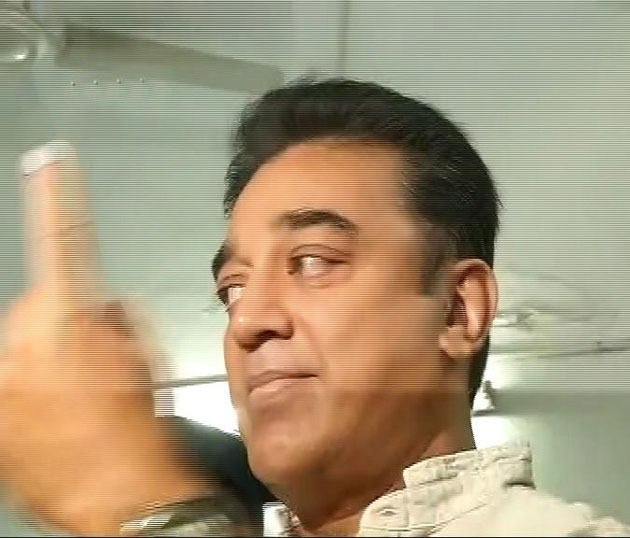 Hema Malini, BJP's candidate from Mathura, who also voted earlier in the day, emphasised on the importance of voting said it was a very good thing.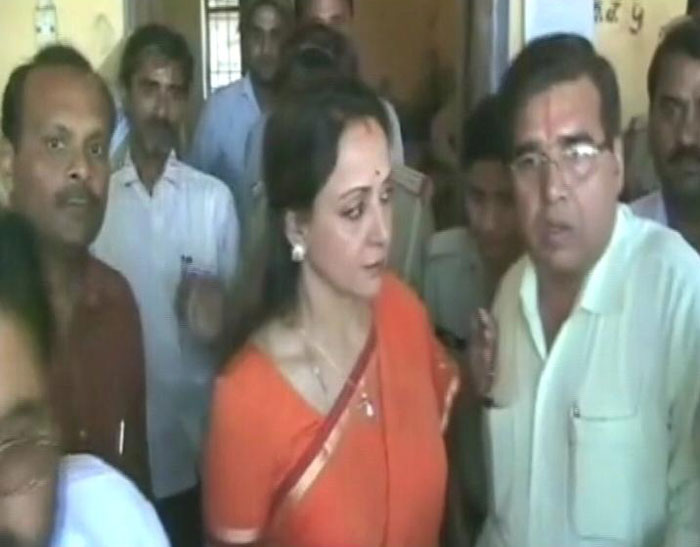 In Mumbai, celebrities voting included Aamir Khan who has been actively encouraging voter turnout. On the second season of his TV show
Satyamev Jayate
, Aamir devoted an episode to the electoral process, asking voters to make informed choices and to keep corrupt candidates out. At the polling station, Aamir said, "Elections are an important process of democracy. I hope many people come out and vote."Aamir's wife Kiran Rao also voted.
Actor Ranbir Kapoor was also seen casting his vote. He said, "I have exercised my right and I want you to do the same. I hope everyone comes out of their houses and vote for their favourite candidate. I felt lot of youth is going to come out and vote this time."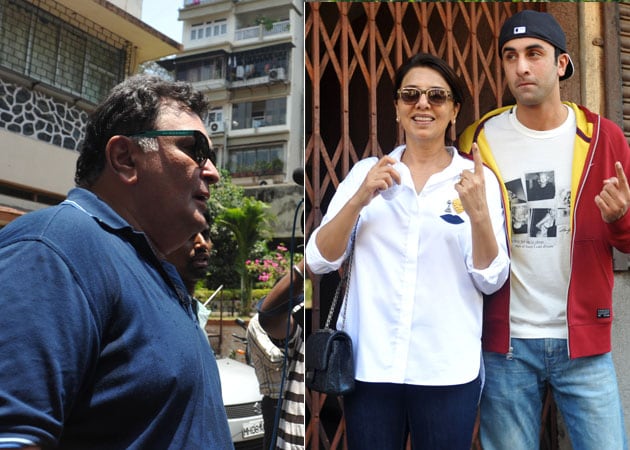 On the topic of his colleagues who are at IIFA, he played safe and said, "People have their commitments and I am no one to judge."
The
Dirty Picture
star Vidya Balan voted in Chembur, Mumbai. Vidya, who spent the last few month promoting the International Indian Film Academy or IIFA awards, has now cancelled her appearance at the just-started award show in the US to be able to vote. After voting, Vidya said, "It is my responsibility and I hope things change for this country. Tomorrow if I point a finger at someone, there should be this voting mark on my finger."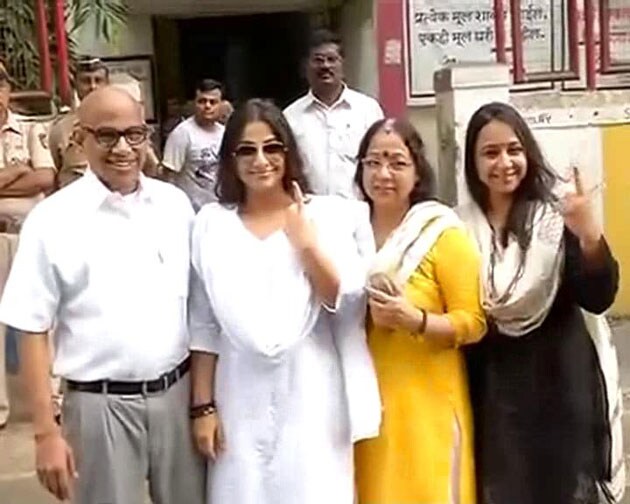 Actress Sonam Kapoor similarly chose the ballot over IIFA, though her father Anil Kapoor flew to Tampa Bay, Florida to inaugurate the opening IIFA Expo.
On Twitter, actresses Shilpa Shetty, Preity Zinta and Dia Mirza posted selfies and urged people to go out and vote.
Shilpa tweeted: Hey Tweeto's Every vote counts. Make yours count too be a responsible Indian.
Preity tweeted: It's time to stop complaining about the system & take action. Boys n girls either Vote now or forever keep Quiet !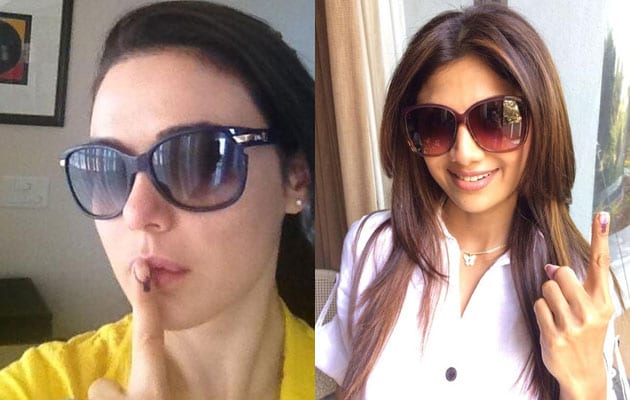 Dia tweeted: Thank you Khar Police and thank you EC for making it such a simple n convenient experience
Rajya Sabha member and Bollywood writer Javed Akhtar is one of the celebs facing the flak for skipping the elections and attending IIFA. His children Farhan and Zoya however made it a point to cast their votes.
Farhan Akhtar later tweeted: Go Mumbai Let's see more inked fingers this time. More than ever before.
Zoya's
Dil Dhadkne Do
cast member Ranveer Singh was also seen at a Bandra polling booth.
South star Khushboo also voted in Chennai while Mumbai has seen Dharmendra and sons Sunny and Bobby Deol, Tanuja and daughter Tanishaa, Sonali Bendre and husband Goldie Behl, Neha Dhupia and Rahul Bose at polling stations.