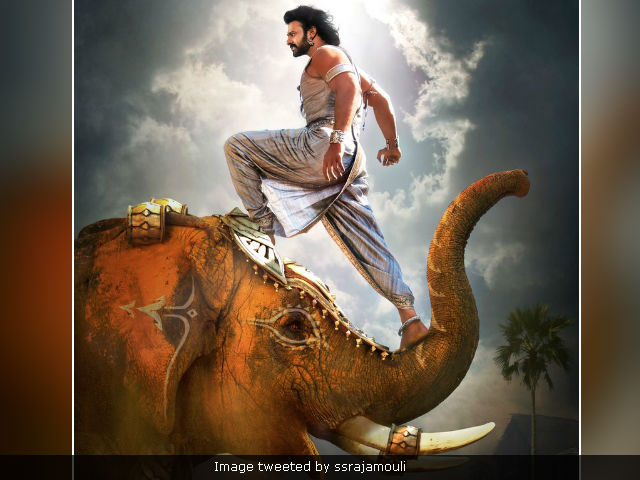 Highlights
Computer Graphics doesn't mean everything is unreal in Baahubali 2
Mahishmathi kingdom was made in one-third scale and later blown up
Animatronics has been used to make a huge elephant for the film
Chennai:
National Award-winning production designer, Sabu Cyril, is well known for his innovative streak while designing sets for films.
Baahubali: The Conclusion
gave him the opportunity to put to use several new techniques, materials and methods, thanks to the giant scale of the film. In an interview, Sabu Cyril revealed how he blended in the art of animatronics all through the film. After doing 113 films and 2500 ad films, Sabu Cyril still looks for excitement at his workplace. The sign of a good production designer is not just designing creatively but also about handling manpower and the resultant tensions, especially in projects of epic proportions like
Baahubali
. "The lesser you notice the art department, the more successful has been my work, for it has blended with the film and doesn't stand out, taking away from the story and emotions on display. For
Baahubali
, part 1 and 2, I had to be an art director, engineer and architect combined, apart from collaborating with the camera, computer graphics and director's departments. We are all interdependent and have to jointly plan shoots and also handle any damage control and last minute failures of equipment, with patience and ingenuity," Sabu said.
For Sabu, working in
Baahubali
also meant incorporating the Computer Graphics (CG) work into his set design. "Contrary to the general perception, CG doesn't mean everything is unreal. For instance, for a huge scene, I had to make a 45 feet long set and the rest of the interactive area would be taken care of by CG. So CG is only an extension and not a substitute. In
Baahubali
, for instance, I have used several 3D models in miniature. With the right texturing and lighting they have been enhanced by CG to give a gigantic effect. But the basic design and man hours have been put into the models," he said.
The beautiful kingdom of Mahishmathi was painstakingly designed and made by his team, in a one-third scale and later blown up to cover the screen. One of the visuals that caught the imagination of fans was the motion poster of
Baahubali 2
, with Prabhas climbing atop a moving elephant.
"I have used animatronics in the making of the elephant you saw in the motion poster. Even the horse which Baahubali and others ride, was made in a similar manner using animatronics. The moving elephant had a rubber body, and was 11 feet high and 15 feet long. In one of the war sequences you would have seen an elephant falling. The same one, I altered a bit and used for the motion poster of
Baahubali 2
," he said.
"Animatronics involves ingenuity and using materials which let the animals look real and also move interactively at the same time. I have done it earlier to some extent in my first Malayalam film, where I made a 30 feet long shark. I have made interactive tigers and lions in other films. But this is the first time I made such a huge animal like an elephant, with so much detailing. Using animatronics is one of my pet subjects since I always wanted to become a mechanical engineer. So making these interactive animals helps me explore those skills within me," he added.
Baahubali: The Conclusion
, directed by SS Rajamouli, is releasing on April 28. Prabhas, Rana Daggubati, Tamannaah Bhatia, Anushka Shetty and Sathyaraj star in the film.