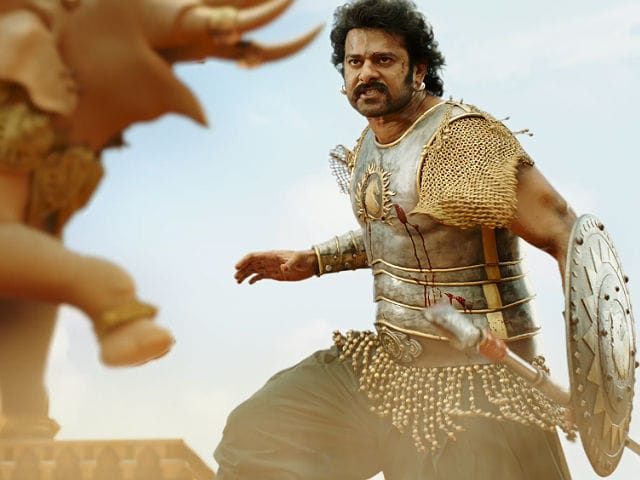 Highlights
Rajamouli says Baahubali: The Beginning only introduced the characters
'I would get emotional while thinking about the characters,' he said
Baahubali: The Conclusion releases on April 28
New Delhi:
The grandiose
Baahubali: The Beginning
, which released in 2015 and re-leased last week, was indeed just the beginning. Director SS Rajamouli said that the concluding part of his two-part epic piece has much more drama than the first.
Baahubali: The Conclusion
, Rajamouli told news agency PTI, "Will showcase the emotions and drama on a better scale." Filmmaker Rajamouli talked about his father's vision of the film, which stayed with him for five years. "My entire team has been working on this project for five years. It all started with my dad's (Vijayendra Prasad) narration of individual characters of
Baahubali
. The electrifying feeling jolted me for more than a month, and every character stayed with me. I would cry, laugh and get emotional while thinking about the characters. I wanted the audiences to experience what I had felt when my father first told me the story," he told PTI.
The music album (Tamil) of
Baahubali: The Conclusion
was launched at an event in Mumbai on Monday.
Talking about the drama and tension between the principal characters in the film, Rajamouli said: "In the first part, we just introduced the characters. We never showed the in-depth drama between them. The second installment will showcase the emotions and
drama on a better scale
."
Actor Rana Daggubati plays main antagonist Bhallala Deva, who will fight Prabhas' character Mahendra Baahubali, who returns to Mahishmathi to avenge his father Amarendra Baahubali (also Prabhas) and re-claim the throne of the kingdom. The first part showed the enmity between cousins Bhallala Deva and Amarendra Baahubali and ended on a crucial cliffhanger showing that
Katappa, Baahubali's loyal senapati, killed Baahubali
.
Of his character, Prabhas said: "Rajamouli is the only reason for me to do this project. His vision and passion are the main reasons to dedicate four years of my life. I
would even commit seven years
to a film for Rajamouli."
Actress Tamannaah Bhatia, who plays tribal warrior Avantika and Mahendra Baahubali's love interest said: "Being in
Baahubali
is a significant part of my career. It's more important than any other award I could ever get. I'm really proud to be associated with this project."
Actress Anushka Shetty, who plays Devasena, wife of Amarendra Baahubali, who was imprisoned in the most gruesome way after the death of her husband said: "It's a dream characterisation for any artist. I really enjoyed playing the role of Devasena."
Baahubali: The Conclusion
releases on April 28.
(With PTI inputs)