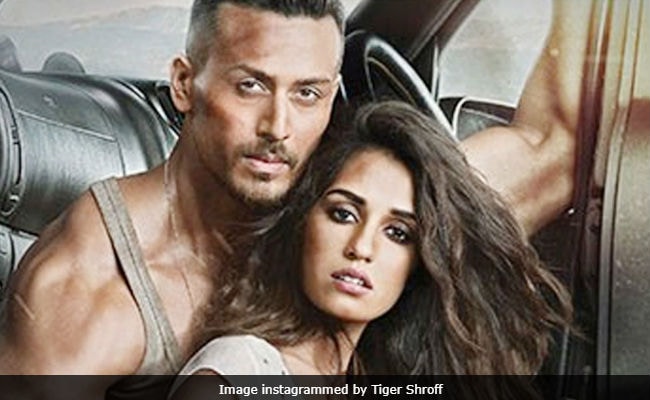 Cast: Tiger Shroff, Disha Patani, Prateik Babbar, Manoj bajpayee, Randeep Hooda, Deepak Dobriyal
Director: Ahmed Khan
Rating: 2 stars (out of 5)

In Baaghi 2, rebellion - trigger happy, brooding endlessly and snarling at everything in sight - comes in a single standard size, the one that the beefy Tiger Shroff embodies in all its skin-deep splendour. He is a glistening, muscle-bound, mayhem-unleashing mannequin that, at the slightest provocation, strikes out with telling force. Get out of his path if you care for your life and limbs!

The action thriller that draws power from the virile exploits of this protagonist is replete with eye-popping, heart-pounding, brain-numbing and inordinately drawn-out stunts and fights. These are meant to be the high points of the Ahmed Khan-directed film. But, despite a twist here and a twist there that manages to add a degree of zing to the plot, monotony sets in rather quickly and pushes the film over a pulpy precipice.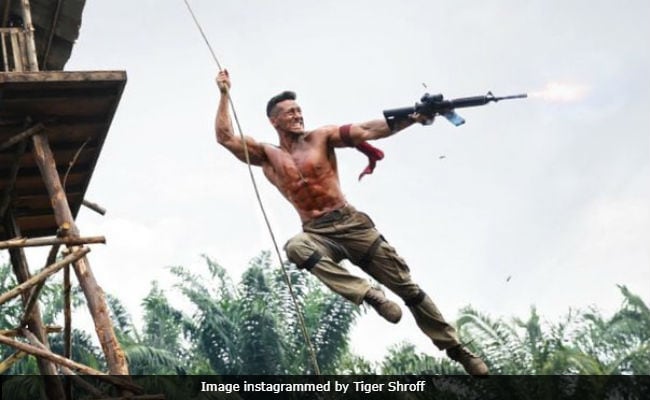 Of course, the hero, a battle-scarred army commando nursing a broken heart and venting his ire on the enemies of the nation, comes out in one piece no matter what is thrown at him. The film doesn't. The cookie-cutter approach to storytelling - an invincible hero, responding to a plea for help from a beloved he parted from four years ago, runs amok and goes all guns blazing at an entire retinue of vicious antagonists - militates against the basic principles of the genre because it completely blocks the possibility of any real emotional engagement taking shape between the audience and the characters.


It is all very fine to mount bomb explosions, chases, airstrikes and elaborate fight sequences designed to highlight the might and precision of the righteous soldier. Granted that it is all handsomely executed. But shouldn't it have been built around a 'story' of sorts? The director obviously does not believe overly in that precept. So he lets it rip without letting the need for nuances get in the way of his style, which rests primarily on taking the plot of the 2016 Telugu actioner
Kshanam
and turning it into an exercise designed for Tiger doing his hyper-masculine number in the face of grave danger.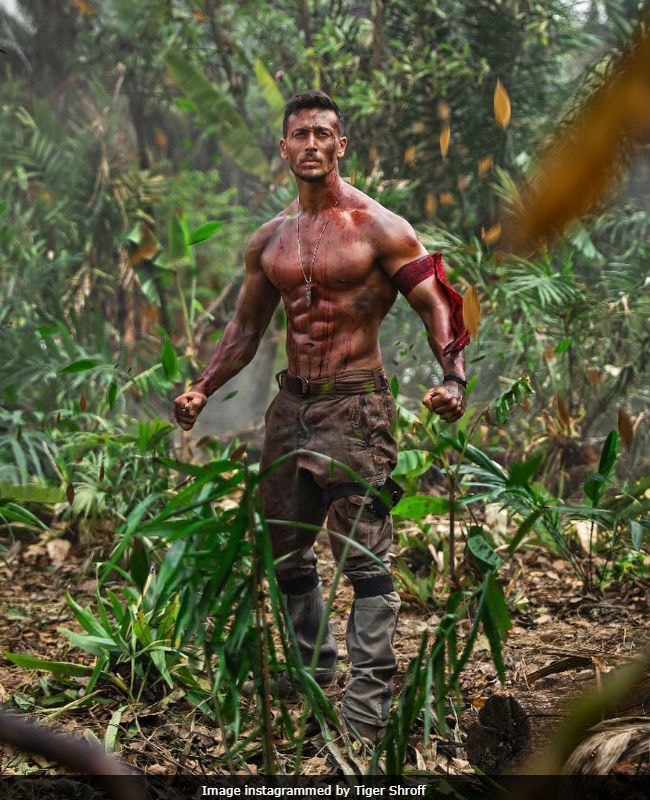 As a result, Baaghi 2 is more a two-and-a-half-hour stunt show than a genuine piece of cinema. The character pIayed by Deepak Dobriyal lectures the comparative importance of dil and dimaag. But neither the heart nor the mind stands a chance of surviving this relentless onslaught of biceps, pecs and clenched fists. If you do not mind that intrinsic drawback, and like Tiger Shroff enough to endure the relentless one-man army operation unfolding on the screen, this film might actually not only pass muster but also, in patches, feel like a visceral treat. That is exactly what the makers are banking upon. Tiger Shroff's fan base is bound to feel well served.

Ranveer Pratap Singh alias Ronnie, a Special Forces captain stationed in Kashmir comes in from the cold when a five-year-old girl, Rhea, daughter of the woman (Disha Patani) he once loved but could not marry, is abducted in front of her Panjim play school. The hero - yes, the very rebel for the cause of love whose dazzling martial arts moves felled an arch-villain in Baaghi a couple of years ago - penetrates the heart of the Goa underworld and takes on sundry drug dealers, Russian ruffians, uncooperative cops and menacing gangsters in a fight to the finish. The time-tested formula appears to work fine up until a point, but once the expected superhero act kicks in it is an unstoppable downhill slide.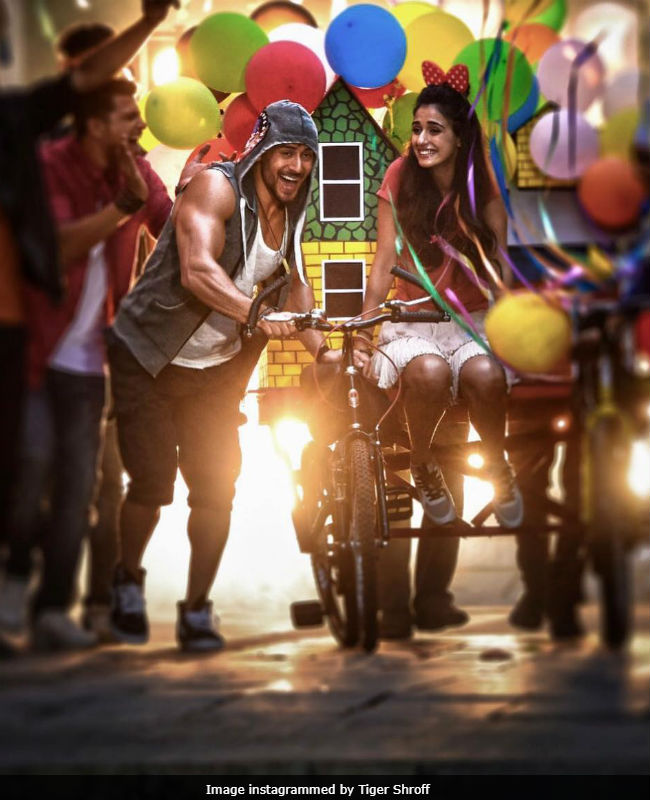 Ronnie is up against formidable foes and hardened sceptics. Among them is a dangerous coke-snorter (played by Prateik Babbar) as well as a plainclothes policeman (Randeep Hooda) who mimics the drug-addled crooks he cracks down both in terms of attire and habits. But stopping Ronny in his tracks or impressing upon him the futility of his mission is, well, impossible.

Rest assured that the action scenes not only flow thick and fast but also, especially in the final half an hour or so, does so interminably. So, there isn't much scope for any ruminations on narrative nuances or the lack of them. There are, of course, a few intriguing questions that arise in the mind in the first half as our man Ronnie plunges deeper and deeper into the woods - a jungle literally pops up in the film's climax to give the flagging film a shove. Is the hero's ex-flame a victim of a dire conspiracy? Or is the daughter that she is looking for merely a figment of her imagination? Is his fight worth the effort? That is what Ronnie has to figure out before he can get to the bottom of the truth.


He spares no effort. Not that it matters one way or the other because
Baaghi 2
rattles shakily along a predictable path, stopping only when the titular renegade has fully lived up to the film's title. No challenge hurled at the male protagonist is too big. He always proves equal to the task and leaves behind a trail of destruction. And that is by no means confined to the realm of the fiction that
Baaghi 2
constructs - it also spills over into the film's entrails as a whole, giving it a bloated feel. It is, in the end, a bloody mess. Tiger roars vigorously, but he can only add to the wild cacophony.
Leading lady Disha Patani is a pretty sight all right but is only required to sleepwalk through her role. That isn't surprising -
Baaghi 2
is after all an out and out action film in which romance - like it did in the precursor - is a mere pretext for musical interludes. What is surprising is the cavalier manner in which the film underutilises an actor of the quality of Manoj Bajpayee.
The scariest part:
Baaghi 2
is already one too many. Yet this isn't the last we will be hearing of the rebel.
Ek Do Teen
... the countdown has begun. Treat
Jacqueline Fernandez's rejig of the 1988 Madhuri Dixit
number as a travesty if you may but do not ignore the not so veiled warning it transmits: a third instalment of
Baaghi
is on the way. Brace yourselves.