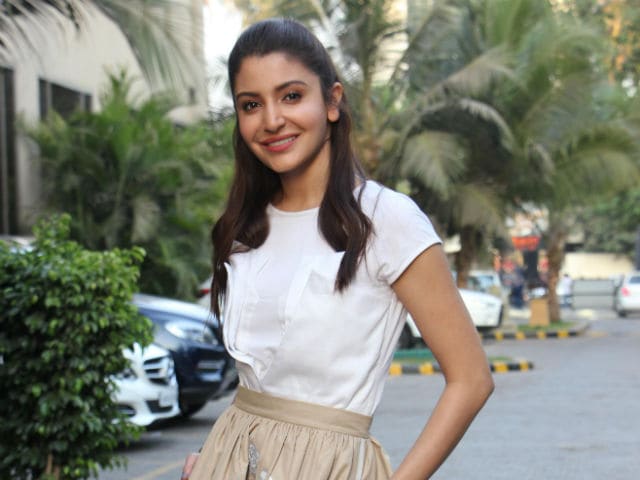 Highlights
"There is always scope of finding the best in yourself," said Anushka
"I am constantly very introspective as a person," said Anushka
Anushka said she prefers working with 'newer faces' in her films
New Delhi:
Actress Anushka Sharma is currently busy shooting for Imtiaz Ali's next project
opposite Shah Rukh Khan. Anushka Sharma, who has been a part of the film industry for nine years, told news agency IANS that she wants to be a 'better human being'. "I just want to become a better human being. I think there is always scope of finding the best in yourself and the shortcomings you have in person which might affect other people's lives, which might hurt other people. I am constantly very introspective as a person. I want to become a person (who) can be (of) help to others, not just myself, where I can just make people happy and comfortable in my presence. Ultimately, growing in my career is important, but growing as a human being is equally important," the 28-year-old actress told IANS.
She added: "I think everything happens for a reason. I also believe that if God is throwing something difficult at me, he is also making me equipped to be able to handle it. That's the beauty of living this life. It's about overcoming difficulties and having faith, and time reinforces that."
Anushka Sharma was last seen in
Phillauri
co-starring Diljit Dosanjh and Suraj Sharma.
After 2015 movie
NH10
,
Phillauri is Anushka's second production venture. The film has earned over Rs 25 crore at the box office so far
.
Speaking about her film
Phillauri
, in which she portrays the role of a ghost bride, the
Sultan
actress told IANS: "There is absolutely no element of trying to break superstitions. It's just an observation that we are making of superstitions. The film is about a place from where the story starts and from where we introduce the ghost in a logical way. I feel it's a funny take. The film is a love story at the heart of it. It's a love story of a ghost."
Anushka Sharma added that she prefers working with 'newer faces' in her films. "We (the banner) want to work with new talent and new people and we want to give opportunity to them as it adds to the freshness and newness of a film. When you work with people who have a different sensibility, it's exciting. Also it is exciting for us to engage with fresh talent and that is something that worked out really well with us. We hope we continue to do so with our films," Anushka told IANS.
She added: "I'm enjoying taking charge of my career and life, and that's an empowering feeling. I get a creative satisfaction... The passion to work and create movies, which is a very big thing for us... To collaborate with young people.... It's very good space to be in."
Phillauri marks Anshai Lal's debut as a director
. The film has been co-produced by Anushka and her brother Karnesh Sharma under the banner of Fox Star Studios and Clean Slate Films.
Anushka Sharma will next be seen Navdeep Singh's
Kaneda
opposite Arjun Kapoor and Diljit Dosanjh. She will also make a cameo appearance in actor Sanjay Dutt's biopic, directed by Rajkumar Hirani.
(With IANS inputs)