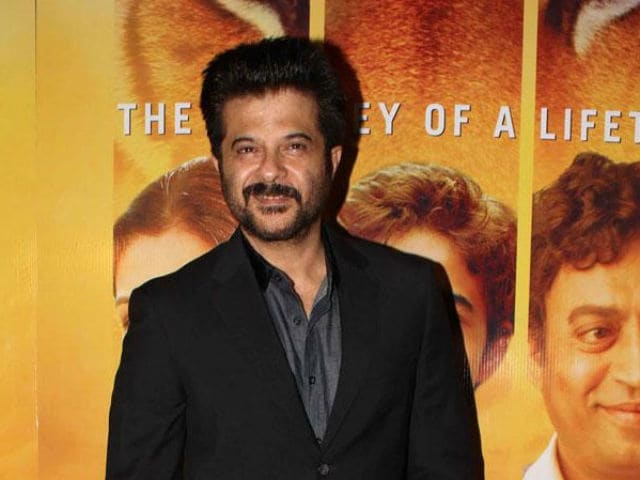 Highlights
Anil will make his digital debut Amazon global original pilot
It is based on the novel The Book of Strange New Things by Michel Faber
Anil feels Sonam is more deserving to win awards for Neerja
Mumbai:
Actor Anil Kapoor always looks pleased as punch. But today he claims there's nervousness that lies beneath the Cheshire cat grin. Mr Kapoor adds that he's rather jittery about his digital debut. Anil Kapoor has shot for the Amazon global original pilot based on the novel
The Book of Strange New Things
by Michel Faber. Anil Kapoor, 59, plays an authoritative character named Vikram Danesh in the pilot, directed by Kevin Macdonald of
The Last King of Scotland
fame. In a conversation with NDTV, Mr Kapoor also talks about why his daughter
Sonam Kapoor deserves all the awards for Neerja
and
son Harshvardhan Kapoor's Mirzya
.
The Kapoors certainly seem to be taking the world by storm. Whispers about a burgeoning Hollywood career for Sonam have also been doing the rounds. Anil Kapoor says, " Obviously I think, it's not only Sonam. If you see the way they pitch their work and if you see
Harsh's work in Mirzya
, it is obviously very understated and it resonates. Like the best reviews what
Mirzya
has not done well in India but it's got great reviews all over the world. And coming to Sonam, I think nobody is more global than her. It's just a matter of time. And hopefully, I think there might be something she would do in India which is like for example,
Neerja
. I have shown it to my few of my international friends and they have loved the film, they have loved her work."
Talking of
Neerja
, the conversation shifts to how the competition at upcoming award ceremonies could be larg ely between Sonam and Alia Bhatt for
Udta Punjab
.
Anil Kapoor emphatically disagrees. "
Neerja
is not only critically acclaimed, but it's a huge success. In a way, I feel
Sultan
and
Neerja
are the biggest success of last year. So, it's a combination of the numbers you know, and the critics acclaim. So obviously like, automatically it tilts towards Sonam. I'm being very honest with you. And unless someone plays dirty and lobbies and you know, wants to do something but there is no, I think there is no discussion. It has to be Sonam. At least, till things stand today. It might change in a month. But till now, there's no discussion."
Rather strong words from the normally cool Mr Kapoor. Professionally, Sonam has been making waves but personally as well reports have been doing the rounds
that she could have found love
. Without specifying which family member we are talking about we ask Anil Kapoor if there could be any wedding bells in the family soon.
"No one has a gun to anyone's head. It all depends on the two people. It could take five years or two years or happen tomorrow, " he says.
So just which of his kids is Anil Kapoor referring to? We'll keep you posted on that front.