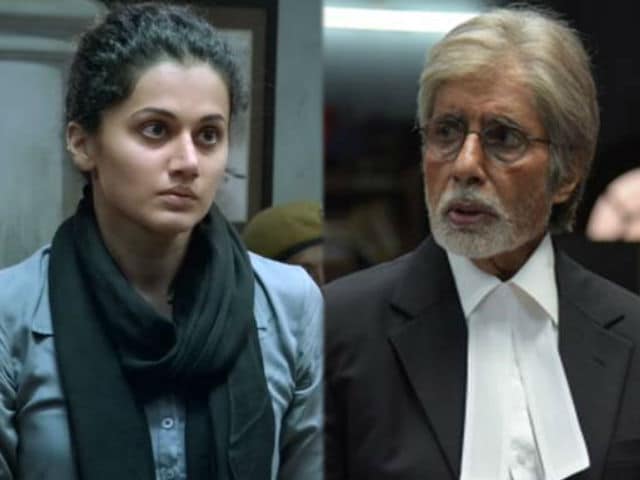 Highlights
CBFC's Ashoke Pandit says Pink is a 'movement' and it should be tax free
Fans started trending 'Make PINK Tax Free' on Twitter
Pink stars Amitabh Bachchan and Taapsee Pannu
Mumbai:
Amitabh Bachchan's latest film
Pink
has
struck the right chord with movie-goers
, fans and critics. The film which debunks stereotypes on women and reiterates 'no means no' is now trending on social media and fans want the film to made tax free so that everyone can watch it. On Tuesday, 'Make PINK Tax Free' was trending on Twitter and to cut the long story short, here's what everyone had to say:
#PINKthefilm is the best movie of 2016. Make Pink tax free so that everyone can watch this terrific social drama. @SrBachchan@taapsee

— Vishee (@VishwadeepY) September 20, 2016
Just Saw Make PINK Tax Free Trending
And really it should be !!
Best Movie I watched in 2016

— Saif Hussain (@i_amsaif) September 19, 2016
Make PINK Tax Free, PINK is a lesson which has been skipped or misinterpreted during the course of upbringing. #PINK

— jitendra (@jitendrasingh_) September 19, 2016
Make #Pink tax free !A movie must for both educated & non educated masses to know what a #NO means!3 days since seen it, can't get it out

— KadakChai420 (@JusChaudhary) September 19, 2016
On Monday, filmmaker and social activist Ashoke Pandit hailed the Aniruddha Roy Chowdhurydirected film as a "movement" and tweeted:
No film has been able 2 do what @TheFilmPink has done for women in India. It needs to be #TaxFree. @ShoojitSircar@aniruddhatony@SrBachchan

— Ashoke Pandit (@ashokepandit) September 19, 2016
You realize d greatness of an actor whn he lends himself 2 a story that's risky, but needs to be told! Thank u @SrBachchan for @TheFilmPink

— Ashoke Pandit (@ashokepandit) September 19, 2016
The
gritty courtroom drama
subtly, but effectively, highlights the importance of understanding the choices women make and about respecting those choices.
The film
features Big B as a lawyer
, who fights a case of sexual assault involving three women against a man, who belongs to an influential family. A strong message that the film gives out is that no matter how a woman dresses, what she does or what she thinks, when she says no to sexual advances, it is a definite no.
Apart from Mr Bachchan, the film also features Taapsee Pannu, Kirti Kulhari, Andrea Tariang, Angad Bedi, Piyush Mishra and Dhritiman Chatterjee in key roles. The film is produced by Shoojit Sircar.